Here's Why You Should Be Buying Your Beer From Aldi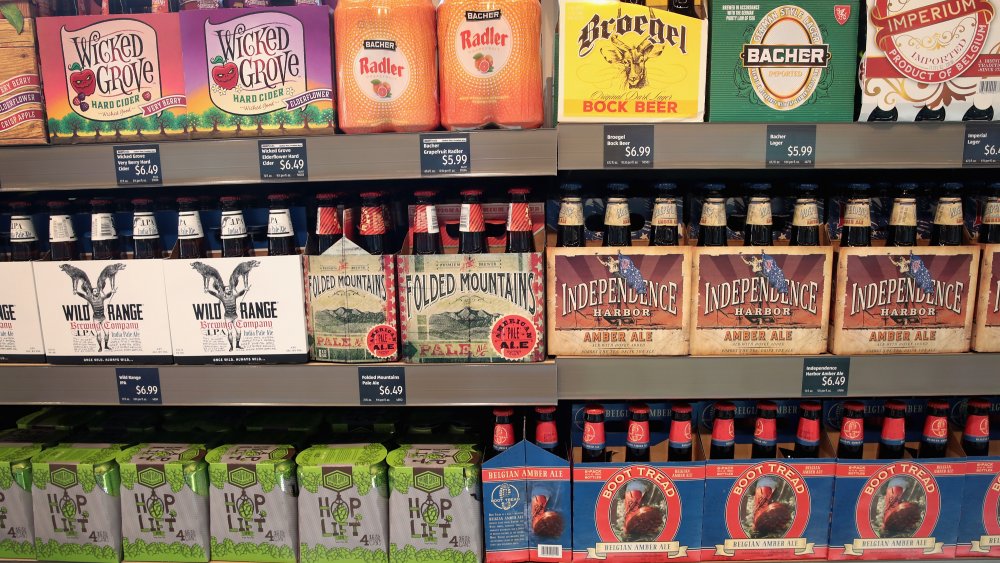 Scott Olson/Getty Images
There are a lot of really good and really bad items that you can find at your favorite budget grocery store these days. Fortunately for thrifty booze buyers, beer is one of the best things you can buy at Aldi. In fact, Thrillist even had a certified cicerone recently rank the beers that are currently available at Aldi. So, no matter what you're planning to get into or cook up, from Thai food to a picnic in the park, there is most likely an Aldi brew to go with it. 
Apart from the great beers that are available at the grocery store, the more obvious perk to buying beer at Aldi is the price tag. With a range of beer styles and flavor profiles, you can find and stock up on a beer that works for you without breaking the bank. Not to mention, if you're having a handful of friends over for a get-together, it's an easy way to provide beer without blowing your budget, too. Most Aldi beers come in packs of four or six, though there are some cases available too. For the smaller pack, however, most currently range in price from around $5 to $7, which makes them roughly $1 each, according to Thrillist. You might even find a good deal on a local or regional beer as well.
Aldi's beer is surprisingly good
There is clearly one beer that stands out among the rest, and that's Wernesgrüner. It's a pilsner that's exclusively imported from Germany to Aldi, and the brewery itself actually dates back to 1436. A brewery with that kind of staying power is probably turning out something good. Plus, Thrillist and the Chicago Tribune both agree this is one beer not to miss. The Wernesgrüner brew is 4.9 percent alcohol by volume and costs just $5.99. It's well-balanced hops and malt make it great and even preferable to beers like Stella or Heineken according to the Tribune.
Another runner up to pick up the next time you visit Aldi is Kinroo Blue. It's also made exclusively for Aldi and is deemed "not bad," by the Tribune. However, it was the second-best pick for Thrillist. Either way, it's a sweet take on a Belgian white. With its orange notes and a smooth mouthfeel, it's pretty similar to Blue Moon. You might even find that it has a deeper flavor, according to the Tribune. In short, Thrillist's cicerone considered it just as interesting – if not more interesting than – Blue Moon's current brews. At $6.49 and five percent alcohol by volume, it's a steal, too.
While there are plenty of other good or adequate beers at Aldi, these are the two to start with. With such good reviews and affordability, there's no doubt that you should be buying these beers.