Chili's $5 Margarita Of The Month Includes An Unusual Ingredient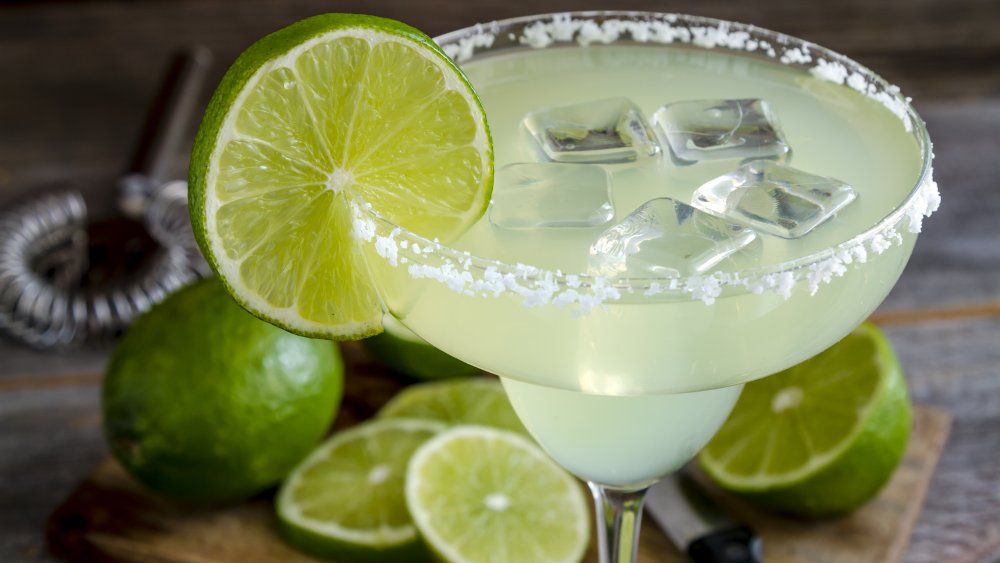 Shutterstock
Margaritas are no longer just for summer with Chili's new $5 Margarita of the Month. According to Delish, the fast-casual chain is embracing fall and the back-to-school season with their September special drink, which features an ingredient that might surprise you. The outlet states that, in addition to the standard tequila you expect to get when ordering a margarita, Chili's is adding some whiskey to celebrate the end of summer.
Dubbed the Jack to School 'Rita, the Chili's September $5 Margarita of the Month is made with Jack Daniel's Tennessee Apple Whiskey, Lunazul tequila, the chain's signature fresh sour mix, and a dash of coconut. On their website, Jack Daniel's describes the Tennessee Apple Whiskey as being made with real green apples for a crisp, fresh taste. The Jack to School Rita' comes on the rocks, rimmed with citrus sugar. Delish states that you can get the special drink through the whole month of September to dine-in, for delivery via Doordash, or to go, depending on your local restrictions.
Chili's has been running their $5 Margarita of the Month promotion since January
Chili's began their $5 Margarita of the Month promotion in January of 2020, according to Thrillist, amid rumors that drinking tequila frequently was good for you. (Spoiler alert: we did the research, unfortunately drinking tequila regularly is not, in fact, good for you.) Chili's stated that "2019 was full of tequila, tequila and more tequila. And you better believe we're keeping it going into 2020!" It's like they already knew how much we would all need a cheap drink this year.
Since then, Chili's has been repeatedly creating hits, offering fun and inventive margaritas to keep us going. The Chili's website lists all of their past $5 Margarita of the Month flavors, which include July's The Grand Sunset 'Rita featuring Grand Marnier, orange juice, and Monin Desert Pear; February's Hearts on Fire 'Rita made with Maker's Mark Cinnamon Bourbon and Fireball Cinnamon Whiskey; and The Straw-Eddy 'Rita from April, which included Deep Eddy Lemon Vodka and strawberry puree. These past margaritas sound so good, we may have to go back through the archives and recreate some for ourselves!