The Unexpected Ingredients That Make Blake Shelton's Bloody Mary Recipe So Good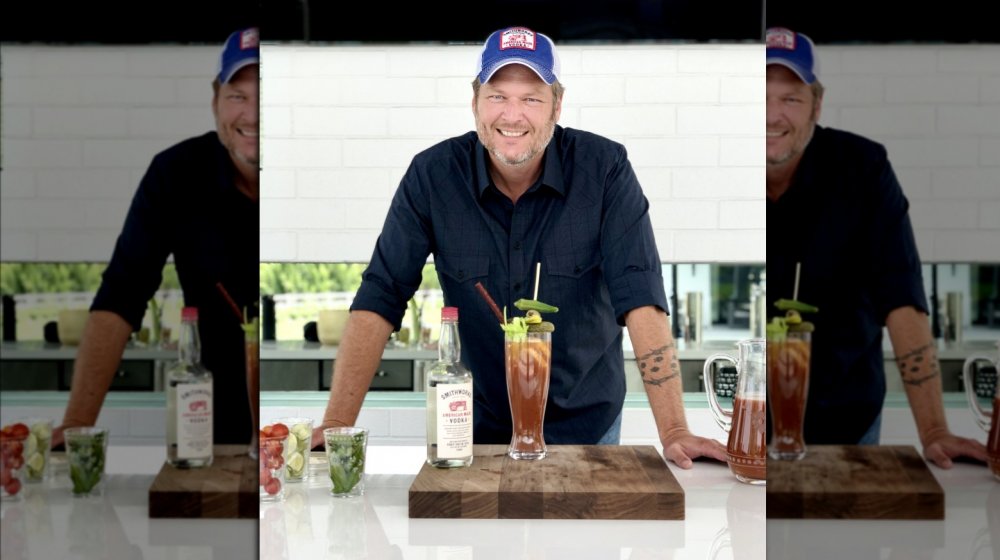 Smithworks Vodka
Leave it to Blake Shelton to develop a Bloody Mary recipe to top them all. Fans know Shelton is not shy about his affinity for vodka so when he took to Instagram earlier this month to debut his version of this classic cocktail, we were all ears and ready to learn from a true aficionado. As a proud Oklahoman, Shelton has dubbed his creation "Pride of Okrahoma," and while the name reveals one of the ingredients that makes this Bloody Mary unique, a pod of okra is just the tip of the garnish iceberg for this recipe.
Shelton is a partner of the spirit brand Smithworks Vodka and his Instagram video launched the brand's latest contest in honor of National Vodka Day on October 4th: a search for the best Bloody Mary recipe in America. In the video, Shelton encouraged fans to submit their favorite Bloody Mary recipe for a chance to win a shoutout from him and a special guest on Facebook Live, a Bloody Mary trophy, and a Smithworks Bloody Mary bar cart (via Smithworks Vodka). 
Shelton expertly demonstrated how to make his Pride of Okrahoma recipe and, although this recipe is disqualified from the contest, you can recreate it for yourself at home assuming you have some unexpected ingredients on hand. Blake tops his Bloody Mary with okra, pickles, olives, and... wait for it... beef jerky and chicken! Yes, we said it.
Blake garnishes his Bloody Mary with beef jerky and chicken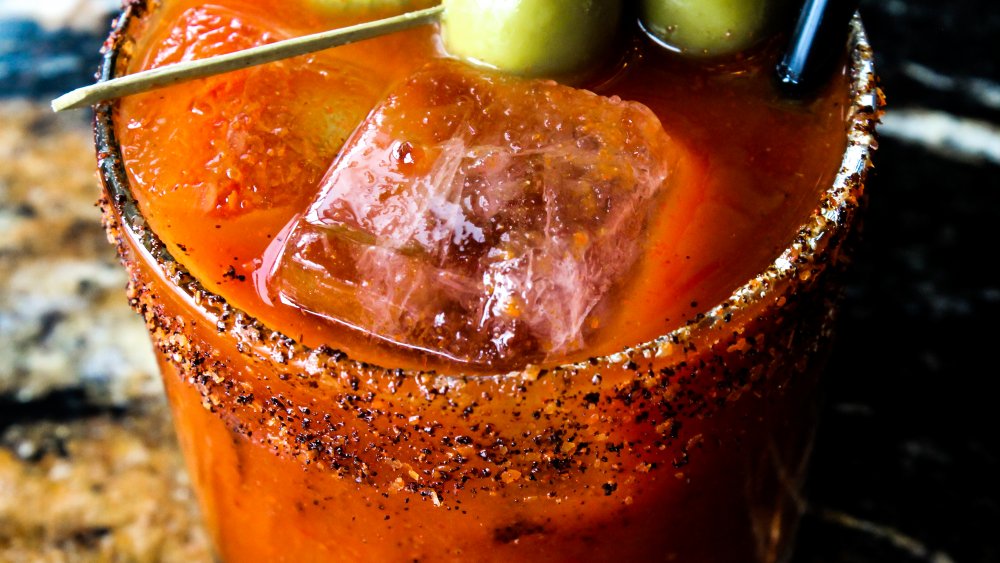 Shutterstock
Bloody Marys are rumored to have come into existence in the early 1920s at the hands of Paris bartender Fernand "Pete" Petiot. According to Liquor, Petiot introduced the drink to Manhattan's St. Regis Hotel where he upgraded the original recipe with horseradish, Tabasco, lemon juice, and celery salt. Today, recipes continue to reinvent the classic by garnishing it with everything from pickled shrimp to blue cheese (via Real Simple). Of course, Shelton takes things a step further by basically making a meal out of his Bloody Mary with beef jerky and a piece of fried chicken.
Blake Shelton's Pride of Okrahoma Bloody Mary begins with two parts Smithworks Vodka and two parts Bloody Mary mix. You can buy your favorite Bloody Mary mix or make your own with tomato juice and a little Tabasco. Next, add a squeeze of lime and pinch of salt, and you're ready for those epic garnishes. 
The okra, pickles, and olives can go on a skewer followed by a slim stick of beef jerky and a juicy piece of chicken dunked directly into the Bloody Mary. And although Blake doesn't specify, it looks to us like he's not reaching for any plain old piece of chicken. The bite-sized garnish Shelton enthusiastically drops into his cocktail appears to be fried chicken. Just when we thought we couldn't love Blake Shelton any more, he brings us this deliciously unexpected twist on a Bloody Mary. Cheers to that!