This Tasty Kirkland Soup Just Returned For The Season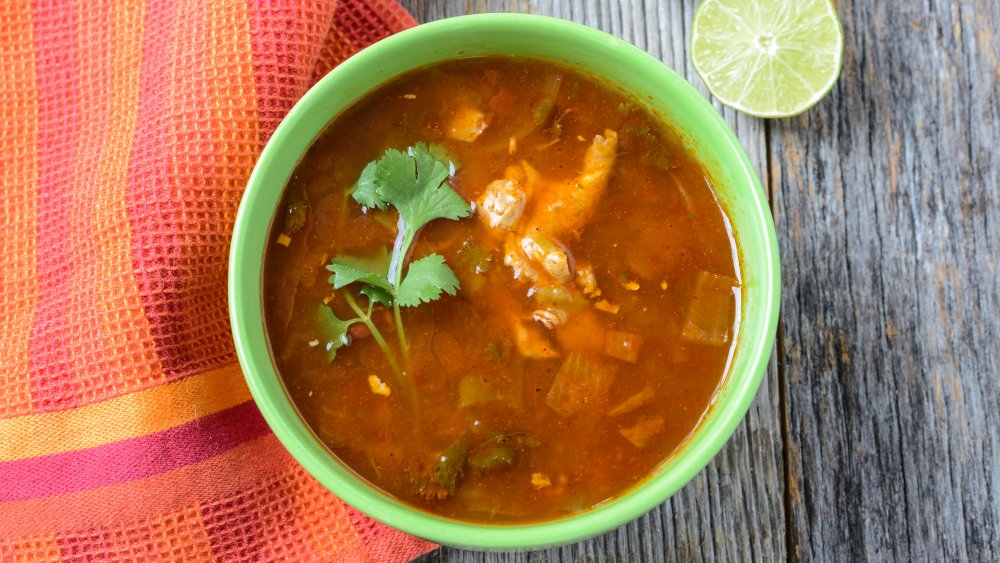 Shutterstock
If you're not gearing up for the warm and comfy fall vibes that are quickly approaching, then it's definitely time you should. Plus, there's a delicious Kirkland-brand soup that just returned to the shelves of Costco that will also help you embrace the cooler temperatures. Yes, the season for Kirkland chicken tortilla soup has returned. 
On Monday, September 7th, Instagram user The Costco Connessuier spotted the soup and shared it. Commenters quickly jumped on the post giving their thoughts, which ranged from "happy to see it back" to "yummy! It's not spicy." So, with a welcome back like that, it must be worth picking up a pack. Plus, it's just $7.99 for two 32-ounce containers of the soup, according to the post. So, if you love chicken tortilla soup, it's definitely a steal whether you are feeding one person or four.
Here's what you need to know about the chicken tortilla soup
While one commenter did say the soup isn't spicy, it sounds like could be a bit hot for those who are sensitive to heat. According to West Costco, the soup is tasty but does warn that it is salty and spicy, but to put that into perspective, the Costco fan blog goes on to explain: "I think everyone probably knows that person who scoffs and says, 'this is NOT spicy!' when you're enjoying a meal or an appetizer together and you say that you find it spicy, so I'm sure some lovers of spicy food with a high tolerance for heat will disagree with me." So, it's definitely a safe bet for those who love heat, and could even be just fine for those who are heat-adverse too.
The soup is made with tons of great ingredients, like chunks of white meat chicken and vegetables like tomatoes, bell peppers, green onions, carrots, corn, onions, and poblano peppers. Apparently the tortillas were a little harder to find or taste, but West Costco didn't seem to mind. The best part of all is that you can easily heat this up in the microwave or on the stovetop.
So, start planning your next Costco trip and make sure this hearty soup is on your shopping list. You won't want to get caught on the first crisp fall day without it.