The New Reese's Peanut Butter Cup Has A Surprising Ingredient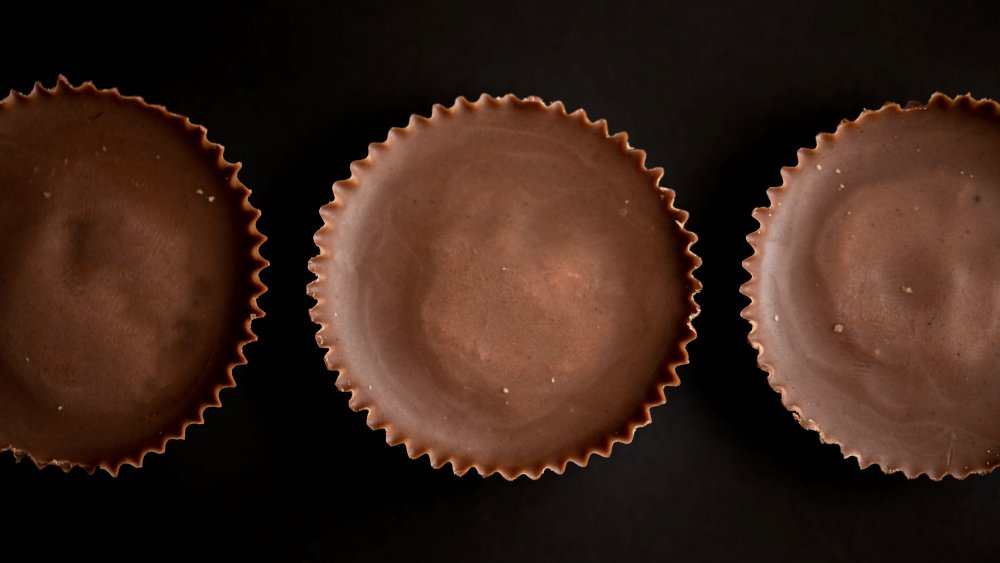 Shutterstock
If you're a fan of Pretzel M&Ms, Paydays, or any other candy that combines sweet and salty, you're probably going to like this upcoming Reese's release: Reese's Big Cup with Potato Chips. Yep, a giant chocolate peanut butter cup stuffed with crunchy potato chip pieces. The candy was leaked by Instagram account @junkfoodleaks_, who wrote, "They've taken a classic Reese's cup, and tossed potato chips in them. Yes. Salty, crunchy potato chips."  
While the internet can be full of misinformation, and it's not hard to Photoshop up a candy hoax, junkfoodleaks_ has a pretty solid track record. It's the account that leaked M&M's Fudge Brownie, Kit Kat Birthday Cake, and Nerds Gummy Clusters before they were officially announced (via Best Products), so it's a pretty safe bet that we'll be seeing Reese's Big Cup with Potato Chips hit the shelves in the near future. While the post did not give an official release date, they did say the cups "will be available soon I believe."
The verdict on the flavor? Not bad
The post says that the candy is "WELL worth it if you like salty." However, "It's too small of a chip ratio to really get as much as you'd need. What would be better is one big chip in the center of the cup."
Is it an improvement on the traditional Reese's Cup? Everyone's palate is different, but junkfoodleaks_'s choice is clear: "I'm definitely not selecting this instead of the classic one. Gonna score this one a 7.0 on the dot. Makes sense. Does the job, needs more chip."
Still, if you're a lover of sweet-and-salty snacks, you're probably going to be satisfied. Until these Big Cups are released, if you're craving a Reese's option that gives you a salty twist on the classic peanut butter and chocolate flavor combination, you can always go buy yourself some Reese's Take 5s — chocolate, peanut butter, peanuts, caramel, and pretzels — to tide you over.