Mountain Dew's First Official Cocktail Has Everyone Talking
Mountain Dew just announced its first boozy, caffeinated cocktail and it's coming to us via a collaboration with Red Lobster. This new creation is called a "DEW Garita," and it's Mountain Dew's take on a margarita. The exciting new beverage is expected to roll out to select Red Lobsters in September with the offering expanding nationwide by the end of 2020. Before you wonder whether lobster and a Mountain Dew cocktail go together (of course they do), just think about the joy to be found in pairing a fizzy, citrusy margarita with a Cheddar Bay Biscuit. That's good stuff, right? Well, it's exactly the kind of tasty food and drink pairings we can expect from this mashup of the PepsiCo brand and Red Lobster, according to USA Today.
The DEW Garita was designed to be paired with Red Lobster's famous biscuits and Hugh Roth, Chief Customer Officer of PepsiCo Global Foodservice, shared the brand's excitement, saying, "With both of our brands on deck to wow guests, we can't wait to dream up more phenomenal flavor pairings together to bring some very special offerings and experiences to the table." Apparently this first official cocktail won't be the last, either. Red Lobster's senior vice president and chief supply chain officer, Nelson Griffin said in a press release, "The DEW Garita is the first delicious taste of the types of inspired menu items to come." So, what's the new DEW Garita all about? Let's break it down.
Mountain Dew's first cocktail is their take on a margarita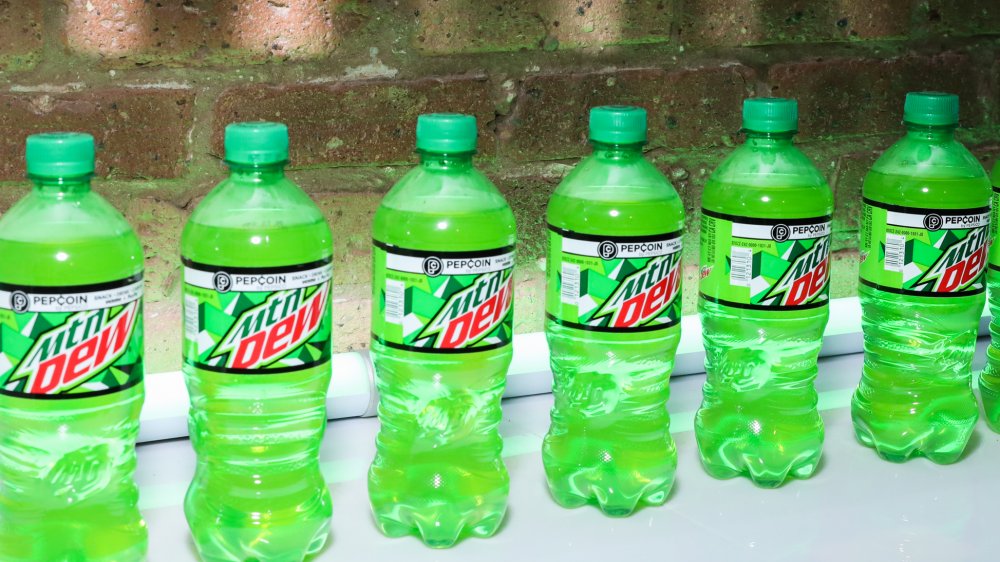 Robin Marchant/Getty Images
Anyone who ever went to a party in college probably had some form of a Mountain Dew cocktail. Heck, quarantine probably inspired a few at-home versions of boozy Mountain Dew drinks, too. But the brand's first official cocktail sounds much more interesting than anything we'd shake up at home. Brand officials told USA Today the DEW Garita includes the brightly-colored citrus soda, tequila, and a "few other special ingredients." Yes, they're being tight-lipped about the recipe, so we'll all just have to wait and see what other surprises lie inside.
Mountain Dew announced the debut of their cocktail with a tasty-looking picture on Instagram captioned, "We are ready to shake things up with our new buds at Red Lobster! BTW, still dreaming about our last Cheddar Bay Biscuit." In addition to yummy food and drink pairings, People also reports the relationship between PepsiCo and Red Lobster will enable them to join forces in sustainability efforts like creating more eco-friendly packaging and delivery techniques. This partnership sounds like something we should celebrate with a DEW Garita and a basket of biscuits.