Dunkin' Just Hijacked National Coffee Day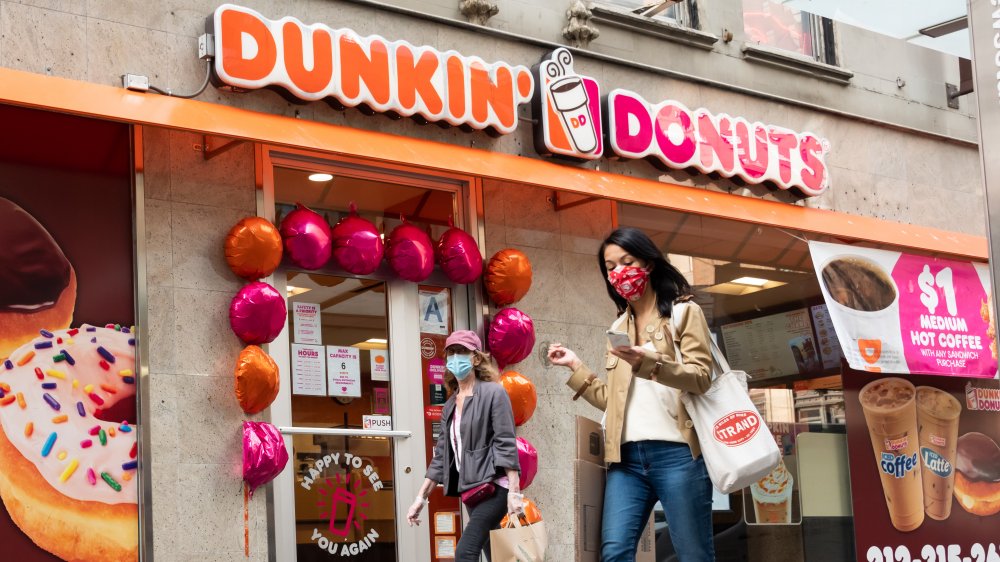 Noam Galai/Getty Images
National Coffee Day is just around the corner on Tuesday, September 29th, but Dunkin' has other plans. The day that would typically bring freebies and promotions to consumers has now been deemed National Dunkin' Day by the beloved donut chain. "For so many Americans, Dunkin' equals coffee, and coffee equals Dunkin'," said Drayton Martin, vice president of brand stewardship at Dunkin' (via Mass Live). "There is simply no other coffee choice." So if you are a Dunkin' fan, then stopping by one of the stores for their promotion really is the only way to go. Not to mention, members of Dunkin' Donuts' rewards program, DD Perks, most likely already want to capitalize on Dunkin's deal.
Apart from changing the name of the national day for their own promotion, the coffee chain is prepared to give customers a free medium hot or iced coffee with any purchase next Tuesday. But if free coffee isn't enough of a promotion, Dunkin' Donuts is also preparing special National Dunkin' Day care packages to celebrate the day well beyond 24 hours.
What you need to know about the Dunkin' coffee kits
Dunkin' has made kits that include Dunkin' ready-to-drink iced coffee, K-Cup pods, packaged coffee, Dunkin's Post coffee cereal, Dunkin' Extra Extra Creamer singles, tumblers, masks, stickers, temporary tattoos, tote bags, and more. These care packages are available to some very lucky fans in the United States, but sadly, it appears they won't be for sale.
Those who want to receive a Dunkin care package need to comment on the chain's Instagram or Twitter post on Wednesday, September 23rd with the emoji that best describes themselves before having a sip of Dunkin'. You'll also need to tag a friend and use the hashtag #NationalDunkinDaySweepstakes. There will be 100 winners who will be chosen by 2 p.m. on the 23rd. There will be a few care packages delivered to fans who do not live close enough to a store to celebrate. These additional 20 social media account holders have already been identified and have a lot to look forward to (via QRS).
But, if you aren't a winner, don't feel too down. You can still go get free coffee, and your purchase can be the limited-time merchandise the chain is selling. These items will be bold, animated graphics designed by Jones Knowles Ritchie, Dunkin's creative partner. Think along the lines of "My Blood Type is Dunkin" and "I Only Need Dunkin' On Days Ending in Y" splashed across the merch, which will be available to shop online come Thursday, September 24.