IHOP's New IHOPPY Hour Value Menu Has Everyone Talking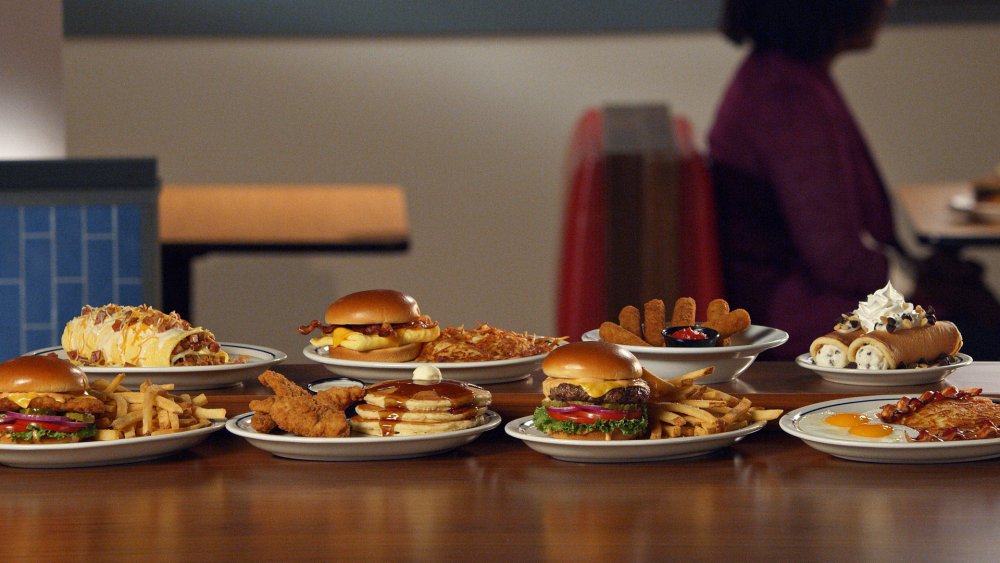 IHOP
There's nothing quite like a perfect stack of fluffy pancakes, ready to be topped with any number of syrups you'll find on the tables at IHOP. Now fans of the chain will have a lot more to look forward to, going well beyond breakfast foods. For the first time ever, IHOP announced that it is rolling out a value menu specifically for afternoon and evening dining (via Business Wire). 
Chew Boom states that the new value menu will soon be available at select IHOP locations across the country, and available for customers to order from every day between 2 and 10 p.m., or IHOPPY Hour, as its now known. The menu includes drinks for $1 or $1.50, sides and snacks for $3, and entrees that are priced at $5 or $6, depending on the market. While there are some breakfast staples (and of course pancakes) on the value menu, there are plenty of other lunch and dinner options as well — and at those prices, these menu items are quite a deal.
Here's what's on IHOP's all new IHOPPY Hour menu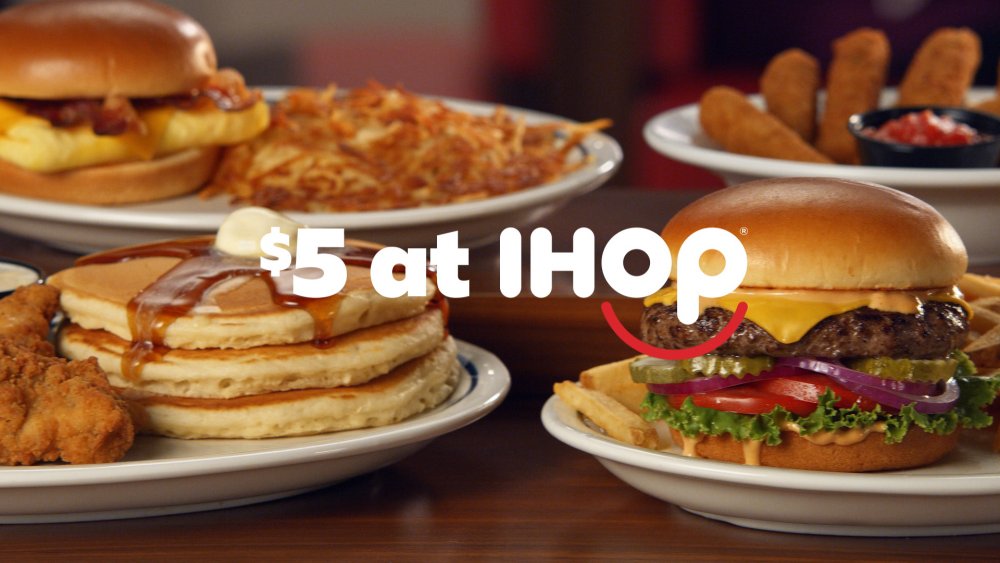 IHOP
According to the press release shared by Business Wire, the first category on the value menu to explore are the "Everyday $5 or $6 Meals." The first option is the Chicken & Pancakes, which comes with buttermilk chicken strips, three pancakes, and dipping sauce. Next is a Black Angus Steakburger which comes with American cheese, lettuce, tomato, red onion, pickles, and IHOP Sauce on a Brioche bun, plus a side of fries, onion rings, or two pancakes. Third is a buttermilk crispy chicken sandwich with the same toppings as the Steakburger plus hickory-smoked bacon and the same choice of sides.
There are even more all-day breakfast options on the new value menu, including a two-egg breakfast with hash browns, bacon or pork sausage, and toast; a ham and cheese omelet with a white cheese sauce and a side of three buttermilk pancakes; and a breakfast sandwich that includes scrambled eggs, bacon, and American cheese on a Brioche bun with a side of hash browns, fries, or two pancakes. If you prefer something sweet, the IHOPPY Hour menu also includes the chain's Italian Cannoli Pancakes, which are rolled and filled with sweet ricotta cream and chocolate chunks, and topped with whipped topping and crunchy cannoli pieces.
The "Everyday $3 Deals" provide you with options like Mozzarella sticks with marinara sauce, a French fries and onion rings sampler that comes with IHOP sauce, or four triangles of IHOP's Original French Toast topped with butter and powdered sugar. No matter what you choose, there are plenty of IHOP dishes to pick from on the IHOPPY Hour menu at great prices.