This Viral Peanut Butter Cup Hack Changes Everything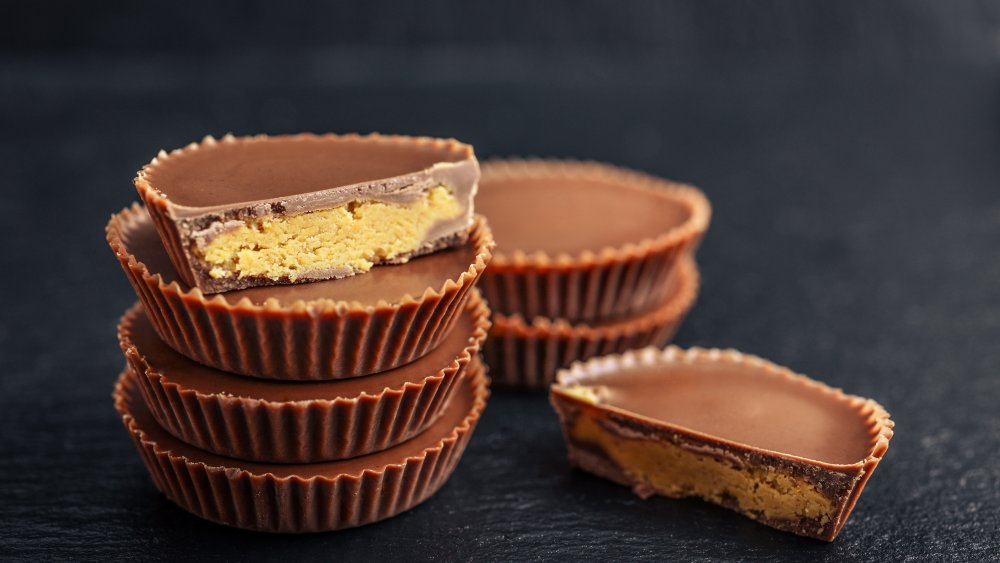 Shutterstock
There's something oh so special about peanut butter cups. The smooth, creamy peanut butter wrapped in a chocolate shell that's the perfect balance of sweetness makes them a candy worth craving most anytime. Whether you're someone who believes these sweet and salty treats taste better in holiday shapes or you love the original cup design, you probably don't want to be caught without one when you're hit with a really intense craving. Fortunately, the latest addition to the TikTok food world gives you just the hack to satisfy that need without even leaving your home (via Better Homes and Gardens).
The best part about all the food videos on TikTok is that most of the hacks are super simple and tend to call for only a few ingredients — meaning these do-it-yourself peanut butter cups can not only be made at home, but they are really easy too! To make these chocolate peanut butter confections, all you need are three ingredients, a small bowl or mug, and your microwave. Plus, the entire thing will only take you about two minutes, so you'll be savoring a homemade peanut butter cup in almost no time at all.
How to make a peanut butter cup using this TikTok hack
TikTok user @bakingenvy is the mastermind behind this amazing at-home peanut butter cup. Luckily for us, they shared the recipe on the social media platform so we could all benefit from their wisdom. To make this easy treat, just scoop two tablespoons worth of peanut butter into a small bowl or mug. Microwave for 15 seconds, and then stir in one tablespoon of powdered sugar. Next, sprinkle two tablespoons of chocolate chips on top of the sweetened peanut butter mixture. Microwave the whole thing again, but for 90 seconds this time. At this point, your chocolate should be melted enough to use the back of a spoon to spread it in an even layer. Last, place the whole thing in the freezer for 15 minutes. After it's chilled and set, you'll be left with one delicious homemade peanut butter cup. Delish states that 90 seconds may be too long for your microwave, as some commenters stated their chocolate came out burnt, so just be aware you may need to modify the times on this recipe a bit. Also please be cautious taking your mug out of the microwave! It will likely be pretty hot after a minute or more in there.
Chances are you already have all of these simple ingredients sitting inside your pantry, so you should be able to whip this treat up without even having to make a trip to the store! Now next time you're craving a sweet and salty peanut butter cup, but can't get one or don't want to go out, you'll have the recipe and resourceful skills to pull one together in minutes.