The Difference Between American McDonald's And Finnish McDonald's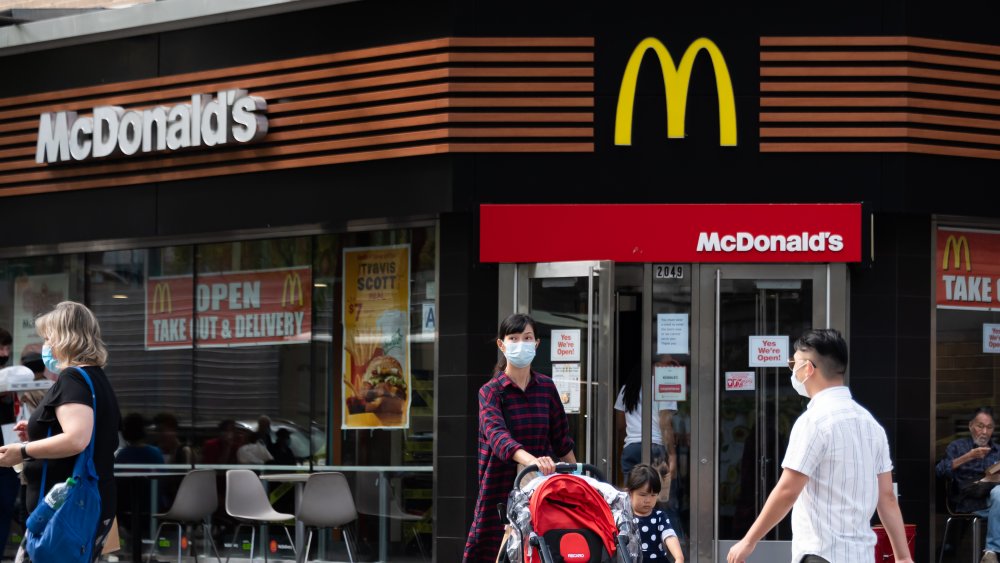 Noam Galai/Getty Images
On October 3rd, 2017, McDonald's committed an unspeakable act. They introduced the McVegan — yes, a vegan burger at McDonald's. Well, actually (as HuffPost reported at the time) a vegan burger at one McDonald's in Tampere, Finland. It seems the franchise decided to test out the veggie-friendly product and see customers' reactions before splurging their money into expanding the option nationwide. 
Selling items individualized to specific countries is nothing new for McDonald's, so when Insider explored the menu options at Finnish McDonald's, they had to try the McVegan, along with McDonald's other "bizarre" menu options, such as the Rye Feast, which is a McDonald's burger on a rye bun; the Chicken Pizza Mac, which (as it sounds) is a chicken pizza burger; the Nordic Chicken Salad; and the Falafel Bites. In the end, the outlet was a fan of the Chicken Pizza Mac and the falafel, but not too fond of the Nordic Chicken Salad or the Rye Feast, wondering whether the rye bread bun would go better with chicken than beef. So, for Insider, the vegan option was the ultimate tie breaker on the Finnish McDonald's menu. And... unfortunately they weren't too keen on it either, saying the bun and sauces overpowered the patty, which they felt was tasty enough on it's own right. It should be noted that reviews of the McVegan shared by Bon Appetit and NPR responded to the plant-based burger positively.
Why McDonald's vegan burger isn't available in the US
Three years later, and there still isn't a McVegan available to most McDonald's customers — unless they want to travel to Finland like a pilgrim. One might wonder why. After all, in April of this year Live Kindly reported that Chris Kempczinski, McDonald's CEO, gave a vague answer of approval when asked whether vegan options would appear on McDonald's US menu: "Although a launch date and details were not given, he notes that he 'certainly expects to see plant-based on the McDonald's menu.'" 
Maybe it's because McDonald's has had mixed fortunes when it comes to Finland. In 2016, Food Navigator noted that McDonald's Finland had sustained losses of $91 million and closed 10 locations in the previous year, dropping their outlet number to 72. The McDonald's website also boasts this number for the country. Yet in May of 2019, Delish excitedly reported that McDonald's had decided to sell a plant-based burger in Germany, which appears to be slightly different from the Finnish option. Since the McVegan's debut in Tampere, McDonald's has spread it across the rest of Finland and into neighboring Sweden. According to Vox, the reason why McDonald's Finland got a vegan burger while we're still waiting may be down to the big difference in customer base. There are simply too many American customers for McDonald's to meet their demand.