This Viral Iced Coffee Hack Changes Everything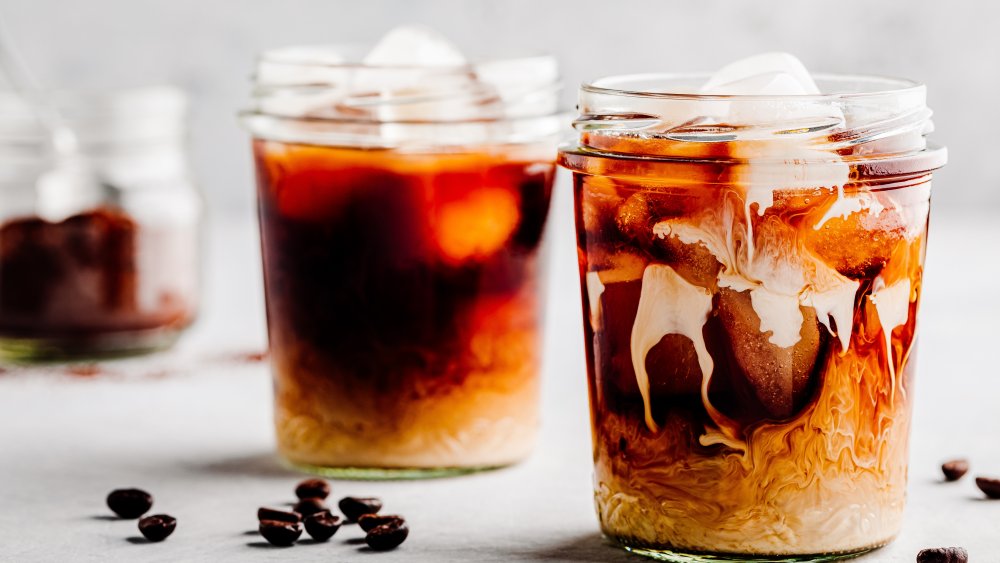 Shutterstock
Now that we've all agree that iced coffee season runs all year long, we can get down to the important work of figuring out how to make it right. When prepared to perfection, iced coffee manages to be captivatingly refreshing, and to simultaneously retain the comforting, security-blanket quality that makes your morning hot coffee non-negotiable. Too much ice, of course, and your mandatory caffeine-fix turns into a might-have-been. While no one is likely to sue you, like a frustrated customer once sued Starbucks for overdoing the ice, you'll certainly end up with diluted, coffee-reminiscent disappointment (via Minnesota Public Radio). Prepare your ice cubes with the wrong water, on the other hand, and you'll end up with unsavory, mineral-heavy aftertastes. Iced coffee with a hint of iron is not, and never will be, the menu item of the year.
Iced coffee fanatics, meet TikTok, your new best friend. In early October, TikTok cuisine influencer, Katie Lopynski, posted a how-to that will put to rest your iced-coffee-making anxieties from here on out. The only thing hard about this hack is the forethought you need to put into it. 
Follow this TikTok hack to the perfect, iced coffee
If you're a morning coffee person, we suggest starting your preparations the night before. Prepare a pot of your favorite brew (light, medium, or dark roast, it's up to you), and pour it into an ice cube tray. Katie Lopynski used a mini cube tray, but we won't judge you if you prefer standard-sized cubes.  
Once frozen, you'll need all of a minute to make your iced-coffee dreams come to life. Pour your cubes into a tall glass. The more cubes you use, the more caffeinated the end result. (In other words, the more the better). Then, take your milk (any milk will do, cow, oat, almond, coconut, or otherwise) out of the fridge and pour it over our coffee cubes. Lopynski finishes her iced coffee off with a touch of cinnamon. You, of course, could opt for vanilla, nutmeg, almond extract, or nothing. That's it. Of course, if you want to swirl your iced coffee around a bit before drinking, as if it were a fine cup of red wine, we won't stop you.