This Is The Worst Ben And Jerry's Flavor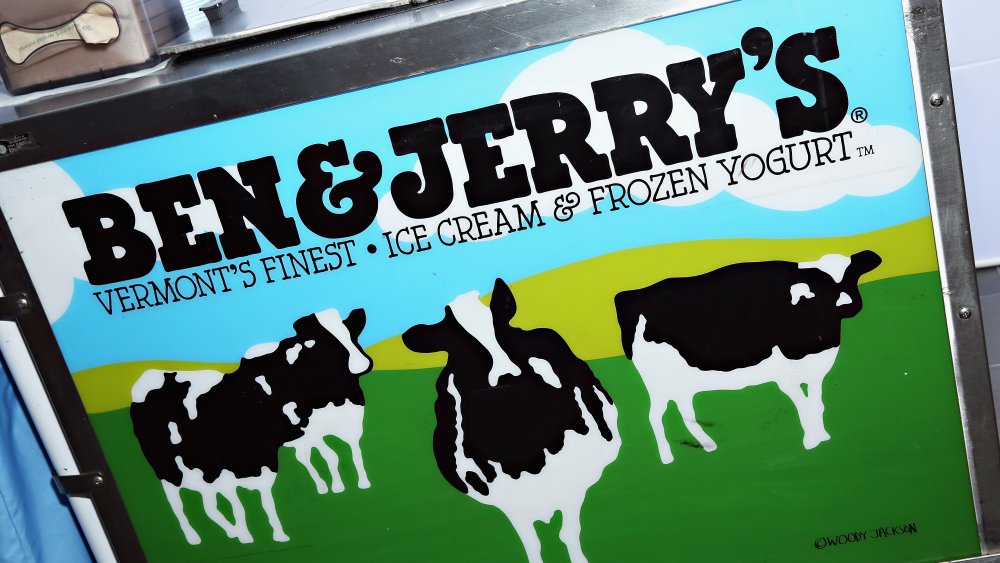 Cindy Ord/Getty Images
Who is not familiar with the iconic ice cream brand, Ben & Jerry's? As per the Ben & Jerry's official website, the brand's beginnings were rather modest. First started in 1978, the two founders only had a correspondence course in ice cream-making to rely on, coupled with an investment of a mere $12,000. The first Ben & Jerry's outlet was opened in a refurbished gas station in Burlington, Vermont.
The brand, of course, was successful, and became a respected maker of ice cream over the years. No matter what ice cream flavor you've been craving, it's likely that Ben & Jerry's can fulfill your wishes. The brand has over 60 flavors to choose from and offers some of the most classic options, coupled with unconventional configurations like Netflix and Chill'd, which is essentially a mix of salty and sweet flavors — a peanut butter base coupled with pretzel swirls and fudge brownies. But have you ever wondered which flavor is the most awful from the array of options available? Here is your answer.
Milk & Cookies will let you down
Ben & Jerry's Milk & Cookies does sound promising in the beginning. There's vanilla ice cream, of course, combined with extra ingredients to take you back to your childhood with a huge dose of nostalgia. It's a long, messy list, though: chocolate chip and chocolate chocolate chip cookies, coupled with chocolate cookie swirl. Oof. Too much of a good thing?
A HuffPost ranking from 2017 placed the item low on its list of preferred flavors from the brand, explaining that it's unwise to mess with a classic flavor like Cookies & Cream. That does make sense, after all. Another drawback is the presence of soybean oil in this particular flavor, a red flag in terms of nutrition thanks to the presence of omega-6 fatty acids in excess. Overconsumption of soybean oil can contribute to health complications like obesity (via Science Daily).
Please don't despair. There are many other delightful flavors that pass examination, according to Reddit's ice cream enthusiasts. Some of the top Ben & Jerry's picks include the Tonight Dough, Chocolate Fudge Brownie, Half Baked, Cherry Garcia, and more.