The Reason Everyone Is Talking About Burger King's Newest Ad
Yesterday, Burger King Twitter followers were given a Tweet asking, "[D]o Whopper sandwiches normally do this?" The "this" presumably meant the blue glowing light that appeared and the technological sounding music that began when the King opened a rather large takeout bag in the video attached to the tweet. The video then ended with "10/15." 
For commenters, this meant one thing. Sony has announced — via Burger King, for some reason — that it will make another announcement about the PlayStation 5 on Thursday. This theory was essentially confirmed when PlayStation's Twitter account retweeted the video with two emojis: a pair of eyes and an ear.
This isn't the first time this year Burger King has pushed its promotions upon gamers. In August, Mobile Market published a write-up of Burger King's stunt on Twitch, the popular streaming site. Streamers can collect donations from their fans who leave messages with their donations. So, Burger King created a bot to donate $5 to various streamers with messages, both text and audio, that promoted their restaurant. Streamers were understandably aggravated as Burger King got away with dirt-cheap advertising due to their labor.
IGN's take away was that this video was a UI tease. As for the Burger King angle, they could only conclude that this is also setting up some kind of sweepstakes deal between Sony and the fast food chain. Currently, Taco Bell and Microsoft are running something similar to promote the Xbox Series X. 
Speculations right now are simply speculations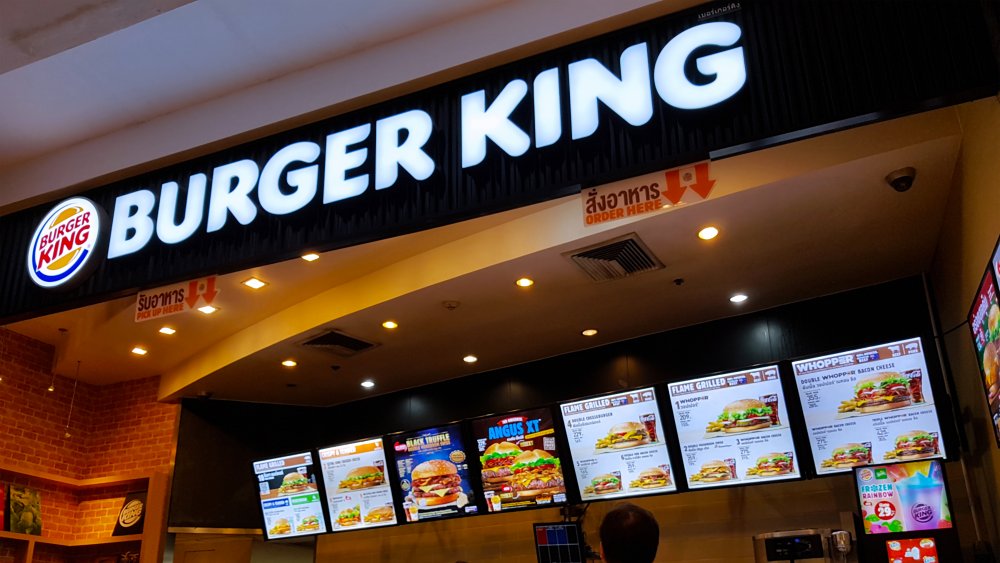 Shutterstock
While it seems likely that Burger King and Sony will collaborate further than just a gimmicky, if fun, announcement video, an official confirmation remains nonexistent. That is, so it seemed. However, a series of sites including Fansided and Thrillist assert, without providing evidence, that Burger King is indeed holding a PlayStation 5 giveaway based around its newly launched 2 for $5 Mix n' Match deal. They only direct the reader back to the already mentioned tweet.
That said, it would make sense for Burger King to do this. The 2 for $5 Mix n' Match deal, as covered by Chewboom, was initiated in July this year. Specifically, the deal was created to replace the original 2 for $6 deal and allows costumers to pay $5 for two of the following four: a Whopper sandwich, an Original Chicken sandwich, a fish sandwich, or the 9-piece chicken fries. 
A further detail adds some credence to their claims is their shared insistence that after purchasing something from the 2 for $5 menu, a token scratch-off appears on the Burger King app. The app is another aspect Burger King has been pushing lately, with them also going to Twitter to casually inform its fans that they could, if they wanted, get 40 chicken nuggets for $5. The app consistently has coupons and other savings billed to it, so adding the PlayStation 5 deal to it works as a logical continuation. So, until further notice, keep your eyes open for a possible Burger King app-exclusive giveaway.