Aldi Has The Perfect Additions To Your Charcuterie Board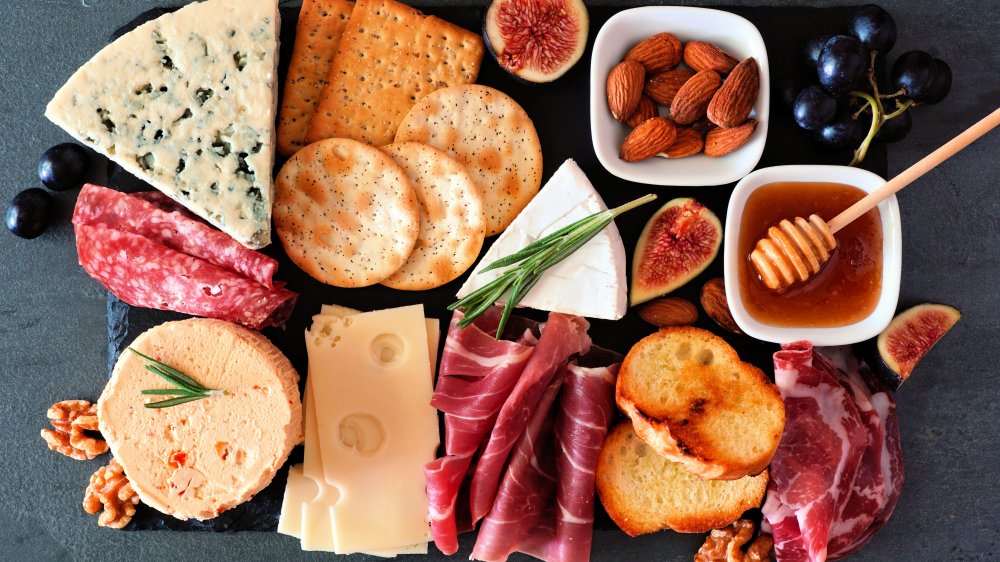 Shutterstock
If you love making charcuterie boards but want to cut down on the price that often comes with some of those high-end cheeses, then Aldi is just the place to go. While there were already some great options there to make an impressive cheese board for around $5 per person, Aldi has elevated its game (via The Kitchn). Your go-to budget grocery store just stocked a ton of new items that when arranged beautifully together will make the absolute best charcuterie board. From cheese to spreads and so much more, there's a lot to be excited about. 
On October 15th, Instagram user Aldi Guru posted a series of photos that featured some of the store's brand new items. People were excitedly commenting with things like, "yasssssss" and "look what Aldi has" while tagging their friends. Those who scrolled through the Instagram post quickly found that all they'd have to pick out, apart from the items featured, were what kind of crackers to serve everything with.
Complete your board with these new products
As the days get cooler, the star of the show might quickly become warm cheese rather than your typical room-temperature cheeses. That makes Aldi's baking Brie cheese, imported from France, one of the standout new items among the lot. It comes in two flavors or different toppings — cranberry glaze or pecan nuts and honey. Each wheel of Brie is sold with a reusable ceramic dish, and it's an award-winning item, so you'll definitely want to check it out.
The other items Aldi Guru shared were spreads to complement the Brie, such as a fig fruit spread and blossom honey, the latter of which comes complete with the comb in the jar. Both would be delicious with the delicate flavor of Brie. For some contrast in texture and flavor, Aldi's new Marcona almonds give just the right crunch. Plus, they come in two flavors: sea salt and rosemary.
Finally, to round it out so this is a charcuterie board rather than just a cheese board, Aldi just added three kinds of imported Italian dry salami. You'll find Genoa, Sopressata, and Chianti salamis on the shelves. Though these were all spotted and Instagrammed by Aldi Guru, they're not on the Aldi website yet. So be patient and keep your eyes open for these items, and get ready to put together the charcuterie board of your dreams.