Here's How XO Sauce Got Its Name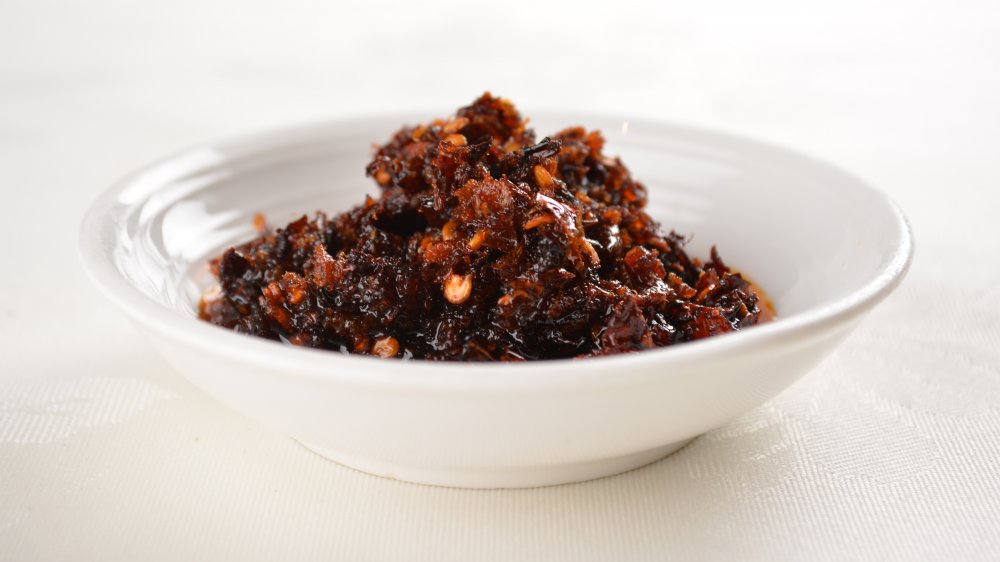 Shutterstock
Translating to "extra old," the designation XO is generally reserved for fine cognacs and brandies (via Vinepair). So how did an umami-rich Chinese condiment come to boast the same moniker as a bottle of Remy Martin? Some say that the story begins at the iconic Peninsula Hotel in Hong Kong. The Hotel is known for its legendary high teas featuring a selection of finger sandwiches, scones with clotted cream, and delicate pastries (via Trip Savvy), but according to Time Out, the property's Spring Moon Chinese restaurant is often named as the birthplace of this umami-rich sauce.
The sauce was said to be the brainchild of Wang Tingzhi, a food critic and writer who was consulting at the restaurant in 1986. However, Gourmet Traveller posits that the sauce was created in the seafood restaurants located in the same neighborhood as the hotel sometime in the early 80s. Regardless of who to credit for its origins, the sauce became a sought after condiment due to both its savory nature, and the priciness of its ingredients. And the sauce's steep price tag explains its name.
XO sauce is named for aged cognac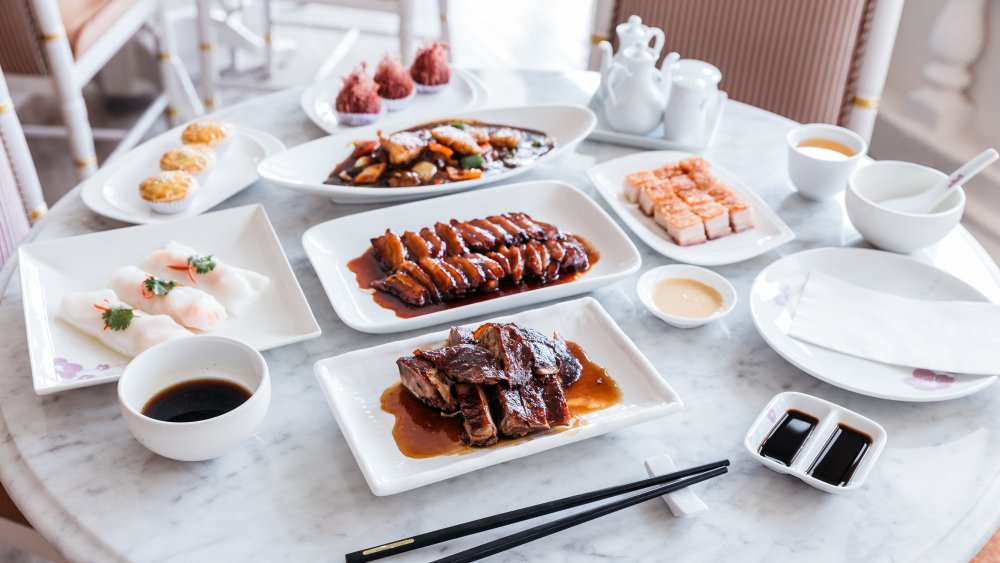 Shutterstock
Next Shark explains that XO sauce is named for aged cognac, a nod to the luxurious nature of the Cantonese condiment that's used to flavor everything from stir-fries and noodles to turnip cakes and roasted meats. On the ingredient list of a bottle of XO sauce, you'll find high-ticket items including aged ham and dried seafood. The sauce derives its rich flavor from slow simmering garlic, chiles, shallots, and ginger with Jinhua ham and dried shrimp and scallops. 
The scallops come in at $300 per kilo (via Gourmet Traveller). Hard-to-find Jinhua ham hails from a province in eastern China and predates both prosciutto and jamón (via SBS). For those looking to get a taste of Hong Kong's favorite sauce, Serious Eats shares a recipe that you can use for home cooking. As a bonus, it should last as long as a month in your fridge if sealed in an airtight container.