The Untold Truth Of Maggiano's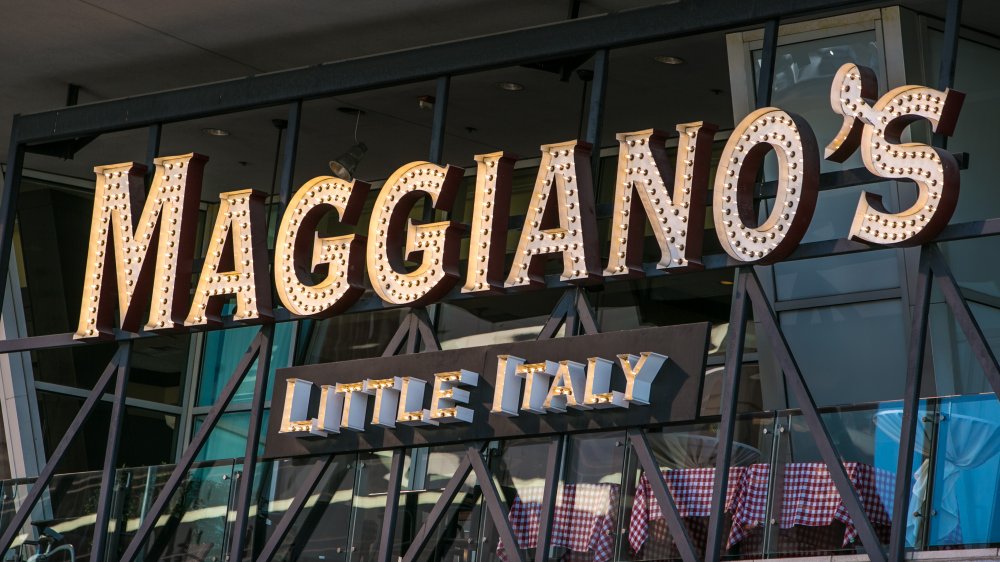 George Rose/Getty Images
Maggiano's Little Italy first opened its doors to diners in Chicago in November 1991. The restaurant was opened by entrepreneur Richard Melman, who co-founded an organization called Lettuce Entertain You Enterprises, which helped kickstart several successful eateries in the country, including Everest and R.J. Grunts. Melman started working in the hospitality industry early on when he was still a teen and experimenting with gigs at fast-food chains and other places. According to Maggiano's official website, the restaurant managed to make an impression on diners in the early going.
What made Maggiano's stand out was the fact that it was committed to serving authentic Italian-American food and took inspiration from Italy's rich food culture, offering a myriad of classic and reinvented dishes to its patrons. The restaurant's popularity grew rapidly and the brand opened several outlets in a few years, allowing diners to enjoy a variety of Italian dishes. It helped that Maggiano's served massive portions to its diners. Steve Provost, president of Maggiano's Little Italy explained Melman's vision in an interview with The Daily Meal. "Our true compass, in a word, is abundance. What we've stood for since day one, when Rich [Melman] opened the doors 20 years ago, is that this is a place where you'll have real traditional Italian classics and more than you could ever eat," he explained.
It focuses on cultivating a warm, friendly atmosphere
As explained by The Houston Press, Maggiano's focuses on ensuring that their dishes are homey, serving you a range of family-style meals that are largely comforting at their core. A Maggiano's loyalist wrote about their love for the brand in a review on TripAdvisor. They praised Maggiano's for its family-friendly ambiance and added that the eatery is "full of wonderful sights, sounds and aroma." Another diner mentioned in their review that the eatery could even satiate a fussy three-year-old in their family with its food which is no small feat. They added that staff members were attentive and were able to clarify their doubts with ease. Maggiano's also claims that it strives to ensure that employees feel supported on the job. Reviews on Indeed by current and former employees attest to this and laud the brand for its collaborative environment. 
The brand aims to allow all kinds of diners to enjoy themselves. That said, Maggiano's did run into trouble over some of its customers in 2016 when it was overwhelmed by protesters. According to Eater, the incident took place after Maggiano's played host to a white supremacist group called the National Policy Institute at one of its Washington D.C. branches. The restaurant, for its, part, explained that the booking was made under a different name and they were not aware of the actual identity of their guests. Maggiano's issued an apology and promised to donate $10,000 to the Anti-Defamation League.
Its classic Italian-American menu is popular
Maggiano's does have its share of loyal customers and has a range of options to choose from, particularly comforting dishes ranging from appetizers, soup, pasta, desserts, and more options, according to Eat This, Not That! Some of the most recommended dishes include the restaurant's simple but classic Spaghetti with Meat Sauce that also has bread on the side (hello carbs!) and the Famous Rigatoni 'D', which has herb-roasted chicken, caramelized onions, and mushrooms with Marsala sauce. (via EzCater). 
Fans of Maggiano's especially like their generous portion sizes. In a Reddit thread, a fan of the restaurant wrote about their thoughts on the restaurant. "Maggiano's is, in my opinion, the sort of chain that you'll be surprised to learn is a chain," they wrote. "I'm a huge fan of the chicken [parmesan], and take my parents to the local Maggiano's any time they are in town for lunch/dinner for a guaranteed good meal."