This Is The Secret To Making Perfect Hasselback Potatoes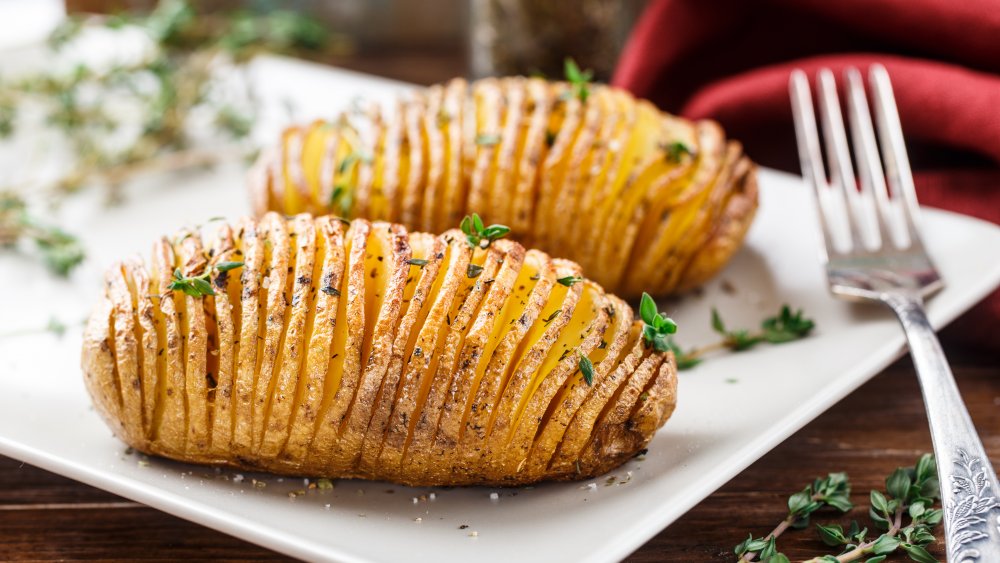 Shutterstock
Hasselback potatoes look stunning and taste even better. They're like fancy baked potatoes, and sometimes even have mouthwatering, gooey cheese tucked between each slice. But while they might look fancy, if you've got a few tricks in your back pocket, these yummy potatoes are super simple to make.
According to Williams Sonoma, Hasselback potatoes were first created at the Hotel Hasselbacken in Stockholm, Sweden. Since then, they've become a popular choice for impressing guests at dinner parties or taking a simple baked potato side dish up a notch. The best Hasselback potatoes have vertical slices almost all the way through the potato, and slightly fan open when you place them on the plate.
You don't have to be picky about which potatoes you use, either. According to The Kitchn, just about any potato will do, including Russet potatoes, Yukon Golds, red potatoes, or new potatoes. The only difference will be the cooking time — if you end up using smaller potatoes, they won't need quite as long in the oven to get crispy around the edges and tender in the middle.
The trick to making the best Hasselback potatoes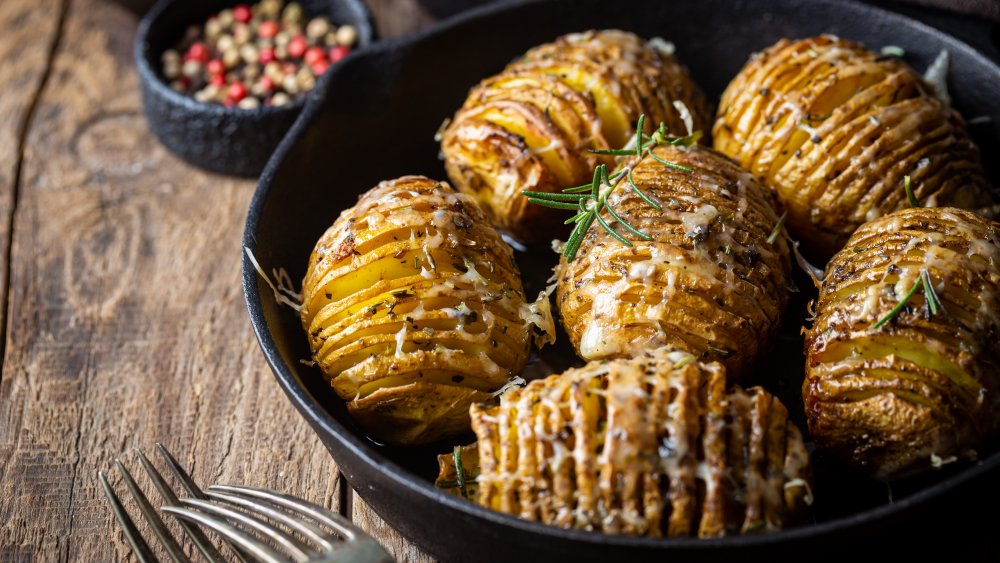 Shutterstock
One secret that will help evenly roast your Hasselback potatoes and help create a picture-perfect presentation is to cut a small slice off one horizontal side of the potato. Food blog Kevin Is Cooking says that this trick is key to getting your potatoes to fan open. Just slice a small piece off the base of the potato (any side will work), creating a flat side for the potato to rest on. Then, make the vertical slices into the potato. Save the piece that you sliced off the bottom and flip it over, so that the flat side is resting on your baking sheet. Finally, place the flat bottom of the potato on top of the slightly curved slice, and the potato should arch and fan open to give you a perfectly even roast. 
While cook time varies depending on your potato choice, The Kitchn recommends baking a large Yukon Gold for 30 minutes at 425 degrees Fahrenheit after it's brushed with fat and seasoned with salt and pepper.
Another trick you can use when you're making the vertical slice in the top of the potato is to place chopsticks or wooden spoons on either side. According to Williams Sonoma, the chopsticks act as the perfect guide for your knife so that you don't accidentally slice all the way through the potato. They'll also keep your cuts even so that none of the potato slices are deeper than the others. It also prevents the potato from rolling around as you cut. Both tricks will help you make the best homemade Hasselback potatoes you've ever had!