Why The Internet Is Obsessing Over This Early Voter's Dunkin' Coffee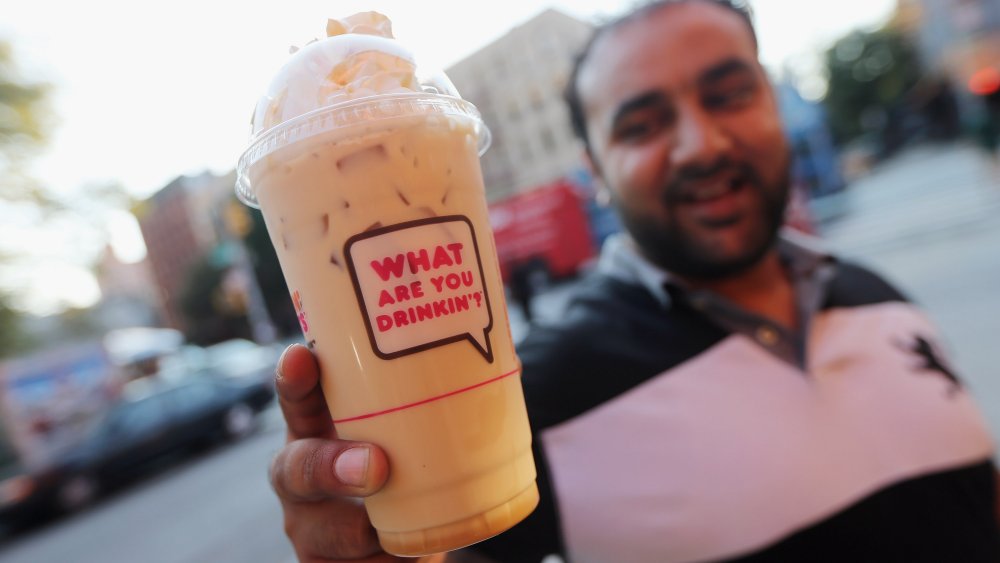 Mario Tama/Getty Images
On October 17, Brighton resident Laura Eastaugh headed to Fenway Park to participate in early voting. As Boston Magazine describes it, she stood before Boston's fabled stadium in a Patriots jersey while wearing a New England sports-themed mask and carrying a Dunkin' medium iced coffee. "I was thinking I had to do all the stereotypical Boston things because it was gonna be a once-in-a-lifetime opportunity to be able to vote at Fenway Park," she explained.
Although she came to resignedly vote for Biden, the mash-up of various sports attire and location made her consider the act as a team sport. She saw a TV camera and thickening her accent to be just as Bostonian as she could be, she gave her message to the news: "I wanted to vote at Fenway because we've all been cooped up inside for a little bit, and I got my Dunkies... I'm ready to vote for Joe Biden but I wish I was voting for Bernie Sanders, but it's a team sport!" The whole thing was so over-the-top Boston that the internet had to notice.
BuzzFeed News caught up with Laura Eastaugh after the news started to spread everywhere. She appreciates the reaction and jokingly hopes that Dunkin' enjoys the free publicity enough to pay her student loans. Dunkin', however, has not responded. "Dunkies," it seems, is an established endearment in Massachusetts, as evidenced by this 2017 Trip Advisor review from a Massachusetts native titled "Dunkies Is As Dunkies Does."
Banking on our votes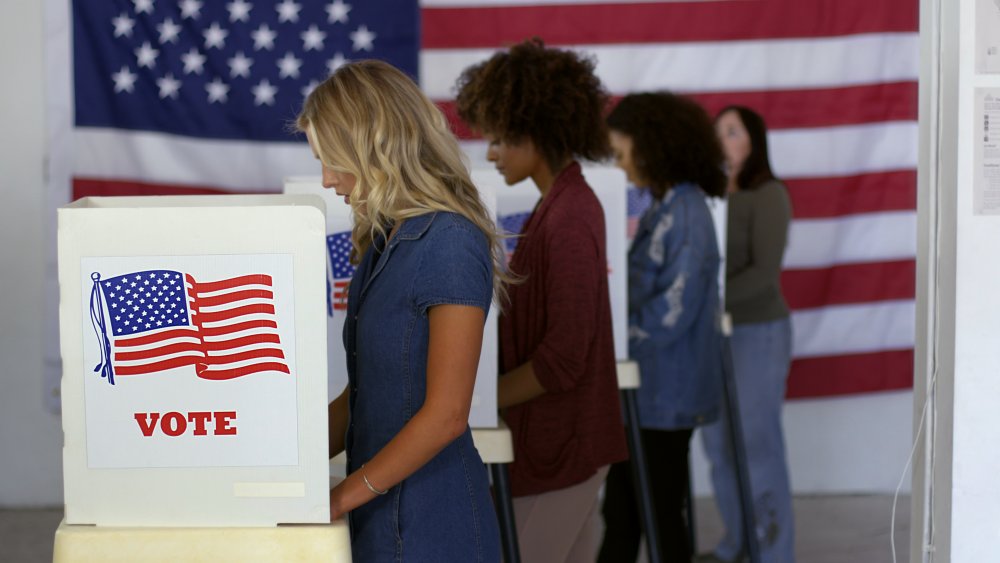 Shutterstock
With the election only a couple of weeks away, other members of the food industry are taking notice and making their opinions heard where Dunkin' has remained quiet. The very many initiatives are scattered all across the country, so we will highlight a few in a scattershot manner.
In Philadelphia, a few restaurants have teamed up to donate meals to the Fuel the Polls initiative. In addition to being paid $250 for supplementing Philadelphia's aging and dwindling poll worker body, poll workers will receive a free meal.
On the other end, that of the voter, Pizza to the Polls delivers thousands of pizzas to hundreds of polling places across the country, ensuring that those who have to wait in inordinately long lines can eat without having to vacate their spot. A similar initiative is sponsored by Uber Eats, which, as The Daily Meal reports, has partnered with Pizza to the Polls to deploy more than 180 food trucks in 25 major cities across the country.
Explicitly promotional benefits, however, verge on illegality. In 2018, Nation's Restaurant News put out a warning piece against restaurants offering deals for those who can prove they've voted. Essentially, election scholars contend such deals threaten the integrity of the vote by bribing people. Still, it's a practice that is carried out everywhere anyway. Perhaps this is why Dunkin' has kept quiet about Laura Eastaugh.