The Elf On The Shelf Just Got Its Own Cereal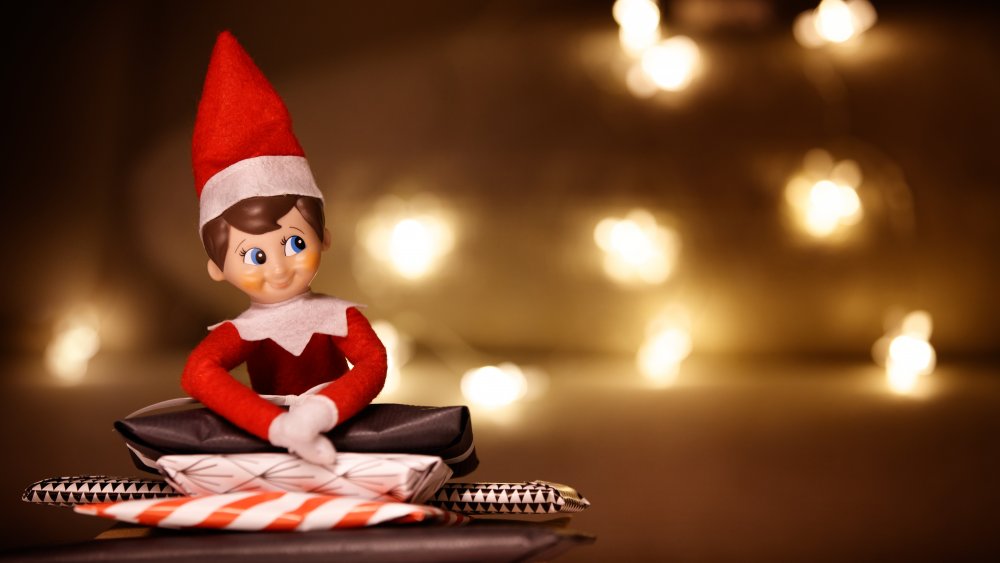 Shutterstock
As the holidays approach, it seems it's time for all things sugar to make their way into every part of the day. Now you can even festively enjoy your sugar-laden breakfast cereal with the latest edition of the Elf of the Shelf cereal. We love how it's reminiscent of the candy cane forest Buddy the Elf had to traverse in the classic Christmas movie Elf, and you won't want to miss it.
You might remember that the Elf of the Shelf got its own Kellogg's cereal last year. According to Southern Living, the breakfast treat was sugar cookie-flavored with cereal pieces made to look like red and green stars, marshmallows, and edible glitter. When you added the milk in, it was just like eating a bowl of Santa's favorite treat. This year, Kellogg's is introducing a brand new flavor, Vanilla Candy Cane Cookie, to accompany the sugar cookie variety. "The Elf on the Shelf has captured the hearts of millions of families," Erin Storm, senior marketing director of Kellogg All Family Cereal, said in a press release. "Our new The Elf on the Shelf Vanilla Candy Cane Cookie Cereal encourages families to bring the magic of the holiday season to the breakfast table, whether it's by enjoying a spoonful of Candy Cane Cookie, Sugar Cookie, or a combination of both." Sounds like a delicious duo.
Here's what you need to know about the new Elf on the Shelf cereal flavor
The newer limited-edition cereal is slightly different from its green and red star, sugar cookie flavored counterpart. This year, the new Elf on the Shelf Vanilla Candy Cane Cookie variety will be made with red star pieces that have been dusted with white crunchy sprinkles. To top it off, there are red and white swirled marshmallows tossed into the mix too. Ultimately, a bowl of this cereal will taste like vanilla, peppermint, and marshmallows, which sounds pretty amazing to us (via Delish). So, if you do decide to combine it with the sugar cookie cereal variety, chances are you won't be let down by the sweet pairing.
The newest addition to the Elf on the Shelf cereal collection will be hitting shelves soon, which means you'll definitely want to keep your eyes open when you do your grocery shopping these days. The Vanilla Candy Cane Cookie Elf on the Shelf cereal can only be found at Walmart in-stores and online while supplies last, so you might want to pick a few boxes up when you see them. Each 12.2-ounce box of the new flavor has a suggested retail price of $5.69, and last year's sugar cookie cereal can be found in 8.1-ounce boxes for $3.99. Pick up your favorites to enjoy a festive breakfast this holiday season.