Andrew Zimmern Opens Up About His Relationship With Anthony Bourdain - Exclusive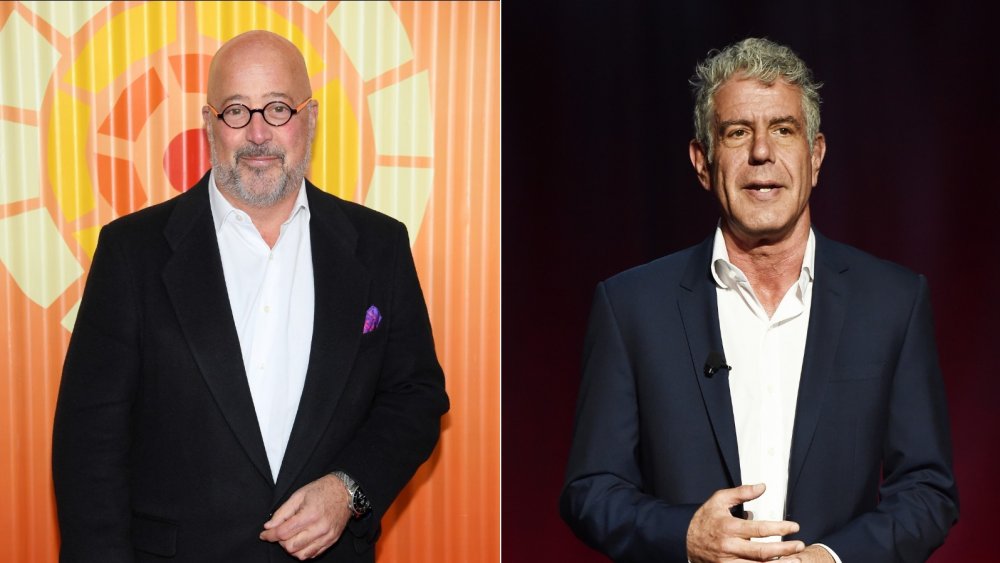 Dimitrios Kambouris/Getty Images
As their dueling Travel Channel food shows, Bizarre Foods and No Reservations, grew in fame, so, too, did the friendship between rivals Andrew Zimmern and Anthony Bourdain. And when Bourdain's untimely death shook the culinary world in 2018, it turned Zimmern's own world upside down. In an exclusive relationship with Mashed, Zimmern shared what it was really like to be close personal friends — and professional foes — with Bourdain, and why 2020 has been an especially hard year to live through as a champion of the hard-hit restaurant industry without "Tony" there to commiserate. "I can tell you he was the most dynamic and engaging and fascinating human being," Zimmern said. "Every guy wanted to be his best friend. Everyone loved him, because he was so brilliant, so captivating, so charming when he wanted to be, or cuttingly, cunningly, beautifully evil when he wanted to be."
It's this evil humor that Zimmern said he misses the most — with a little comic relief, it would have been easier for him to get through the pandemic, and what he called "a crushing absence of leadership" from the federal government in supporting the 13 million Americans employed by independent restaurants. "Especially the last year, I just would've loved to have seen what he had to say about Donald Trump," Zimmern added. "I would love to have had dinner with him and I just listen to him rant about it... he would create a few sentences, so masterfully developed, that it would be the ultimate in ironic and cutting verbiage."
Andrew Zimmern and Anthony Bourdain had a unique friendship
According to Zimmern, he and Bourdain started out as rivals, but playful ones. "As his friendly competitor during the first four or five years we were on the network together, growing our friendship, there was a lot of competition. It was hysterical," Zimmern recounted. "We'd call each other late at night or send texts or emails. And he'd be like, 'How'd you get into Cuba?' We went to do our Cuba show, right? And I was like, 'Well, how did you get into Iran?' And then he'd text me, 'How did you get into Syria?' I mean, so we're constantly playing that game."
But eventually, that rivalry evolved into a more meaningful relationship, Zimmern said. "Over the last four or five years of his life, we developed a deeper friendship," he explained. "As our kids grew older, as we became more mature and better folk, we endured a lot of the same life struggles, went to some of the same schools, worked in some of the same places, wound up doing some of the same ... I mean, our overlap is quite something when you look at it." Bourdain's passing has been difficult for Zimmern, he added. "So his effect and impact on me was phenomenal, and rarely a day goes by that I don't think of him and I don't miss him."
As much as Bourdain impacted Zimmern's life, his influence on the culinary world as a whole is too great to be measured, he said. "I don't think his impact on the culinary world is even really calculable now. I think we have to wait a couple more years. And the reason is, there are so many people who watched his shows for the 13, 14 years that he was making them," Zimmern explained. "And they're coming of age now, and they're going to impact our industry for decades. And at that point, we really will be able to see."
Go to saverestaurants.com to learn how you can support your local restaurants.