The Real Difference Between Cajun Seasoning And Old Bay Seasoning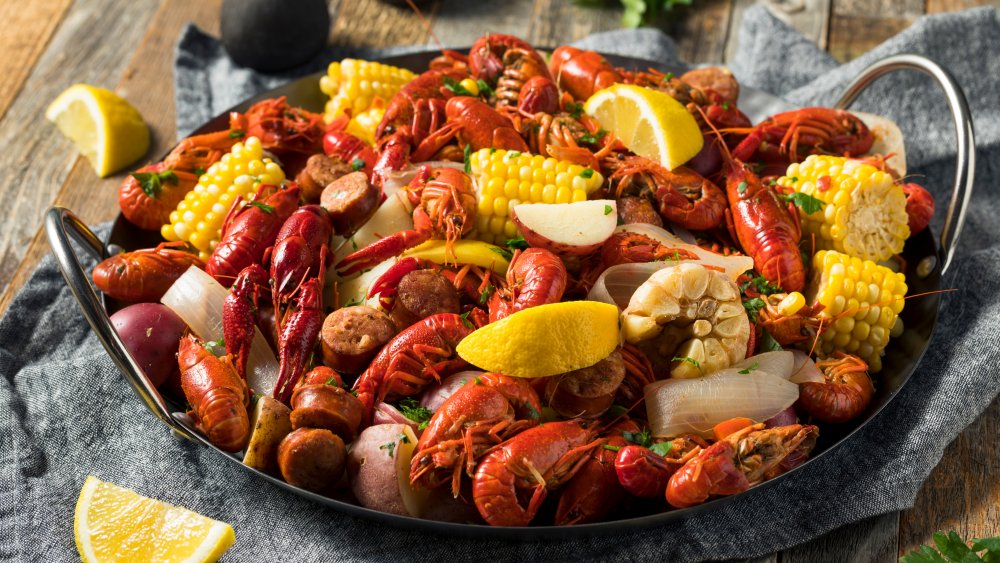 Shutterstock
If you're looking to spice up your next seafood dish, you can't go wrong with Old Bay or Cajun seasoning. Both are considered to be go-to American spice blends, used by chefs and home cooks alike to bring seafood recipes (and more!) to life, according to PepperScale. While they might seem interchangeable (and indeed, many recipes suggest Cajun seasoning makes a great substitute for Old Bay), these two spice mixes are not the same. So what's the difference?
Aside from their distinct flavor profiles, the main difference between Old Bay and Cajun seasoning lies in their respective histories and cultural connections. Old Bay seasoning is a specific spice blend owned by U.S.-based McCormick and Company. It was created more than 75 years ago along the Chesapeake Bay. The origin of Cajun seasoning isn't quite as clear-cut as Old Bay's backstory.
Old Bay is a Maryland original
Old Bay Seasoning was invented by a German immigrant who fled the Nazis with little more than a spice grinder. He settled in Maryland and reportedly created the Old Bay spice blend in 1940 (via the Baltimore Jewish Times), It was originally intended as a seasoning for crab, by far one of the state's most iconic culinary staples (via PBS). McCormick purchased the Old Bay brand in 1990, per the Baltimore Sun, and today it's used on everything from seafood to poultry, burgers, even french fries. 
Old Bay is made with 18 different spices, giving it a bold, warm, and very complex flavor that can be described as downright addicting (via HuffPost). McCormick lists the main ingredients as paprika, celery salt, and spices, including red and black pepper, but the company doesn't get more specific than that. Older Old Bay packaging gives more insight into the ingredients, also listing cloves, ginger, cardamom, bay leaves, mustard seeds, and others. But it still doesn't add up to 18 spices. So while the full makeup of the spice blend is unclear, we do know a few things are not in the mix. McCormick has confirmed that OId Bay does not contain onions, garlic, or flavor enhancers like MSG.
Cajun seasoning is rooted in Louisiana culture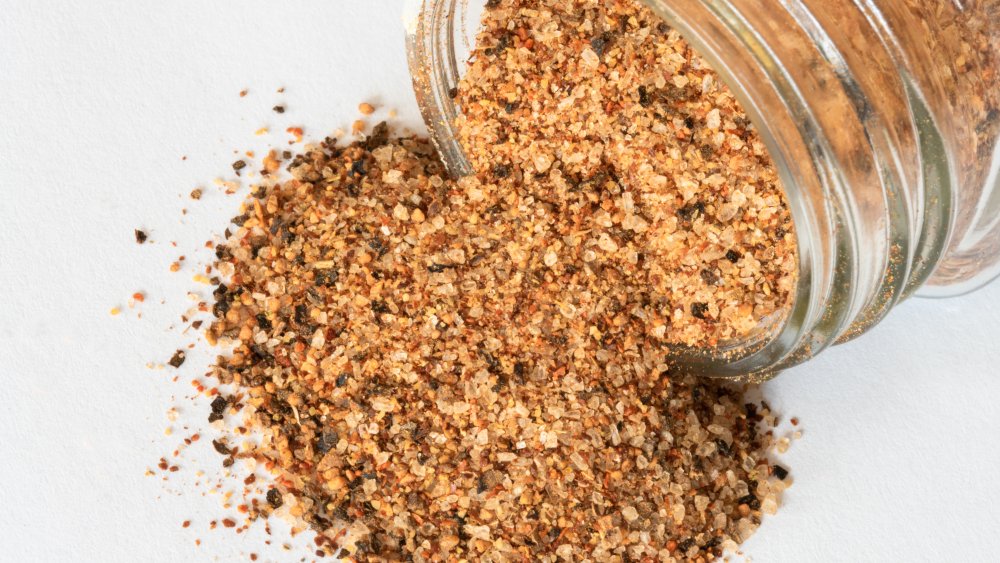 Shutterstock
The term Cajun itself refers to French settlers who immigrated from Canada to the U.S. south (present-day Louisiana) around the mid-18th century. According to Culture Trip, Cajun cuisine evolved over decades, with settlers learning to adapt to the new region. It came to focus on gulf seafood, native plants like rice, bell peppers, and okra, plus all kinds of new spices. Cajun food is infused with culinary influences from French, Spanish, African American, and Native American cultures.
There isn't really one official recipe for Cajun seasoning, because it wasn't specifically invented by Cajuns. Spiceography notes that Cajun cuisine really became popular on a national scale around the 1980s... along with Cajun seasoning blends that were created to help non-native cooks replicate the flavors they were craving. Normally, Most seasoning recipes will start with salt, and usually include paprika, onion, garlic, and black or white pepper, according to Gimme Some Oven. Other ingredients commonly used include oregano, cayenne pepper, thyme, even turmeric. The result makes for a very savory, earthy, and spicy flavor that's delicious on pretty much anything.