Crispy Roasted Parmesan Broccoli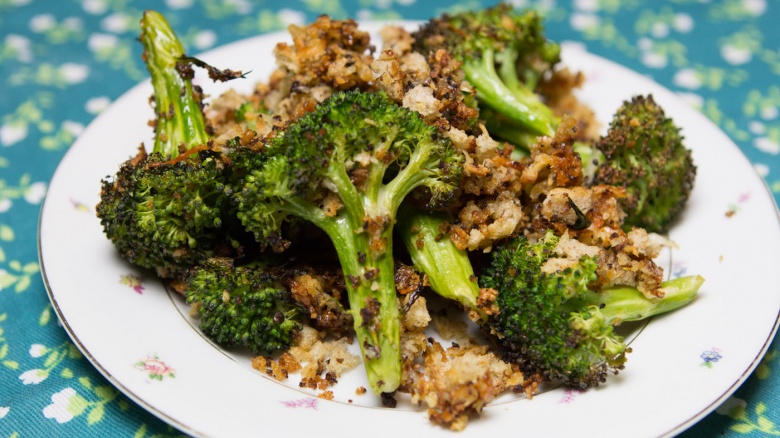 Prep time: 15 minutes. Cook time: 20 minutes. Servings: 2.
This glorious side dish feels more like a main event. It certainly goes to show that eating your veggies can be a downright joyful occasion. An excellent source of vitamins and rich in nutrients, broccoli not only boasts good produce cred, it's a cinch to prepare. Popular with adults and children alike, it's time this green, tree-like vegetable got the star treatment.
As the days grow shorter, there's nothing quite as satisfying as spending evenings in a cozy kitchen. It's my favorite time of year to turn on the oven and roast as many vegetables as I can get my hands on. This method of cooking broccoli results in beautiful, caramelized browning on the outside and enhanced flavor and natural sweetness throughout. Whether you're serving a vegetable dish on a relaxed weeknight or for a special dinner party, roasting ensures unbeatable flavor that makes for a surefire crowd-pleaser every time.
Here, broccoli florets are tossed with a crispy, zesty breadcrumb concoction you'll want to add to everything you eat — and you totally should! (It's probably a good idea to incorporate it into as many vegetable dishes as humanly possible, sprinkle it over softly scrambled eggs, and fold it into cheesy pasta. Why not?)
Crusty breadcrumbs are tossed with lemon zest, minced garlic, and Parmesan cheese for a mixture that is deeply savory and full of bright flavor. The seasoned broccoli is roasted to ridiculous, crisp-tender perfection. You'll find yourself making this dish every chance you get. And who would blame you?
Ingredients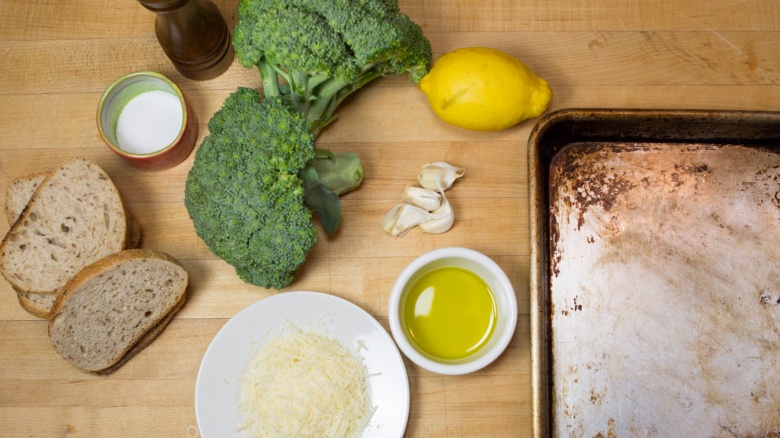 Shopping list
2 broccoli crowns
1 lemon, divided
4 garlic cloves
5 ounces sourdough or other crusty bread
⅓ cup grated Parmesan cheese
3 tablespoons olive oil
kosher salt, freshly ground black pepper
Equipment
Prepare ingredients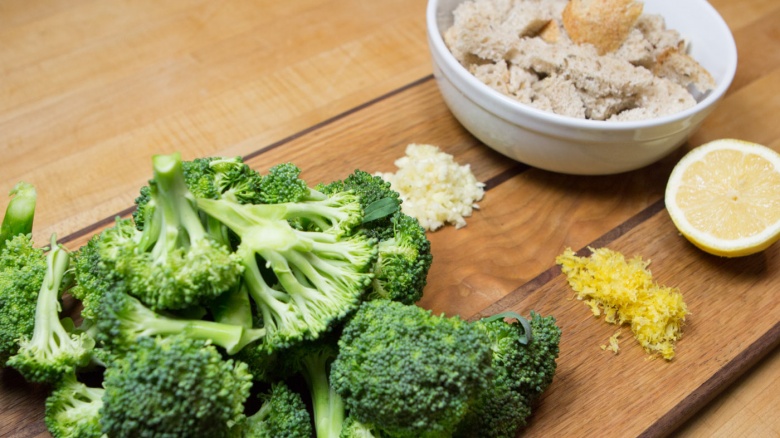 Preheat the oven to 425° Fahrenheit. Rinse the broccoli and separate the florets. Rinse the lemon, pat it dry, and zest half of it. Then cut the lemon in half. Peel the garlic cloves and mince them. Remove the crusts from the bread and roughly cut it.
Prepare breadcrumbs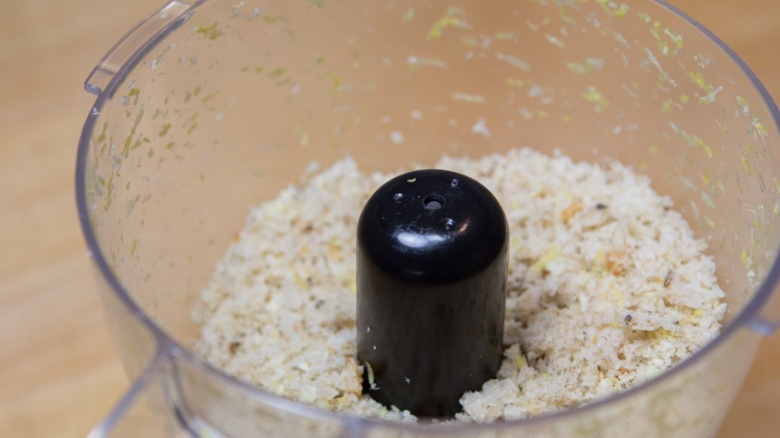 In a food processor or blender, combine the garlic, bread, and lemon zest. Pulse until coarse crumbs form. Season with salt and black pepper as desired.
Toast breadcrumbs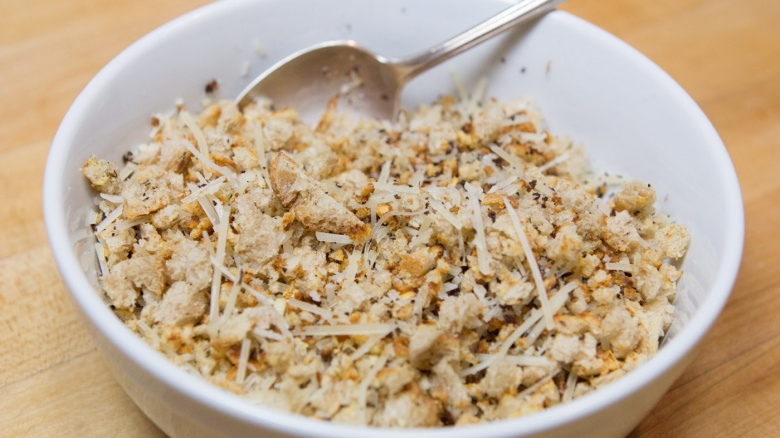 Add the breadcrumb mixture to a medium pan over medium heat. Toast, shaking the pan occasionally, until the breadcrumbs are lightly golden, 3-4 minutes. Transfer the mixture to a bowl and set it aside to cool slightly. Stir in the Parmesan cheese.
Season broccoli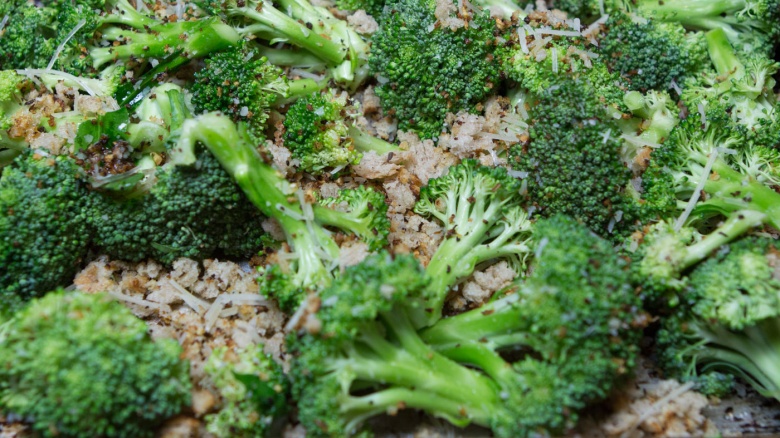 On a baking sheet, toss the broccoli with the breadcrumbs and 3 tablespoons of olive oil. Season with more salt and black pepper as desired. Arrange the florets in a single layer.
Roast broccoli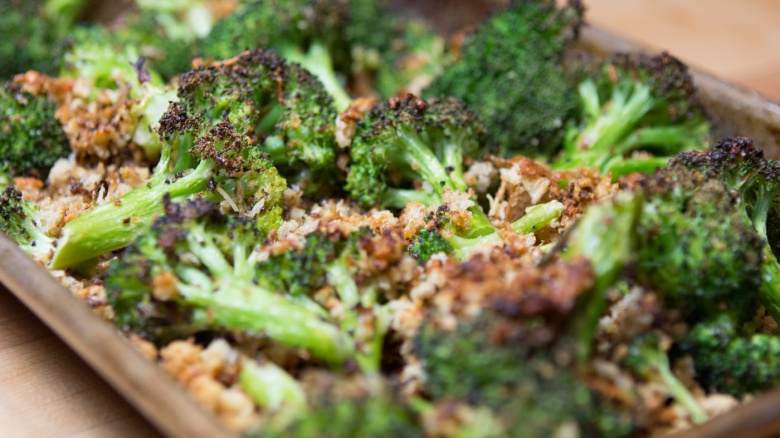 Transfer the broccoli to the middle rack of the oven and roast, flipping halfway through, until the breadcrumbs are crisp and golden and the broccoli is just tender, 20-25 minutes.
Serve broccoli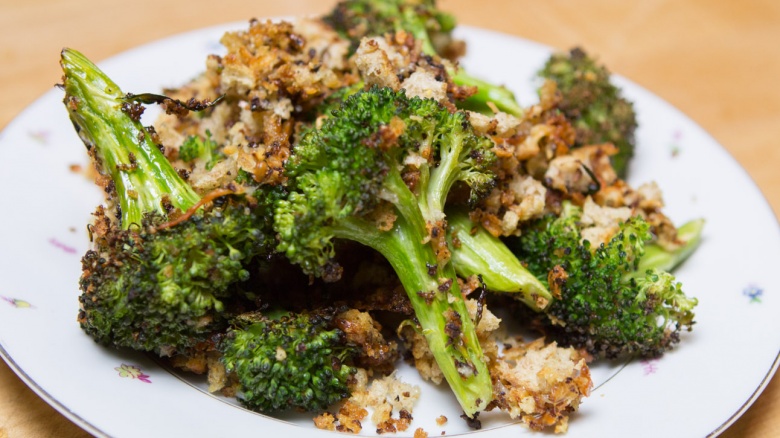 Remove the broccoli from the oven and set the pan aside to cool for 1-2 minutes. Add 2 squeezes of lemon juice over the broccoli if desired, reserving the remainder for use in a future recipe. That's it! It's time to get excited about eating your veggies.