Why You Probably Won't Get A Chance To Try Mountain Dew's Hot Sauce
This fan-favorite hot sauce from Mountain Dew won't be available at your local grocery store – we think. As a spokesperson for the Mountain Dew beverage shared with Delish, there will only be 500 bottles of this limited-edition product. And as for when you can get it, the most info we have is the brand answering on October 30th to tell people to "stay tuned" on social media (via Yahoo Life). As for the hot sauce itself, fortunately, we can share a little more information. 
The sauce will feature the citrus notes we're all familiar with from the Mountain Dew soda. As for what exactly makes up those "citrus" flavors, fans guess the mix is some combo of orange, lemon, lime, and maybe grapefruit (via Stack Exchange). As for the spice, a fan vote of over 3800 participants chose a habanero theme (via Twitter). Coming in at a close second were fatalii peppers, followed by peri-peri and datil. 
Now if you're thinking that the combo sounds weird, just remember that there's a large history of adding sodas to hot sauces, like Dr. Pepper bbq sauce (via Epicurious). In addition, citrus is a common component of an excellent hot sauce. Bon Appetit explains the idea in more depth, noting the addition of lime added acidity, lemon zest created a rounded citrus flavor, and that adding grapefruit provided an intense fruitiness that provided a platform for the sweet heat and slow burn of their own homemade sauce. 
Embiid's hot sauce is a slam dunk with fans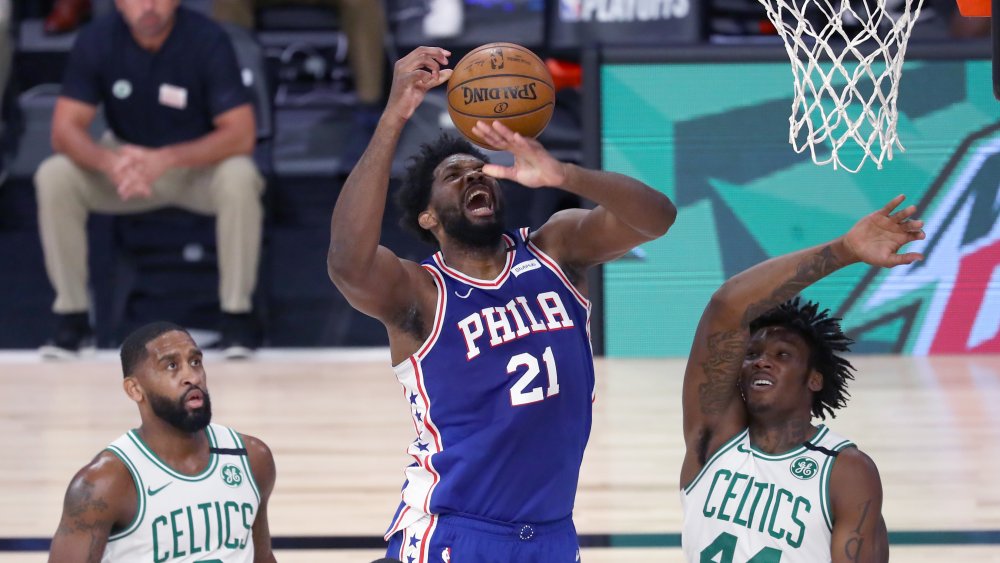 Pool/Getty Images
Now that the "what" has been covered, it's time to discuss the "who" and "why." Mountain Dew has collaborated for this limited edition feature with Philadelphia 76ers Joel Embiid (#21) and hot sauce maker iBurn. iBurn describes themselves as a store for all things spicy, featuring everything from flavored hot sauces to ghost pepper watermelon candy – so this is likely a great group to develop this collaboration. Embiid is a Mountain Dew spokesperson on their website in addition to being an all-star center (via Mountain Dew). The Cameroonian native is known for his love of gaming as well as his love of trolling – so it will be interesting to see if there's any joke involved in this rollout later.
And as for the "how" you should eat this spicy rarity if you can grab some, excited fans have the answer here. Says one reader, "Really hopin to win a bottle of this! Would go great with some spicy mexican food!" Another has a more specific suggestion, "Holy moly, I can imagine my Mountain Dew chicken wings right now... Holy moly..."
It will be interesting to see how this rolls out and whether it's a true slam dunk from Embiid and Mountain Dew. In theory, this could be super delish!