Here's What You'll Find At The Biggest Wendy's In The World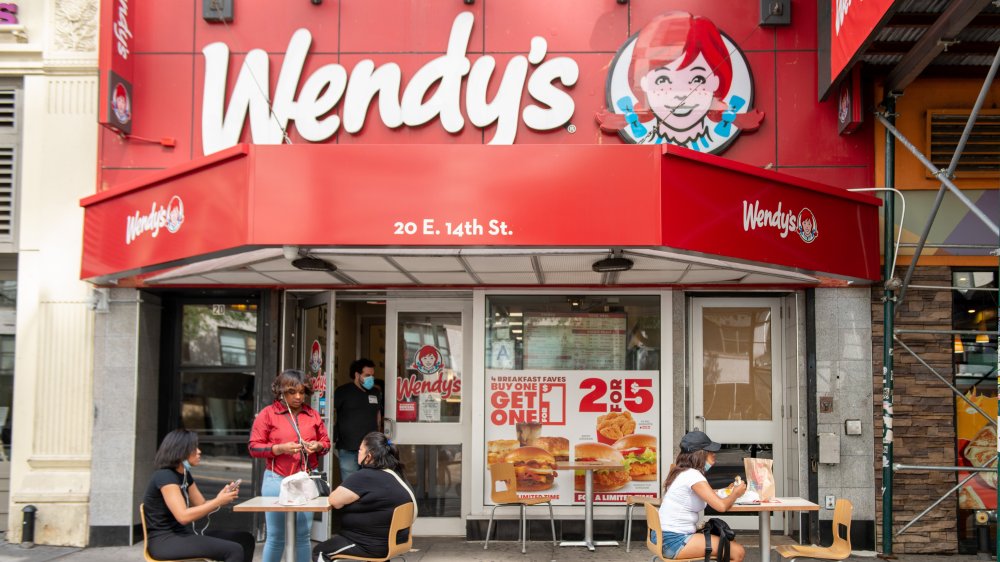 Alexi Rosenfeld/Getty Images
Ah, Wendy's. The fast-food chain with a penchant for square beef patties, chicken sandwiches, and fries. Basically, fast food at its best. As per the Wendy's website, the brand focuses on providing food that is fresh in a setting that is inclusive and comforting. A description on the site sums it up well: "When you walk through our doors, we do what we can to make everyone feel at home because our family extends through your community."
The Wendy's brand was kickstarted by entrepreneur Dave Thomas in 1969 in Columbus, Ohio. Thomas was a huge fan of hamburgers and decided to start his own restaurant when a friend complained about how tricky it was to find a satisfying lunch option in downtown Columbus. Wendy, by the way, was his kid's nickname. The restaurant initially offered hamburgers, chili, fries, soft drinks, and a dessert option. The brand has climbed to achieve popularity across the world and has more than 6,500 outlets globally. Guess where the biggest outlet is. Hint: it's not in the U.S.
This is a coffee lover's paradise
The biggest Wendy's outlet currently is located in Tbilisi, Georgia. According to Dispatch, this is one impressive place to be: it has three floors and is spread across 15,00 square feet. Gulp. It was inaugurated in 2015 and offers the usual suspects such as the brand's delicious hamburgers along with 15 kinds of coffee. They're not kidding around here.
The restaurant doesn't just have a dining area. It also features a Game Zone in case you're looking for ways to entertain yourself while eating at Wendy's. The restaurant has some truly interesting beverage options such as its Iced Coffee with Frosty and Baileys. Whoa. Sign us up. Besides that, you can order a variety of sandwiches, dessert options, salad, alcohol, and more. A reviewer on TripAdvisor wrote about their experience dining at the biggest Wendy's outlet in the world. "Based on my job, I have to travel to Georgia few times a year and since I get the same hotel which is pretty close to the Wendy's in Rustaveli street, I keep going here... one of the best in Tbilisi," they wrote. Another review mentioned that the familiarity of the brand is comforting and is great for those who want to enjoy a good meal on the run.