Creamy Butternut Squash Stuffed Shells Recipe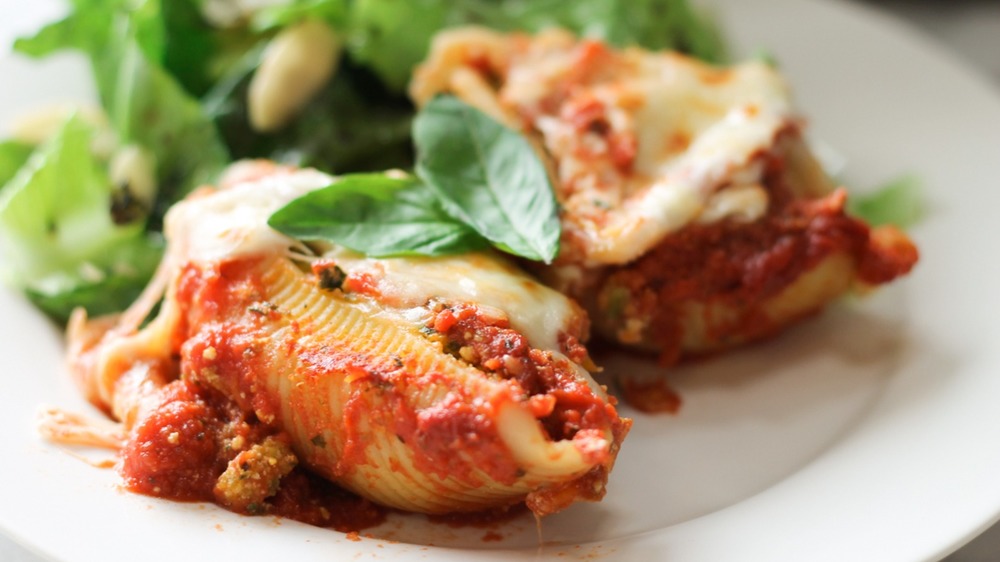 Melissa Olivieri/Mashed
Butternut squash is one of the most versatile and flavorful of squashes that you'll find in your market's produce section in the fall and winter. You can use it in savory main courses, soups, baked goods, or side dishes, as well as in desserts. One of the most popular pairings with butternut squash is pasta and lots of melted, gooey cheese. When roasted, butternut squash becomes soft and silky, and can be stuffed into any large pasta shape.  
Melissa Olivieri of The Olive Blogger lives outside of Toronto, Canada, and her recipes are inspired by her husband's Italian family. In Olivieri's recipe for creamy butternut squash stuffed shells — which she likens to a "deconstructed lasagna" — the pasta is stuffed with a luscious mixture of butternut squash, spinach, and two cheeses. The shells are topped with jarred or fresh marinara, and baked under a blanket of shredded mozzarella until golden, bubbly, and creamy. For a chilly weeknight or weekend dinner, Olivieri's recipe is sure to warm you up.
Gather together the ingredients for creamy butternut squash stuffed shells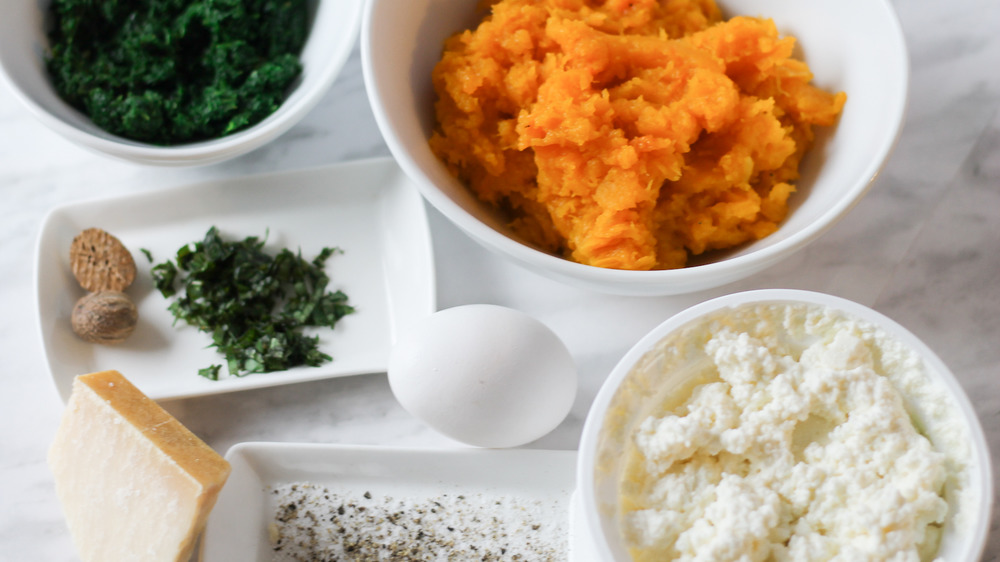 Melissa Olivieri/Mashed
The ingredients for Olivieri's delicious recipe are readily available. Butternut squash is the primary ingredient, and you'll be roasting it to heighten its flavor. Olivieri says that it's possible to substitute the roasted butternut squash with frozen (and thawed) squash as a time saver, but the texture will be different, and as she says "it would affect the flavor a little bit." 
Another ingredient in these butternuts squash stuffed shells is spinach. You can use either frozen or fresh spinach, but after it's been thawed or cooked, you'll need to drain it completely before mixing it into the stuffing (more on that later). If you're buying frozen spinach, make sure it's chopped, so you don't have to add chopping it to your to-do list when you're putting everything together.
Three cheeses are called for — mozzarella, Parmesan, and ricotta — an egg, a little basil, and freshly ground nutmeg (although it's optional, nutmeg adds a bit of zing). Ground nutmeg is okay, but freshly ground nutmeg is less aggressive, and you'll just need a tiny bit.
How to cook the butternut squash for the shell stuffing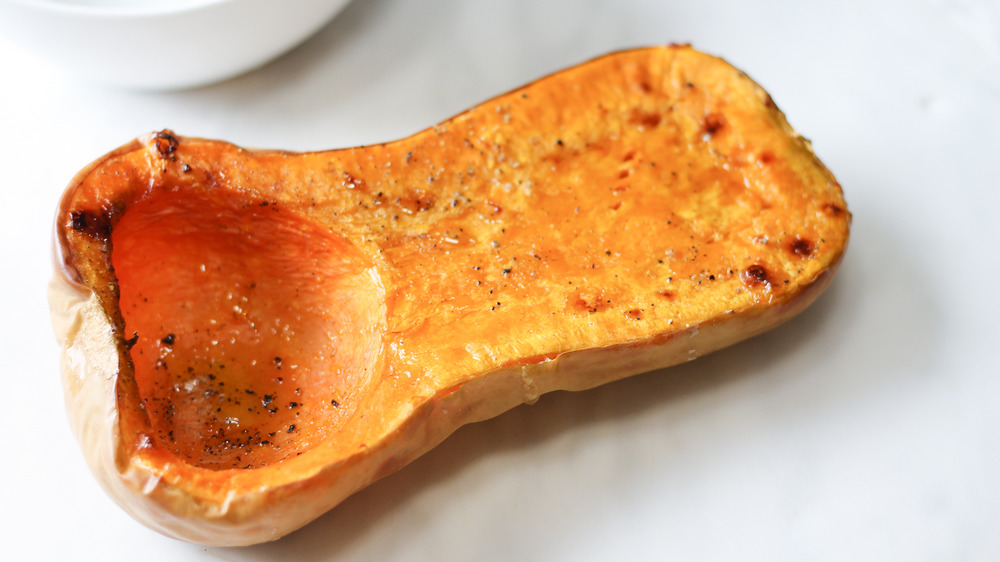 Melissa Olivieri/Mashed
Cooking a butternut squash can seem pretty tricky if you don't know what you're doing — partly because there are so many different ways to deal with this winter squash. A popular method involves peeling the squash's tough skin, scraping out the seeds, and then slicing and cutting the flesh into cubes. That way is time-consuming and labor-intensive. Olivieri's method is much simpler. 
She says she prefers quick and easy meals over three-hour affairs, and describes what the hours leading up to dinnertime are often like at her house. "I open the fridge at night, Rob (her husband) is going to be home in an hour... What do I have that I can grab and put together really fast?"
Olivieri splits the squash in half lengthwise, then she scoops out the seeds from the bulbous end. She brushes both cut sides with a single tablespoon of olive oil, generously salts and peppers each halve, and pops them into a 400 degree Fahrenheit oven for 30 to 45 minutes, depending on the size of the squash. "You want to watch the squash when it gets soft," Olivieri told us. "You should be able to put a fork into it and gently pull it out without the fork sticking." Once the squash is done, let it cool enough that you can handle it, and scrape out the soft, roasted squash. 
If you're using frozen butternut squash cubes instead, Olivieri warns, "they hold too much water to roast them." If you decide to go with the frozen, "just defrost, and mash the cubes with a fork." 
Should you use frozen or fresh spinach in creamy butternut squash stuffed shells?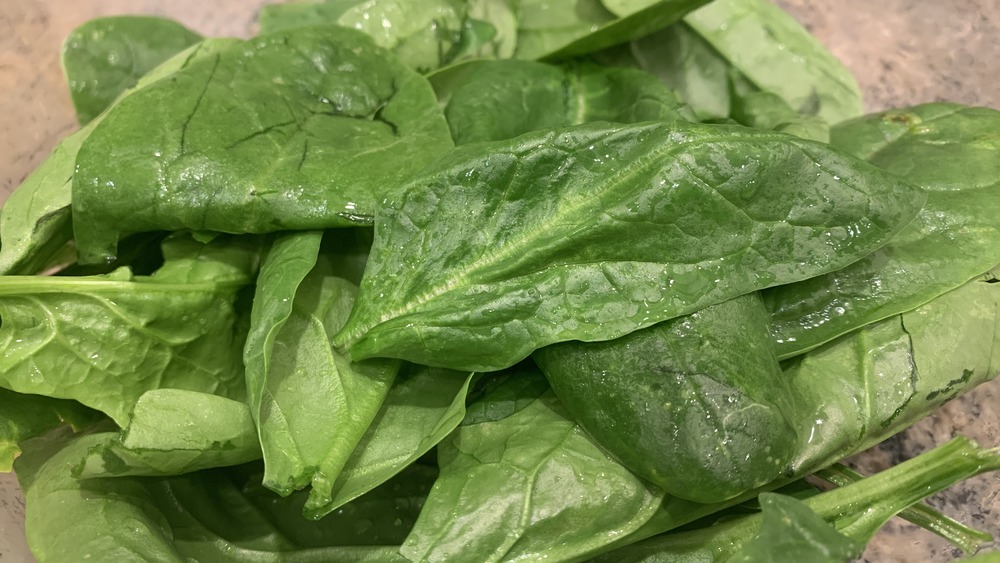 Gene Gerrard/Mashed
Olivieri adds thawed frozen chopped spinach to the stuffing, and in Canada, she can buy it in pre-measured cubes (she uses three cubes in this recipe). In the U.S., frozen spinach usually comes in a 10-ounce block, and you'll need to defrost the whole package in a microwave or saucepan and save half of it for another use. Or as Olivieri says "if you add more, it's not going to ruin the dish." Once defrosted, it's essential that you drain the spinach in a fine-mesh strainer, wrap it in a clean kitchen towel or triple-thickness paper towels, and squeeze out any liquid so it's as dry as possible. If you skip this step, you'll end up with a watery stuffing — and that's certainly not the creamy filling we're going for here. 
If you prefer to use fresh spinach, you'll need a couple handfuls. Rinse the spinach under running water and remove the stems. If you have a vegetable steamer, steam the spinach in a covered saucepan for three minutes. Alternatively, saute the spinach in a lightly oiled pan until it wilts. You'll be shocked at how little spinach is left once it's cooked down. Remember to thoroughly drain and dry the spinach and then chop it finely before adding it to the stuffing mixture.
Start combining the ingredients for the butternut squash stuffing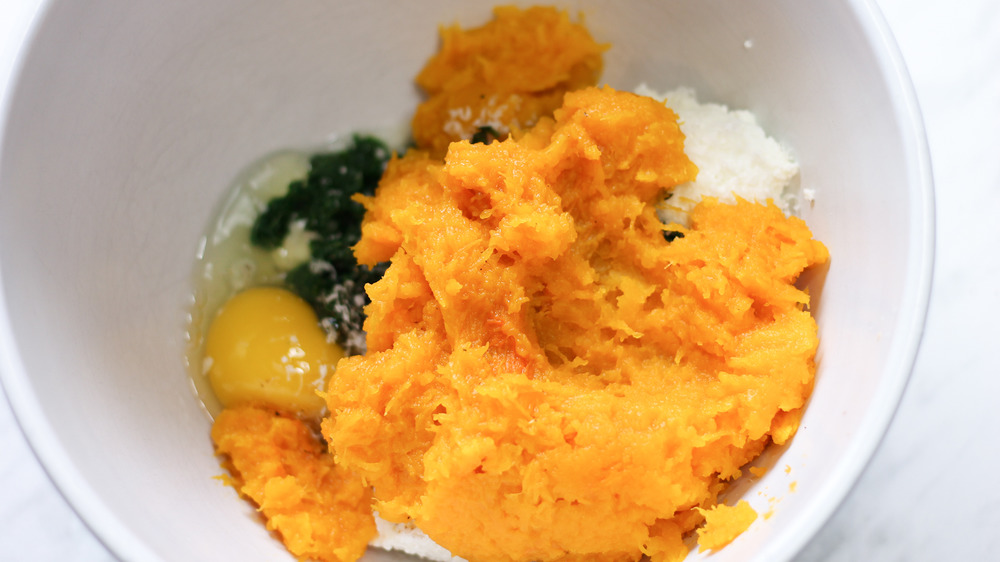 Melissa Olivieri/Mashed
Once you have your squash and spinach all prepped, it's time to start mixing up the filling for these butternut squash stuffed shells. 
First, add the ricotta, freshly grated Parmesan — resist the urge to reach for the jarred stuff, it's worth it to grate your own. Next, you'll need to add a small handful of chopped basil, nutmeg, and salt and pepper to a medium-size mixing bowl. Next it's time to add the egg, which you could add a whole, or beat it first with a fork so the yolk and white are well-blended. Finally, it's time to add the roasted butternut squash and the drained and dried chopped spinach to the cheeses and spices.
Using your wooden spoon, stir all of the stuffing ingredients until they're well blended. Put a little elbow grease into it as you stir, because the mixture will be a stiff. Once you've done that, transfer the bowl to your refrigerator so everything chills and holds together. While the stuffing is chilling, preheat your oven to 375℉.
Cook the pasta for these butternut squash stuffed shells to al dente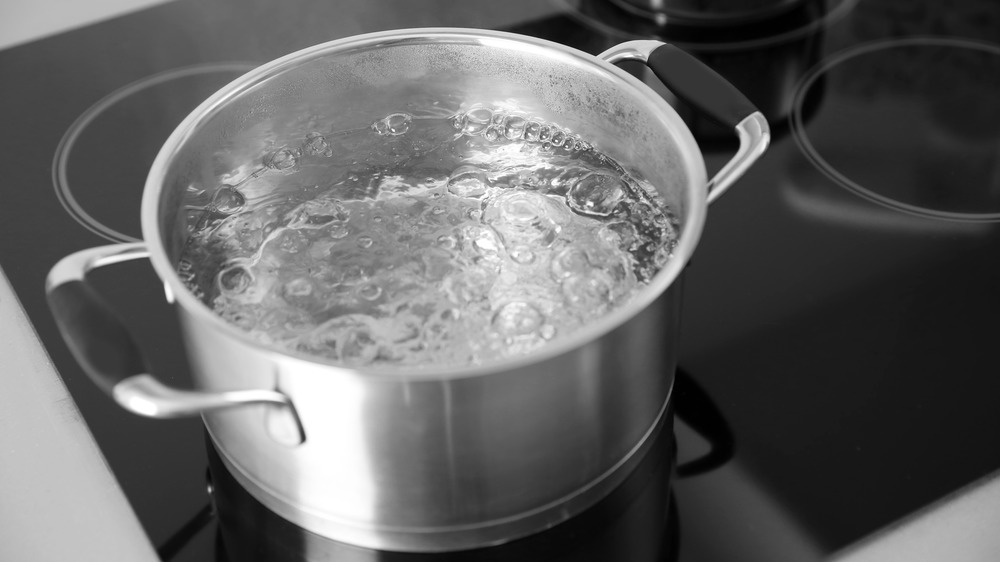 Shutterstock
Next, bring a large pot of water that's been salted with kosher salt to boil. According to Bon Appetit, a good rule of thumb is either two tablespoons of Diamond Crystal kosher salt or four teaspoons of Morton's kosher salt to four quarts of water when boiling pasta. Particularly when using dried pasta, the water needs to be salted to add flavor to the pasta as it cooks. 
Add the 12-ounce package of pasta shells to the boiling water, and follow the package's directions for cooking to al dente. It's important not to overcook the shells, because they'll continue to cook when you bake them. When the shells are boiled to the perfect doneness, drain them, and lay them out on a baking sheet lined with parchment paper or wax paper to cool.
Prepare the casserole dish for the butternut squash stuffed shells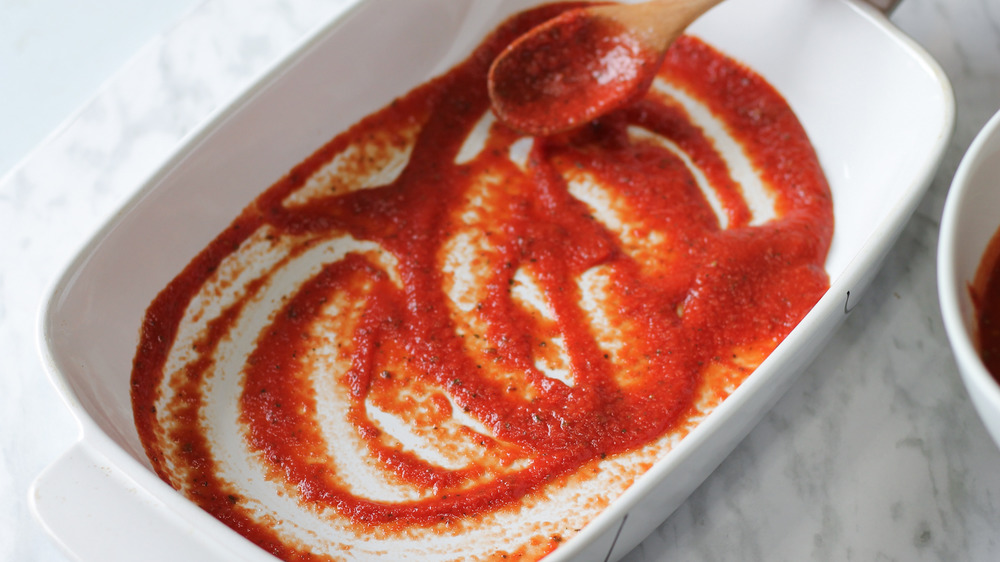 Melissa Olivieri/Mashed
While the pasta shells are cooling and the stuffing is almost done chilling, spread several spoonfuls of jarred or homemade marinara on the bottom of a 9x13-inch casserole or baking dish. This primary saucing flavors the bottom of the shells, but it also makes it easier to lift out the baked shells intact.  
You might see recipes for roasted butternut squash that have a béchamel or an Alfredo sauce, but Olivieri is firm about using marinara. "First of all," she told us, "I married an Italian, and a white sauce is not really something we use." She believes that a cream sauce would take away from the flavor of the squash and spinach. "There are certain pastas that you use a cream sauce, but this would not be one of them." Olivieri also prefers a tomato sauce for this dish because it's a recipe for the fall and winter, and the tomatoes are "a nicer flavor combination with the squash." 
Butternut squash stuffed shells doesn't have to be a vegetarian dish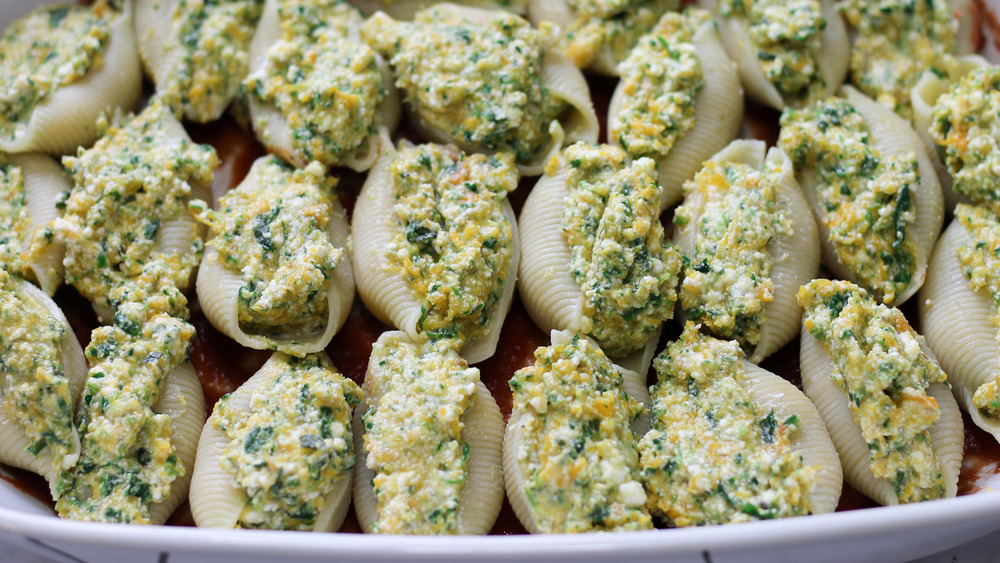 Melissa Olivieri/Mashed
As yummy as this recipe is, Olivieri told us that you could add meat to the sauce or the filling. Ground beef, though, wouldn't be her meat of choice. "I would add browned ground turkey — 500 grams (or one pound) — which plays off the flavor of the butternut squash." But if all you have is ground beef in the freezer, once it's defrosted, brown it with a little onion, and add it to the sauce or the filling. One of Olivieri's favorite go-to's for this recipe, though, is hot Italian pork sausage.
Could you use a different large pasta? Absolutely, says Olivieri, who knows from experience that sometimes we just have to make due. "A mom with four kids at home might not have jumbo shells. Maybe she has lasagna noodles and wants to make it as a lasagna filling instead." As Olivieri suggests, you can use lasagna noodles or any large pasta that's normally filled, like cannelloni or manicotti. Her mantra is always "make it easy," and that's exactly what she's done with this versatile dish.
Now it's time to stuff the jumbo pasta shells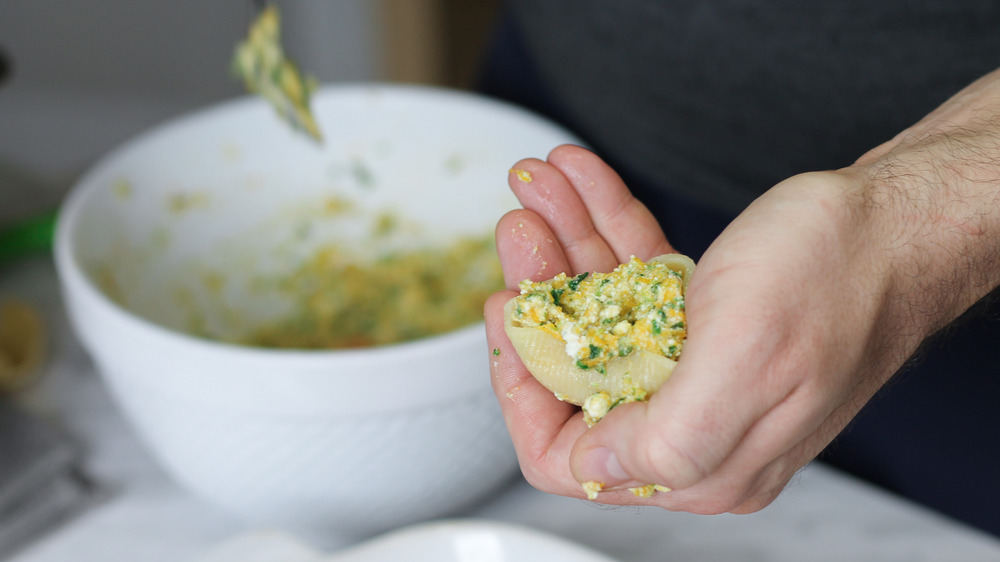 Melissa Olivieri/Mashed
At this point the jumbo shells (or other large pasta) should be cooled enough so that you can hold them comfortably. Take care to be gentle with the shells as you're stuffing them to avoid tearing the pasta. To some, this may sound like a challenging step (and maybe a reason to skip stuffed shells entirely), but once you get the method down, it's simple.
Place a cooked shell into the palm of your hand, and gently squeeze it open, holding it in the cusp of your hand between the palm and base of the fingers. Dip a teaspoon into the stuffing, and carefully fill the shell with a generous spoonful. You don't really need to be super neat, since any cheese or stuffing that spills out will add body to the sauce and make it even more delicious. Lay each filled shell split side up in the casserole dish in a single layer. It's okay to lean the shells next to each other to keep them upright. Continue stuffing the shells until you run out of filling. If you have any filling left over, add it to the remaining marinara.
More sauce, more cheese, and the butternut squash stuffed shells are ready to be baked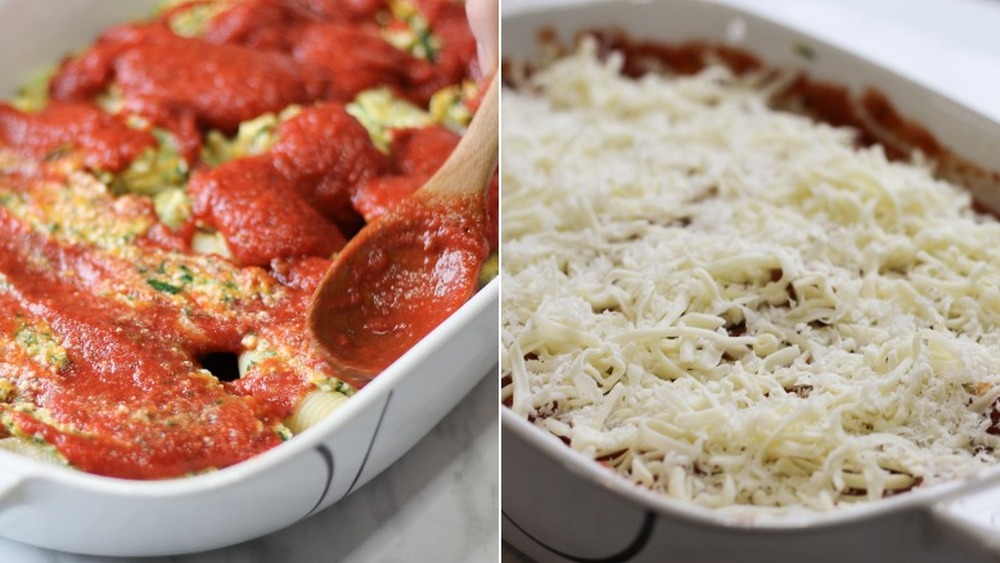 Melissa Olivieri/Mashed
Spoon the remaining marinara over the shells, and spread the sauce evenly. Don't forget to spoon some of the sauce in between the shells because you want all of the pasta to absorb the marinara's flavor. 
Now that the main layer of your butternut squash stuffed shells is constructed, it's time to shower the shells with the shredded mozzarella cheese. Don't be stingy — use the full 1-1/2 cups — you'll be rewarded when the casserole comes out of the oven. 
If you want to prepare this recipe ahead and freeze it, Olivieri says "you would do everything up until the bake stage." Cover the casserole with aluminum foil and freeze. She reminded us that "if you're cooking it from frozen, it would have to bake a little while longer." But if you are baking the stuff shells now, cover the casserole with foil and bake 20 minutes, or until bubbly. Then remove the tin foil, and bake 10 more minutes. Let the stuffed shells rest for 10 minutes, and dive in!
Creamy Butternut Squash Stuffed Shells Recipe
In our recipe for creamy butternut squash stuffed shells, the pasta is stuffed with a luscious mixture of butternut squash, spinach, and two cheeses.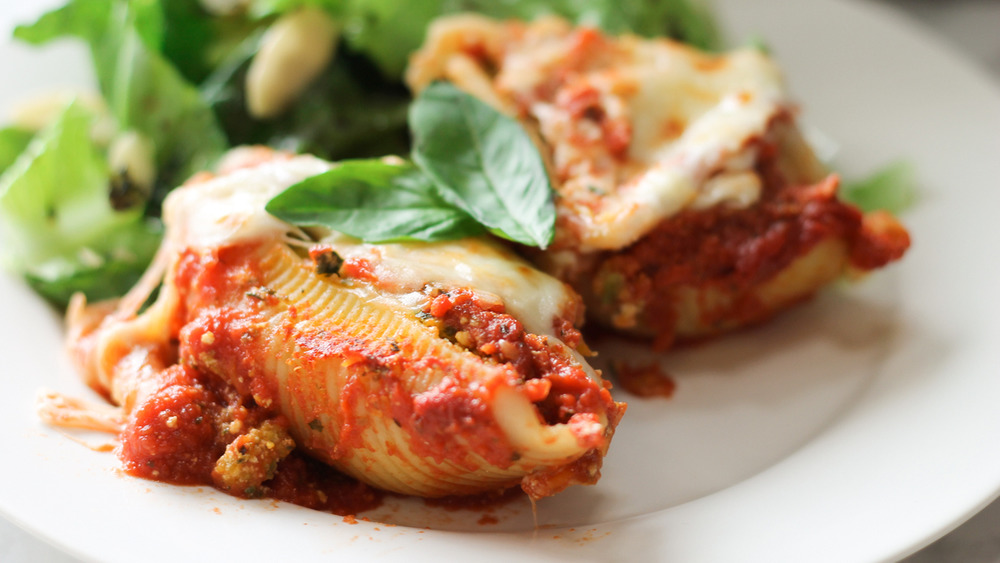 Ingredients
2 ½ cups ricotta cheese
½ cup freshly grated Parmesan
1 large egg
1 small handful fresh basil (chopped)
½ teaspoon nutmeg (optional)
Salt and pepper
2 cups roasted butternut squash
4 ounces frozen chopped spinach (thawed and drained)
1 12-ounce package jumbo pasta shells
1 24-ounce jar marinara sauce
1 ½ cups shredded mozzarella
Directions
In a medium bowl, mix together ricotta, Parmesan, egg, basil, nutmeg, and salt and pepper until fully combined. Add the roasted butternut squash and the chopped spinach, and stir to incorporate. Put the bowl into the refrigerator and chill.
Cook the jumbo pasta shells in a large pot of salted boiling water according to package instructions until al dente. Drain, and spread the shells on a sheet of parchment paper or wax paper to cool.
Preheat oven to 375℉.
When the shells are cool enough to handle, gently squeeze open a shell, and lay it in the palm of your hand. Stuff the shell with a generous teaspoon of filling, and lay it upright in the casserole dish. Repeat with all of the shells, and assemble them in a single layer.
When all the shells have been stuffed, top with the remaining marinara, and evenly spread to cover all of the shells.
Scatter the shredded mozzarella over the top, and cover the casserole with aluminum foil.
Bake for 20 minutes, then remove the foil, and bake an additional 10 minutes. Allow the stuffed shells to rest 10 minutes, then serve.
Nutrition
| | |
| --- | --- |
| Calories per Serving | 689 |
| Total Fat | 26.7 g |
| Saturated Fat | 15.0 g |
| Trans Fat | 0.0 g |
| Cholesterol | 116.5 mg |
| | |
| --- | --- |
| Total Carbohydrates | 76.2 g |
| Dietary Fiber | 6.2 g |
| Total Sugars | 10.1 g |
| Sodium | 949.5 mg |
| Protein | 35.9 g |