The Untold Truth Of Twizzlers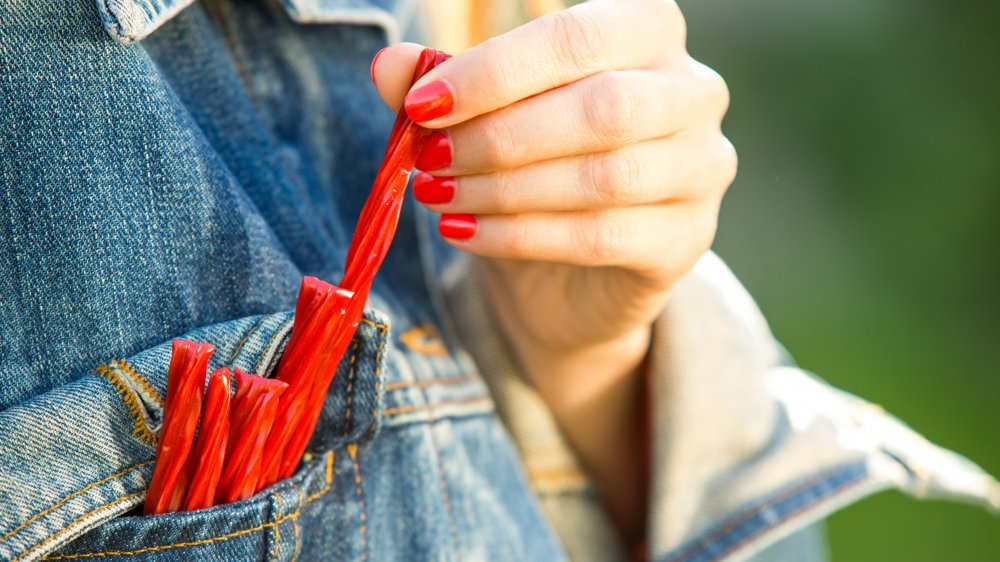 Shutterstock
They're a must-have at the movies, a popular trick-or-treat offering, and good for just gnawing away the stress of being an American. But did you know Twizzlers have a fascinating history unique among all other candy? Invented in 1929 by the Young and Smylie company in Lancaster, Pennsylvania, Twizzlers, according to the Hershey's website, is among the oldest American candy brands still available today. After switching names to Y&S, the company and its tasty twists were acquired by another Pennsylvania-based sugar behemoth, the Hershey Company, which has produced Twizzlers since 1977.
Believe it or not, the colorful variety of Twizzlers we know today didn't exist until the mid-1970s when manufacturers began to experiment with flavors like strawberry, grape, and cherry. Today, Hershey's offers more than 20 different varieties of the crowd-pleasing candy, including bite-sized Nibs, filled Twists, stretchy Pull n' Peel and, of course, classic Twists. While strawberry remains the most popular flavor, accounting for 70 percent of Twizzlers produced annually, you can also try outside-the-box offerings like orange cream pop, chocolate, blue raspberry, and watermelon. Is your sweet tooth tingling yet? Before you go stocking up by the crate, there's more you should know about these twisted treats.
Eating some kinds of Twizzlers can have devastating effects on your health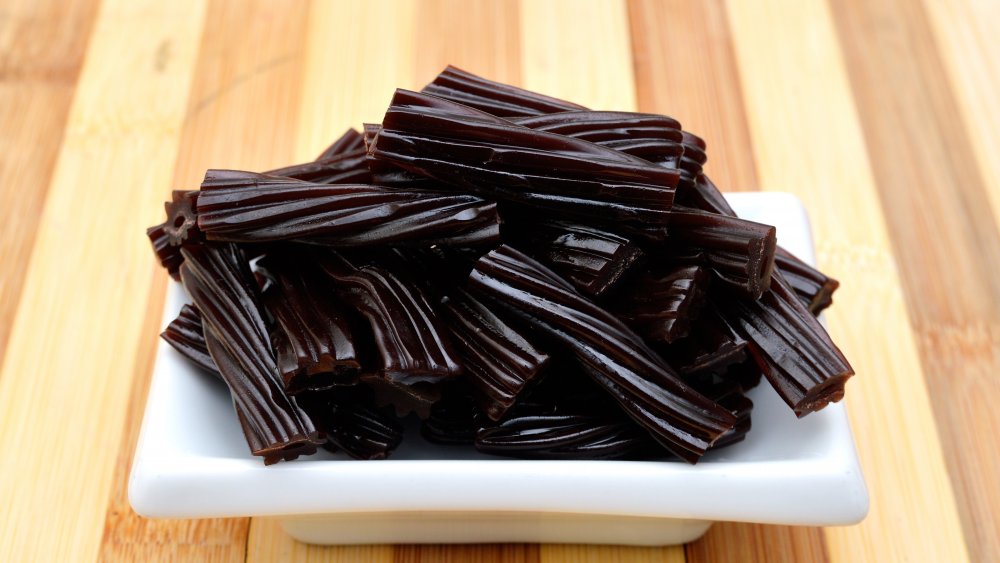 Shutterstock
Here's a fact that might blow your candy-coated mind: only one kind of Twizzlers is actually licorice (per Huffpost). Only the black variety, which is made with real licorice root extract, is labeled as licorice. The rest is labeled as licorice-type candy. Though it might be shocking to die-hard Twizzler fans, it's an important distinction that, according to one man, could save your life. As Today reports, a 2018 lawsuit against the Hershey Company alleges that regularly consuming black Twizzlers contributed to a 73-year-old man's acute heart disease. Sound frivolous? Not so for another man in 2019, reports The New York Times, whose death was connected to consuming large quantities of black licorice.
The risk lies in a compound called glycyrrhizic acid, a sweetener found in black Twizzlers and other licorice that can cause a dangerous drop in potassium, according to The U.S. Food and Drug Administration (FDA). The good news: Consuming a moderate amount of black Twizzlers (for that handful of people who insist on eating them at all), is not associated with major health risks.
More tasty tidbits about Twizzlers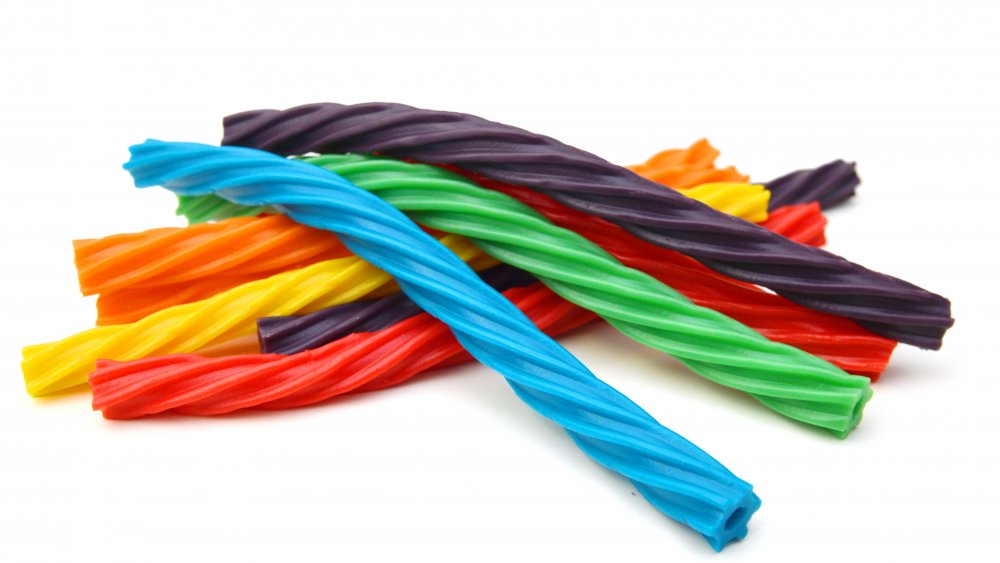 Shutterstock
Twizzlers made headlines for one jaw-dropping reason back in 1998 when they broke a Guinness World Record. As Hershey's tells the tale, the longest Twizzler ever created was a giant Pull n' Peel measuring 1,200 feet and weighing 100 pounds. That might sound like a lot, until you consider the volume of Twizzlers produced every day by the Hershey company: almost 200 tons.
Believe it or not, in addition to satisfying snack attacks and late night sugar cravings, some of that candy played a role in U.S. relations with Iran. ABC News reports that in 2015, a 15-person team of American diplomats negotiating an Iranian nuclear agreement stayed fueled with Twizzlers, along with other favorite bites like string cheese and Rice Krispies treats. And they're not the only high-profile Twizzler loyalists. Actress Debra Messing (per Lancaster Online) and boxing champion Floyd Mayweather, Jr. (via New York Magazine) are both famously huge fans.
But no one brought more attention to this humble candy than the first man on the moon. There's an unconfirmed story out there that after his celebrated line about "one giant leap for mankind," astronaut Neil Armstrong added, "I could go for some Twizzlers right now." You too?