Here's What You Can Make With Leftover Egg Whites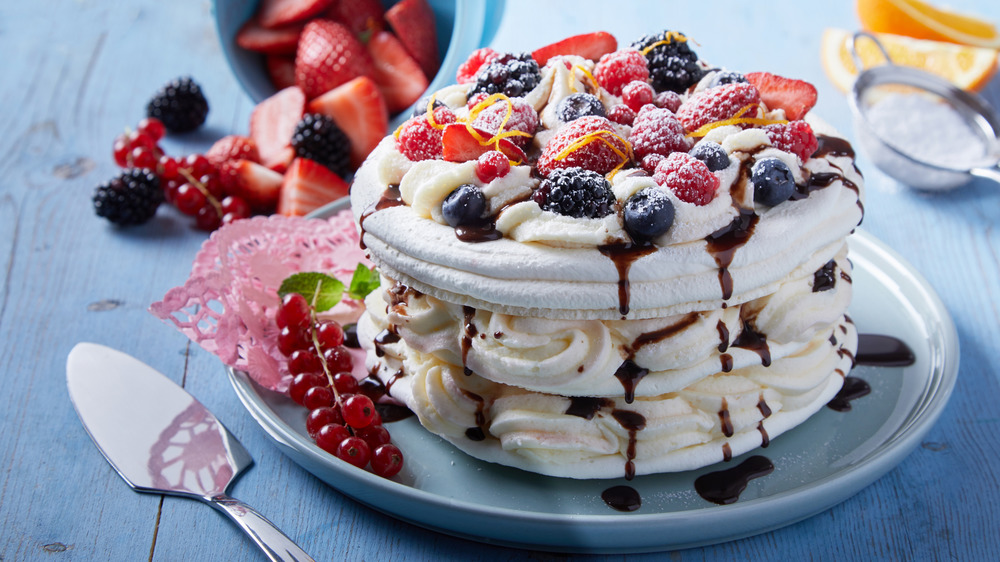 Shutterstock
Okay, so you made some lemon bars, a creamy custard, a caesar dressing, or if you're a real food nerd, some cured egg yolks. You've used up every egg yolk in sight, but what about the egg whites? This mild and clear counterpart to an egg's yellow nutrient-rich center is often reserved for flavorless egg-white omelets, or worse, thrown in the trash. Don't let this happen to you. Armed with some egg white-centric recipes, you'll be on your way to light, airy kitchen magic.
Egg whites are the base of some truly gorgeous desserts, including, but not limited to, angel food cake and pavlova. In an angel food cake, egg whites are whipped and incorporated into the batter for the ultimate fluff and structure that's soft as all get-out (via Chowhound and The Kitchn). Try The Kitchn's mile-high version, tested and vetted for maximum success. Or ditch the bundt pan and make a layer cake recipe shared by Chowhound to go with some whipped cream or marshmallow fluff, which we'll get to later. Pavlova is an equally ethereal treat, laced with whipped cream, chocolate, or berries in a dessert fit for a fairy princess. Egg whites are whipped into a soft meringue, baked to crackly perfection, and layered with ingredients to create a tower of creamy lightness (via Chowhound).
More uses for leftover egg whites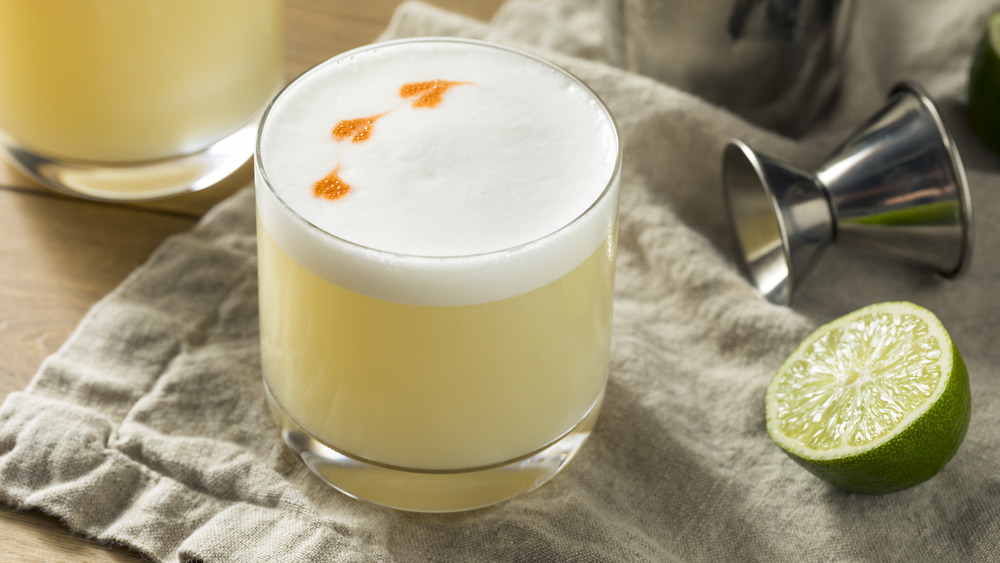 Shutterstock
Desserts aren't the only path to take with your extra egg whites. They also make for fancy cocktails when shaken up into a creamy foam. Say what you will about raw egg whites, but they are a delicious, frothy addition to a whiskey sour, gin fizz, a pisco sour. If an egg is pasteurized, the chances of contracting salmonella poisoning are low, but please follow all safety precautions, which The Spruce Eats does an egg-cellent job (sorry) outlining. You can also use egg whites in an unexpected addition to granola, where mixing whites into the oats before baking will add a pleasant extra crunch with no added flavor.
In even more creative uses for egg whites, try making your own marshmallow fluff. Yes, you heard us. This staple of American childhoods from a certain era can take on a new level of delicious when made at home with some hot sugar, corn syrup, and egg whites (via Chowhound). You can even call it marshmallow crème — and spread it on a peanut butter sandwich for old times' sake, or drop a dollop on ice cream. If sweet snacks and cocktails aren't your thing, there are still tempura veggies. Tempura's breaded batter can reach new heights of crispy and light with egg whites instead of whole eggs (via Yummy Tummy). Eating your vegetables never tasted this good, all with the help of the lowly egg white.