This Costco Bakery Favorite Is On Sale Now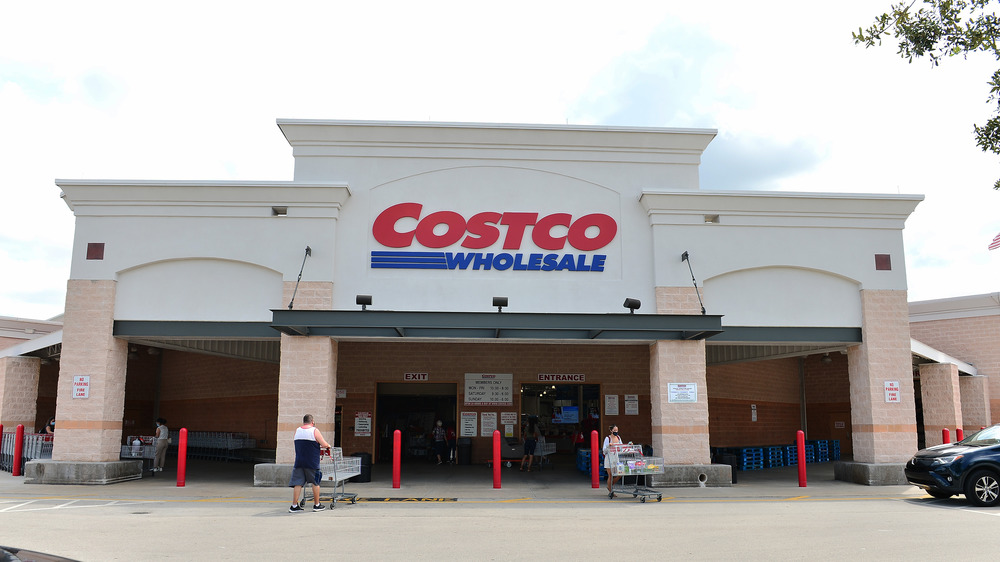 Johnny Louis/Getty Images
Two words, Costco bakery fans: Tuxedo Cake. According to the @costcodeals Instagram account, the luxurious chocolate mousse cake fans go crazy for is now on sale nationwide for just $13.99 — that's $2 off the original price. The Ultimate Chocolate Blog says the cake serves 12 people so, at $1.17 per slice, this is quite a deal. But, it won't last forever. The Tuxedo Chocolate Mousse Cakes are only available at this discounted price until November 22. This cake is among the best desserts you can buy at Costco, right alongside the Tiramisu Cake, but in case you're not familiar or just need a reminder, let's break down the details.
According to Costcuisine, Costco's Tuxedo Chocolate Mousse Cake starts out with a base layer of chocolate cake topped with a creamy chocolate mousse that's flecked with chunks of brownie. Next comes a vanilla and white chocolate cream mousse (where's a drooly face emoji when you need one?) that's covered with another layer of chocolate cake. Ok friends, that's just the inside. Now comes the decoration. The top surface of the Tuxedo Chocolate Mousse Cake is coated with dark chocolate ganache and garnished with fancy-looking chocolate tuiles, making this dessert feel like a very delicious, very formal affair. The blogger behind Costcuisine noted they didn't know the nutritional info for this cake and didn't want to, to which we say, "Same." Except we do know it, and it's a little nuts.
Costco's Tuxedo Chocolate Mousse Cake is indulgent and worth it
Costco's famous Tuxedo Cake may be on sale temporarily but your waistline will still be paying full price. We're not here to dash your chocolatey hopes and dreams though, just hear us out. A helpful Reddit user took the liberty of sharing what appears to be the nutrition information for all of Costco's baked goods and the chart offers some helpful comparisons. Yes, the Tuxedo Chocolate Mousse Bar Cake contains 370 calories in one 3.5-ounce slice, plus 23 grams of fat, 37 carbs, and 24 grams of sugar. But, that's still less than the 390 calories, 57 grams of carbs, and 45 grams of sugar in Costco's 10" Chocolate Cake Filled with Chocolate Mousse. It's all about perspective, right?
Besides, the online testimony about the Tuxedo Chocolate Mousse Cake's deliciousness really has us not caring about the calories. Users following @costcodeals' Instagram post opined that, "These cakes should be illegal they're so good." Another claimed, "I once bought this for a super bowl party and people still talk about it 5 years later." Enough said, right? Hustle on over to Costco before November 22nd to grab your Tuxedo Cake for a steal of a deal and dig in!