Here's Why This Chipotle Salad Is So Concerning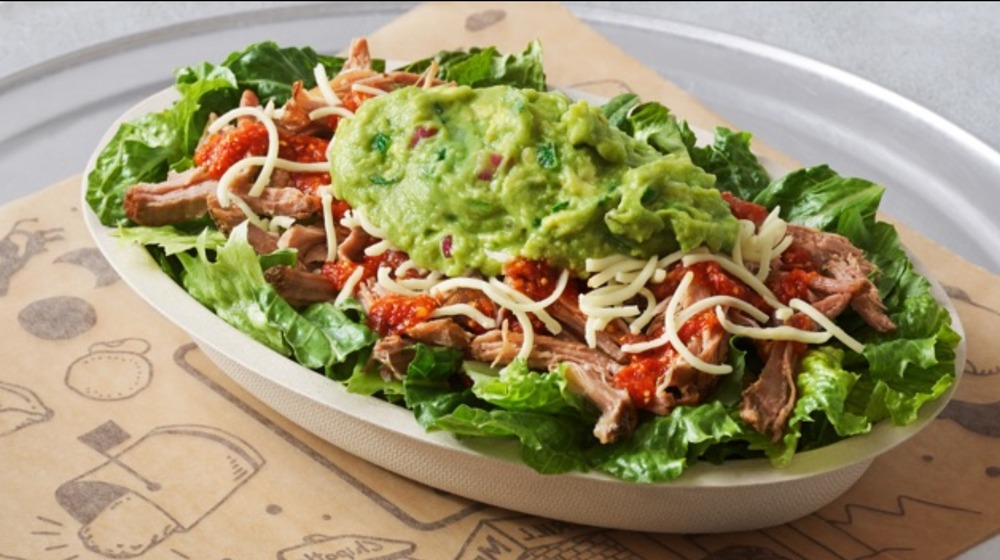 Chipotle
"I'll have the Chipotle salad." It's an innocent-sounding pronouncement, especially when everyone else you know is grabbing McDonald's for lunch or hitting the Chinese buffet. Chipotle, after all, is fast-casual and always fresh, and a salad is...well, not a Big Mac. There's lettuce involved, for one thing, and if you top it with lean grilled chicken, you're packing in the protein. But, you could also be packing in a lot more calories than you might have intended to, according to Sue Heikkinen, the head registered dietitian for the calorie and nutrition tracking app, MyNetDiary.
In an interview with Mashed, Heikkinen conceded that a salad is a healthier option than some of the other fare you'll find at Chipotle. "I love that Chipotle offers custom-made salads as alternatives to their gigantic burritos," she said. But, with the wrong combination of toppings and dressing, their salads, too, may be potential dieting landmines. "If you opt for a salad for weight loss, choose wisely," Heikkinen warned. "Saying 'yes' to all the extras adds up."
A Chipotle salad can be more than 1,000 calories, according to expert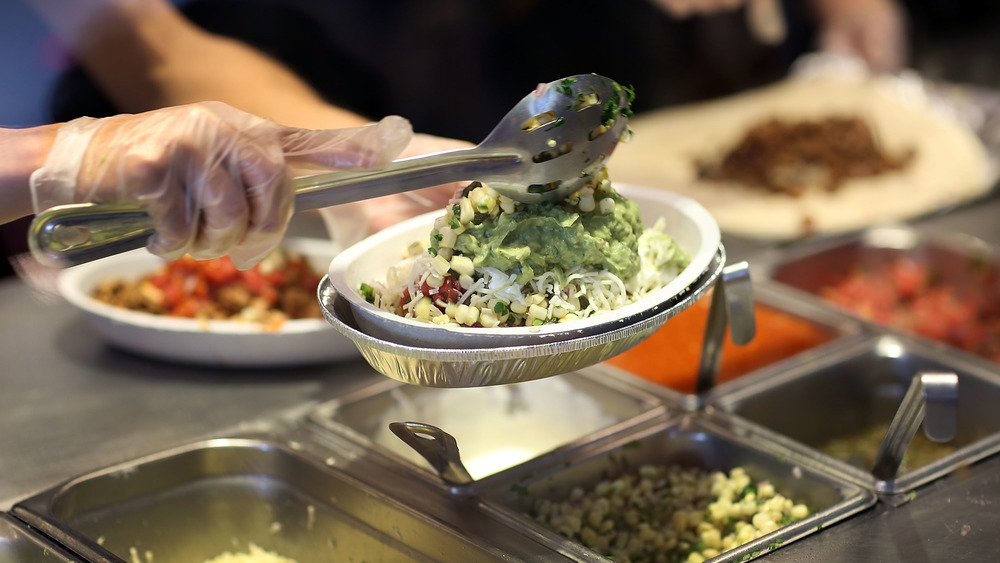 Joe Raedle/Getty Images
Yeah, sure, but it's still a salad, right? There are no tortilla chips or wraps involved. Never underestimate the calories in the toppings, Heikkinen pointed out. "A Chipotle salad with grilled chicken, cilantro-lime rice, black beans, sour cream, shredded cheese, salsa, and guacamole tops out over 1,000 calories, well more than half the daily calorie budget for most weight-loss plans," she noted. "Watching carbs? The cilantro-lime rice adds 40 grams of carbs, bringing the salad total to 85 grams of carbs — that's about equivalent to five slices of bread."
Does that mean you can't eat at Chipotle again? Not at all, reassured Heikkinen. "It's not hard to create a tasty and calorie-conscious salad at Chipotle. Skip the rice, sour cream, and guacamole, and add fajita veggies," she explained. "This combination comes in at a reasonable 455 calories and 35 grams of carbs, which includes 11 grams of fiber, thanks to the beans. Providing an impressive 48 grams of protein, this salad will keep you full and satisfied for hours."