Read This If You Recently Bought Trail Mix From Aldi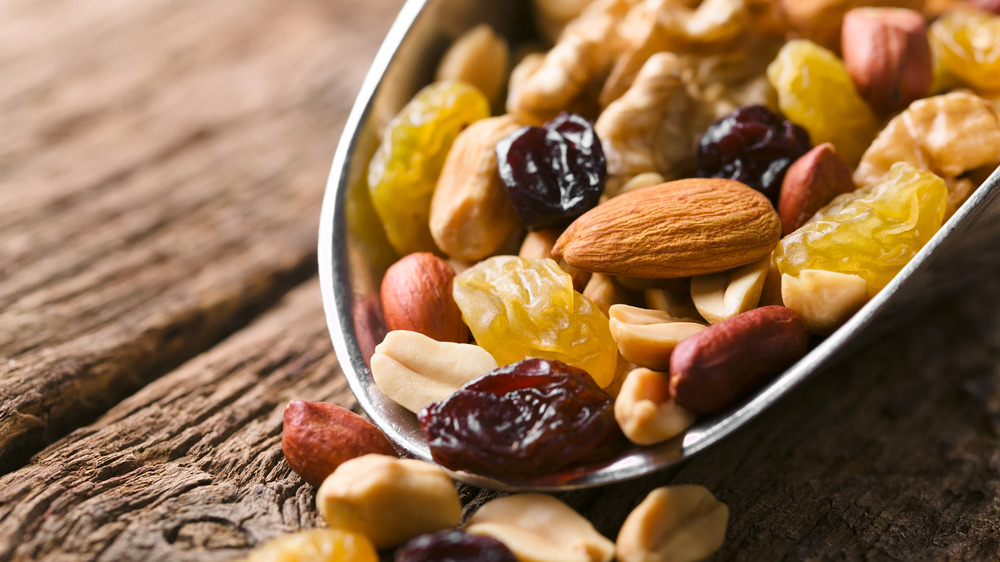 Shutterstock
Discount supermarket chain Aldi is known for its great deals on quality products — unfortunately, one of its products has recently failed to meet the safety standards the store sets for itself. Earlier this week, Aldi voluntarily pulled Southern Grove On the Go Sweet & Salty Trail Mix from its shelves, due to a packaging error (via Penn Live).
The product didn't list almonds on the label, and as an allergen, the nuts should be clearly listed so consumers know the product could contain potentially unsafe ingredients. Unknowingly consuming almonds could be very dangerous for people with food allergies. According to Medline Plus, allergic reactions to food can include to itching, swelling, rashes, vomiting, breathing problems, and anaphylactic shock, which Healthline states can be fatal. 
Kanan Enterprises, the company that manufactures the Aldi trail mix, quickly made the decision in conjunction with the supermarket chain to recall the product immediately. The trail mix had been distributed to Aldi locations in Connecticut, Delaware, Florida, Massachusetts, Maryland, New Hampshire, New Jersey, New York, Pennsylvania, Rhode Island, Virginia, Vermont and West Virginia, according to Penn Live.
Aldi's Southern Grove On the Go Sweet & Salty Trail Mix has been recalled
The company's statement reads: "Out of an abundance of caution Kanan Enterprises announces the voluntary recall of ALDI Southern Grove On the Go Sweet & Salty Trail Mix 8 Pack Caddies 1.5 oz., Best By JUL 27 2021 due to the presence of almonds that are not listed as ingredients. People who have an allergy to almonds run the risk of a serious or life-threatening allergic reaction if they consume these products. No illnesses have been reported associated with this recall," (via the FDA).
Kanan Enterprises was made aware of the problem after a customer reported that the trail mix did contain almonds, despite the misleading label. The company advises anyone who has purchased this trail mix not to consume it. Instead, customers can return the product to any Aldi's location for a full refund, per the Miami Herald. Anyone with concerns regarding this recall are encouraged to call the hotline at 1-800-860-5464, weekdays from 8:15 a.m. to 5:00 p.m. Eastern time.