Costco Fans Can't Stop Talking About This Massive Pumpkin Cheesecake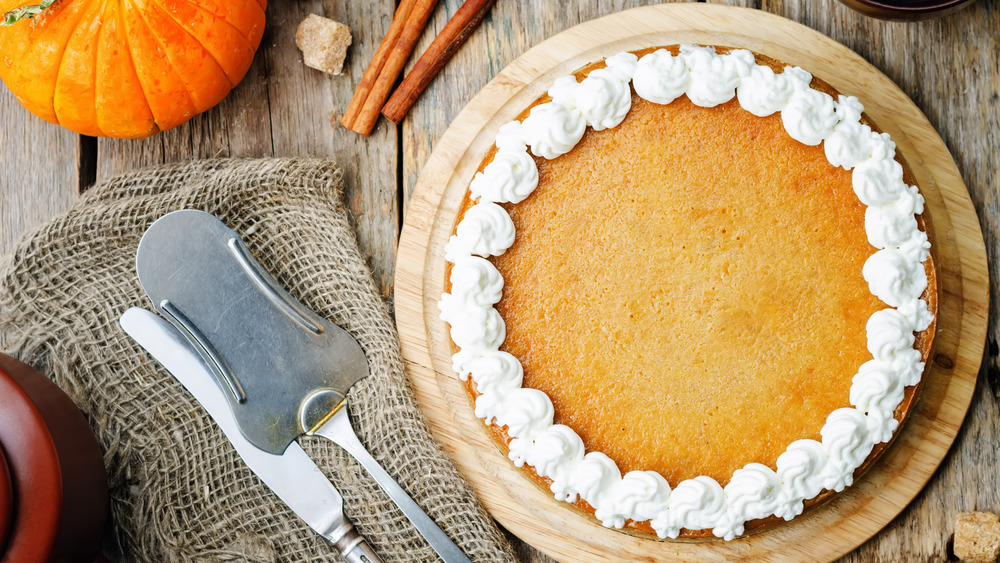 Shutterstock
While everyone has their favorite dishes at the Thanksgiving table, it's always the dessert table that draws the most attention. It's usually filled with family favorites or cult classics like pumpkin pie, pecan pie, and pumpkin cheesecake, among others, according to Good Housekeeping. But just because those desserts are classics doesn't mean they necessarily have to be homemade. Everyone can use a little less stress when it comes to cooking the holiday meals, and that's why you should turn to Costco's latest rave-inducing dessert.
Your favorite big box retailer was recently spotted selling huge pumpkin cheesecakes that are guaranteed to make it through the first round at the dessert table and into the leftovers category. However, you know it won't last long when everyone starts in for their second slices. The mammoth pumpkin cheesecake weighs in at nearly five pounds — 4.88 pounds to be exact. Though it isn't gluten-free or dairy-free (it contains wheat, egg, milk, and soy), it is delicious for those who are not on restricted diets.
Here's what people are saying about the dessert
The huge pumpkin cheesecake was spotted at Costco early on by the Instagram account Costco Buys. The user snapped photos of the overall cheesecake as well as the label with nutritional information and the price. The entire five-pound cheesecake is just $14.99, making this a complete steal. Fans instantly jumped in with their thoughts and testimonies of the cheesecake, too.
One commenter said, "yummy," while another said, "omg. Looks so good that my tongue is watering." Another person chimed in to say, "ugh dang covid. Can't in good conscience get a big ol' cheesecake for just me. But gosh, do I want to!" Another Instagram user tagged someone else and asked them if they could bring this pumpkin cheesecake to Thanksgiving. So, if you can't get to Costco yourself to pick this great buy up, you might want to consider asking someone else to do your bidding. Either way, this is a dessert you don't want to be missing from your spread this year.