How COVID Is Changing The Way You Get Heinz Ketchup
COVID-19 has made us take a long look at many of our habits and when we think of some of the things we used to do — and when we look back we realize we were pretty gross. In examples of things that no longer seem okay, consider self-serve buffets, packed wine tastings, and that shared bottle of ketchup on a restaurant table. Of course, we all like to add condiments to our food, but those self-serve ketchup pumps aren't really any better. The Food Industry Association lists dispenser push buttons and self-serve utensils as high-touch points (via FMI) which we now know are potential sources of coronavirus transmission. 
Cleaning a dispenser every time isn't a great solution either as it's both a) time-consuming b) does not help create a 6-foot distance and c) is almost impossible to do between every single customer. Fortunately, the Kraft Heinz Company has been thinking ahead, and we now have touchless ketchup dispensers (via Kraft-Heinz). When you think about it, even after a COVID-19 vaccine is available — germs still exist. We may never go back to shared condiments again now that the curtain has been pulled back on these habits. So how does it work?
COVID has changed how we eat out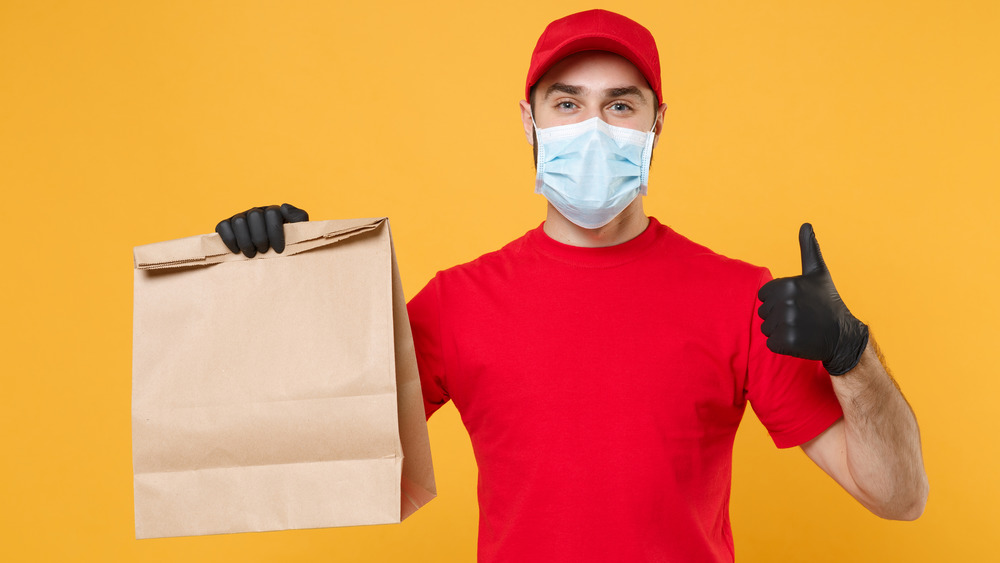 Shutterstock
This ketchup dispenser was designed thoughtfully, so that food services don't need to purchase entire new assemblies. The package ships out as a bundle with a new automatic sensing lid that can fit on existing 1.5-gallon and 0.75-gallon dispensers. Each wave of your hand will dispense 0.5oz of your favorite Heinz condiment. Realizing we all have different tastes, Kraft-Heinz made sure there were dispensing options for our other favorite sauces too so this system will work for mayo, mustard, relish, and more.
"As a partner to the foodservice industry, we wanted to do our part to develop a long-term, hands-free solution for operators, and we're pleased to report that 94%* of consumers said they'd feel safe using this HEINZ KEYSTONE® Automatic Dispenser when dining out. We hope to see our innovative condiment technology leveraged by restaurants, as well as sports stadiums, amusement parks, movie theaters and concert venues next year," said Molly Scott, director of category marketing (via Business Wire).
COVID-19 has been a learning experience for us all, but innovations and smart technology use like this can help us stay healthier in the future. And while you might be getting your ketchup in a different way, remember that it will still have that same, classic taste.