The Unusual Way Guy Fieri Celebrates Thanksgiving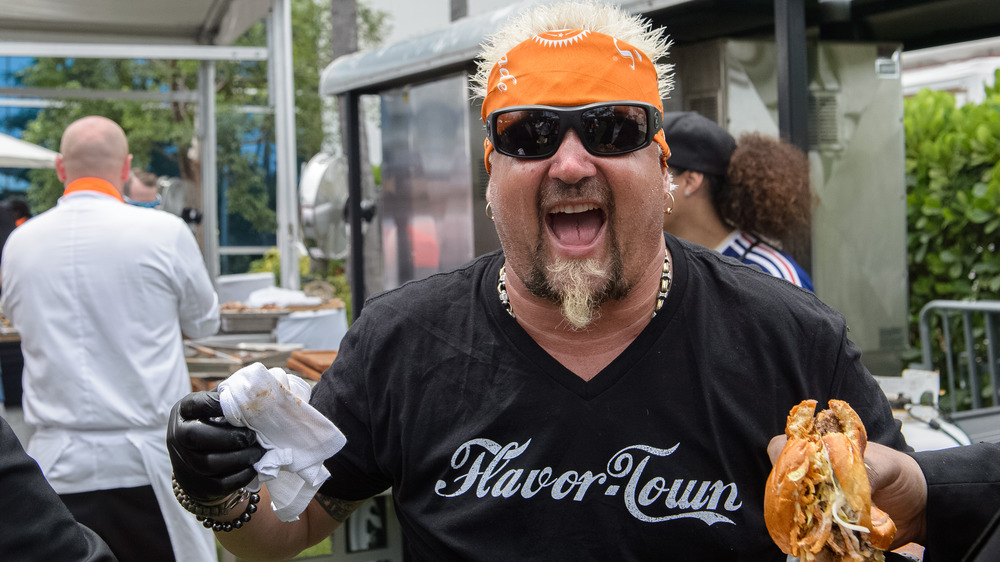 Jason Koerner/Getty Images
For some reason Insider writer Chelsea Davis thought it was a good idea to make a Thanksgiving dinner, completely out of Guy Fieri recipes. From the sounds of it, even the supermarket run was hellish. Finding the chipotle chile pepper in adobo sauce for Fieri's cranberry sauce recipe, for example, proved impossible. Props to Davis for incorporating diced green apples into her mashed potatoes. She's a braver soul than we. "The addition of them made no sense," she mused afterward, "It just seemed like the chef who created the recipe got confused midway through making mashed potatoes and mistakenly thought they were baking an apple pie." (For what it's worth, Fieri's wasabi-infused mashed potatoes don't have rave reviews either. When Insider's Page Bennet made them, she complained about their "slightly greasy" texture from "the full cup of butter.")
Against all odds, Davis was not disappointed in the rest of her Fieri-inspired Thanksgiving dishes. The stuffing she made turned out like "a deliciously salty, indulgent pepperoni pizza if it had a baby with a not-so-creamy chicken pot pie." The turkey, while complicated, "had just the right amount of richness, and it had a complex flavor thanks to the tequila." Yes, tequila. That's because Guy Fieri never does a normal Thanksgiving.
This is what Guy Fieri likes to make for Thanksgiving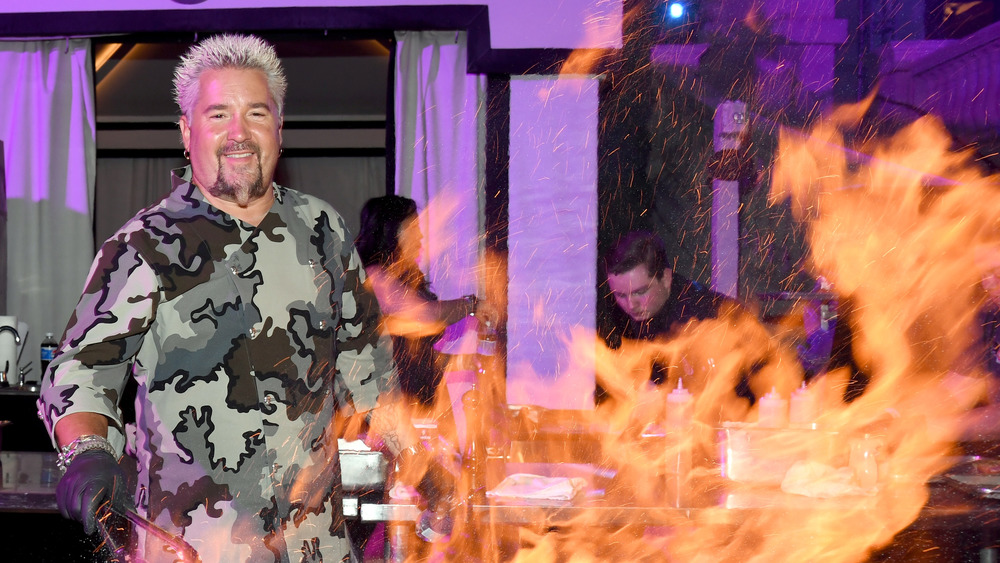 Ethan Miller/Getty Images
As the celebrity chef once dished to ABC, he grew up eating barbecued turkeys on Thanksgiving day. He hasn't gone traditional since. What's made Fieri's Thanksgiving menu in the past? "Grand Marnier cranberry sauce with lemon zest, deep fried turkey, a deep-friedkey, a barbecued turkey, a boneless turkey, a pastrami...There's prime rib, but I can't just do one kind of prime rib, I gotta do it three ways. Ravioli is very key. Ten raviolis last year. I mean crazy raviolis ... I want the eating to go on for days, like a Roman feast!," Fieri told ABC.
Of course, that was back in 2010. As of 2020, Guy Fieri's Vegas Kitchen & Bar is offering up a deep-fried turkey breast, dark meat stuffing, creamed corn-filled baked potato, and cranberry relish to its customers (via 3 News). As to what he's making at home, that's anyone's guess. Recently, Fieri admitted to CBS that "veggies are my game. Love salad. Love spaghetti squash. Love all the whole grains. Big farro fan!" Perhaps the celebrity chef will go a bit softer on the meats this year.