The Bizarre Way This Florida Man Thawed His Thanksgiving Turkey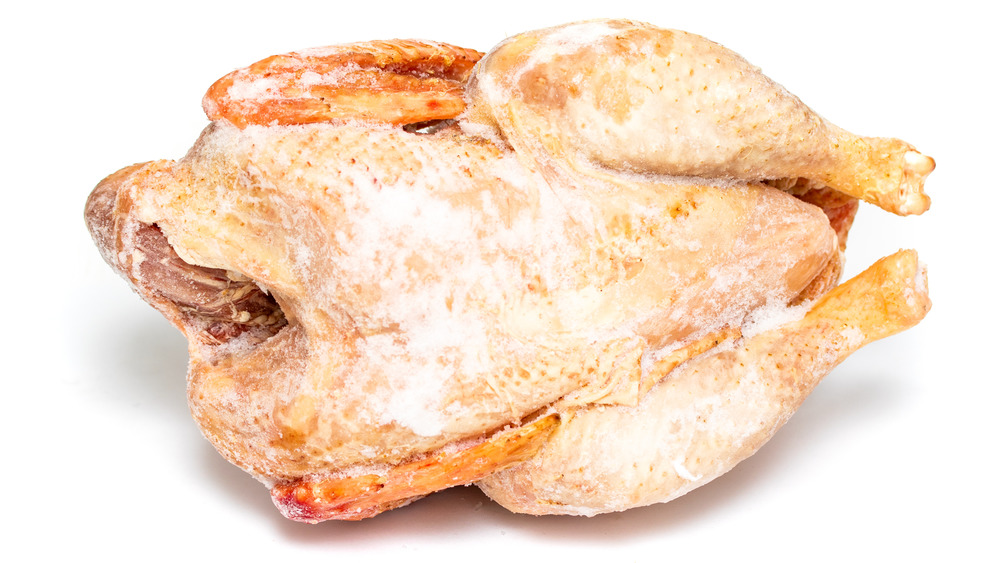 Shutterstock
One of the best, if not the most entertaining, turkey-related hacks to come out of Thanksgiving this year arrived via a Clearwater, Florida man who tossed a frozen turkey into his swimming pool in order to thaw it out. Is this an FDA-recommended method? No — not even close. Is it funny and worthy of the 1,000-plus views that the YouTube video posted by 10 Tampa Bay has received? Absolutely. In the video, Florida resident Mark O'Donnell can be seen tossing his 16-pound frozen bird into his backyard pool, announcing, "This is our family tradition right here!"
WFTS Tampa Bay reports the interesting holiday tradition began 18 years ago, when the O'Donnell family forgot to take their Thanksgiving turkey out of the freezer to thaw. Mark recalled, "Grandma was all upset because we weren't going to have a thawed turkey in time and Uncle Dave came out and tossed it in the pool. Four hours later, we were cooking."
There are some (obvious) concerns about thawing a turkey in a pool
If you have a swimming pool in your backyard, you might be tempted to put this method to the test the next time you have a frozen turkey on your hands. After all, Christmas is right around the corner, and maybe turkey is your the menu. But we will remind you, the safest way to thaw your frozen turkey is to place it in the refrigerator and allow one full day per every five pounds of bird (per the U.S. Department of Agriculture). If you are short on time, it is acceptable to submerge the turkey in cold water to thaw it, but before you think a swimming pool is the proper vessel to do that in, remember that you need to change the cold water every 30 minutes, per the USDA. We think using a clean sink or a cooler is likely your best bet.
From his home in Florida, far from the scrutiny of any health inspectors, Mark O'Donnell evidently had no concerns about his tactics. He even squashed fears about chemicals in the pool saying, "These bags are sealed by factories. We've never had a leakage yet and no chlorine in our turkey." Aside from readying the turkey for his family's big feast, O'Donnell had another goal in mind. He said, "I think this year because it's 2020 people were looking for some light-hearted fun, 'hey look at this, these crazy people.' We're crazy about Florida." You can't argue with that (via WFTS Tampa Bay).