The Real Reason New York Won't Have Zagat And Michelin Guides In 2021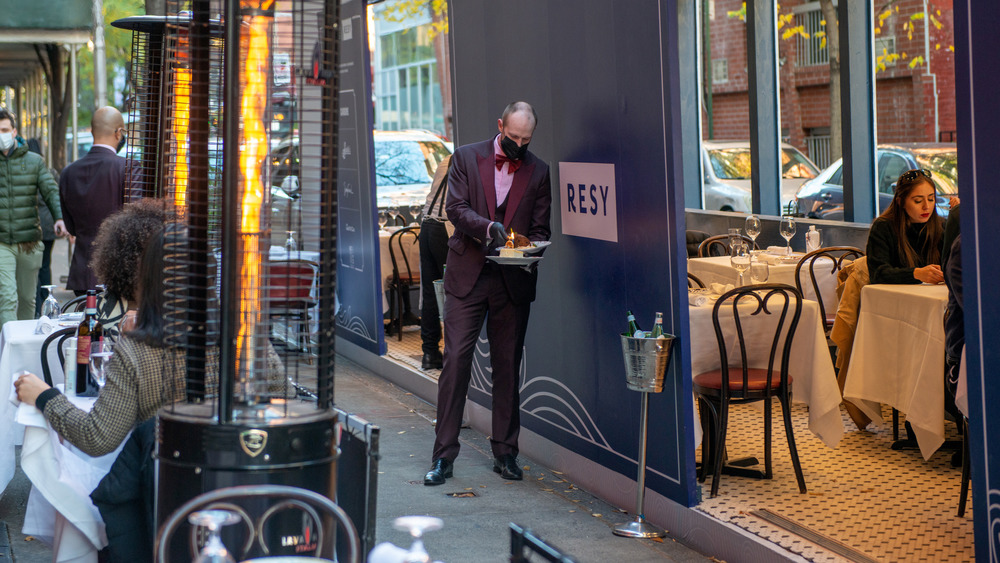 Alexi Rosenfeld/Getty Images
The coronavirus pandemic may have generated plenty of uncertainty within the food and restaurant industry, but there is one thing restaurateurs in New York can be sure of, and its that the city's most established restaurant guides have put their restaurant ratings on hold, and will not be publishing their 2021 New York guidebooks, at least for now. The reason is simple. "We've postponed the New York guide until there's a recovery," international Michelin Guides director Gwendal Poullennec tells The New York Times. "Ratings are not appropriate when so many restaurants are closed." And as notable NY Times food writer Florence Fabricant points out, restaurants have enough to worry about without having to think about ratings.
This wouldn't be the first time restaurant reviewers have chosen to stop rating the dining establishments they've chosen to write about. The NY Times notes that its own food critic has not been giving out stars with his reviews for months now, and neither have reviewers at The Infatuation, which owns Zagat. Another publication, StarChefs, is also opting out of an annual award for New York's rising chefs and will be encouraging diners to patronize restaurants instead.
While Michelin is opting out of its New York guide, it won't be doing the same for other cities around the world. France will still get a 2021 guide, as will its Asian cities, Seoul, Beijing, and Tokyo. 
The Zagat and Michelin Guides are established sources of restaurant information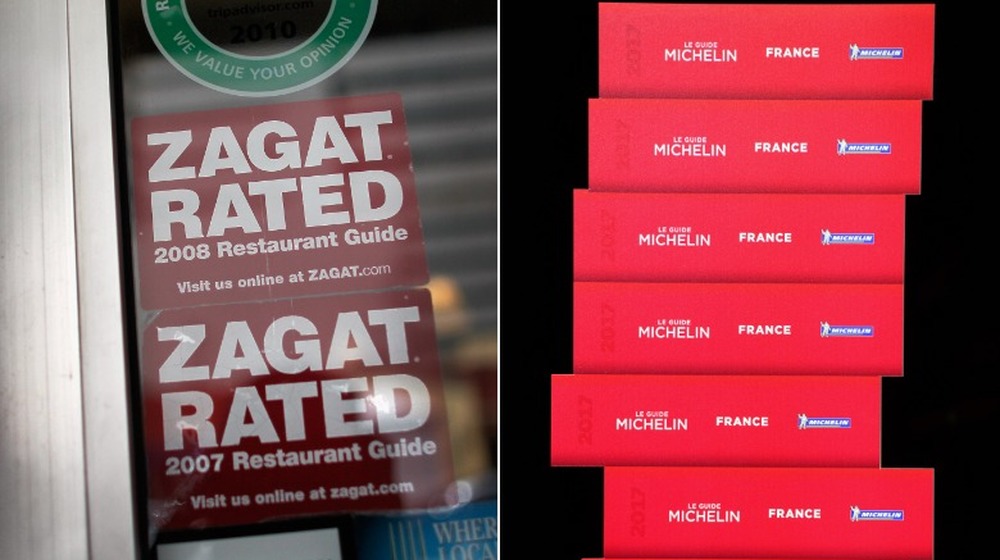 Joe Raedle, Frederic Stevens/Getty Images
For decades, New Yorkers turned to Zagat for information on everything that had to do with eating out. Established in the 1980s by lawyers Nina and Tim Zagat, the guide based its reviews on crowdsourced opinions, ranking restaurants based on food, service, decor, cleanliness, and cost – long before Yelp was a thing. Zagat was first published in 1983 and before the 2020 book, it last went to print in 2016 for the 2017 edition. The Zagats sold their namesake brand in 2011 to Google for a cool $151 million (via Eater). In 2018, the title changed hands again, when Google sold Zagat for an undisclosed amount of money (via The New York Times).
The Michelin Guide had a far more pragmatic beginning. It was pulled together by Andre Michelin and his brother Edouard, both of whom wanted to find a way to sell more tires. So the first Guide featured a list of restaurants, hotels, mechanics, and gas stations found on France's most popular routes, along with maps and instructions on how to fix and change your tires. Michelin has only stopped publication twice before – during World War I and World War II. The second time around Michelin's hiatus didn't last for long because the Allies needed the road maps (via Escoffier). Michelin guides now cover major cities around the world.