What Are Luxardo Cherries And What Do They Taste Like?
We may receive a commission on purchases made from links.
When you hear "maraschino cherries," you probably picture the electric red sphere floating atop a Shirley Temple. Or maybe the crown jewel on a decadent hot fudge sundae. Or even one on an Easter ham at Grandma's house. Seemingly half fruit, half candy, those sugary orbs sold by the jar were actually born in a university laboratory. According to the Oregon Historical Society, the common maraschino cherry we know today was created by an Oregon State professor in response to a gripe about local cherries. He developed a new process to extend the shelf life of the quick-rotting fruit and improve their consistency once preserved. As a result of his important work, Oregon is now a "world player" in the maraschino cherry game. And the world has Tartufo!
While that might be good news for Oregonians and ice cream parlors, there's another cherry elevating the garnish game to more sophisticated heights. Enter: the Luxardo cherry. With an intensely dark, reddish-brown hue and thick, aromatic syrup, these beauties bear no resemblance to the stemmed, Camaro red variety. Perfectly crafted for cocktails, earthy-sweet Luxardo cherries are definitely for grownup palettes.
Luxardo cherries are a premium, imported maraschino with a fruit-forward, nutty flavor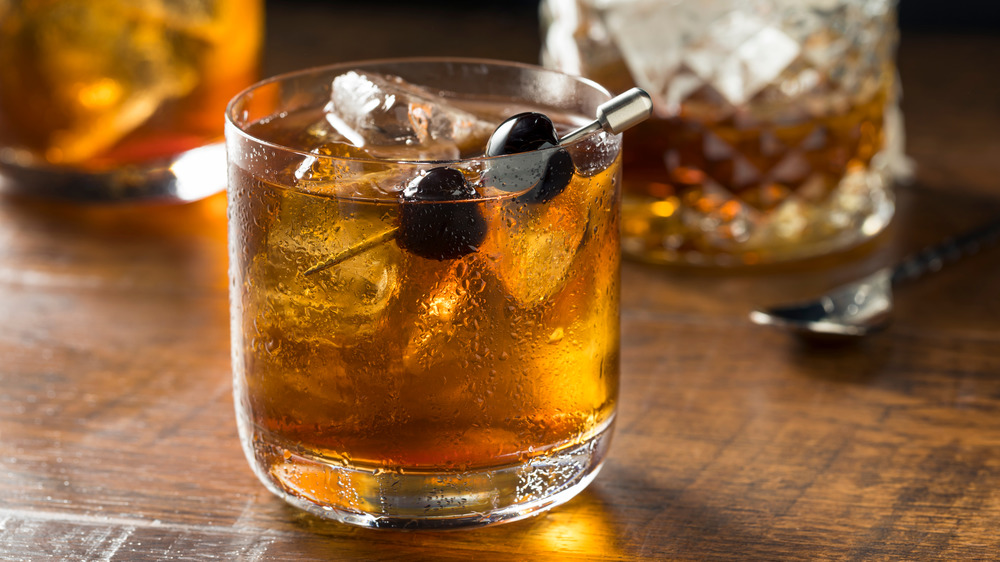 Shutterstock
Prior to gaining world renown for cherries, Luxardo was a distillery in present-day Croatia known for producing Maraschino liqueur. Distilled from a local cherry called Marasca, this potent spirit uses every part of the fruit, including the leaves and stems. The pits of the cherries are also used, giving the liqueur a distinctively nutty flavor similar to almonds (via Epicurious). Once the distillery began selling preserved Marasca cherries in a sugared syrup made with the liqueur, the world was introduced to the first maraschino cherry.
It's no coincidence that their name sounds like luxury. Rich, luscious Luxardo cherries are like the Rolex of candied fruit. Ringing in at nearly $20 for a 400-gram jar, they're considerably pricier than their American cousin. But the cost of authentic, imported Luxardo cherries, now produced in Italy, correlates to quality. Made with only the finest ingredients, Luxardo cherries contain no thickening agents, preservatives, or food coloring. Their unmistakable, nearly-black shade of red is entirely natural.
The flavor of Luxardo cherries has been compared to Amaretto because of the almond-like notes in their aroma and flavor. Far less sugary than American maraschinos, Luxardo cherries taste more like real fruit than candy. One taster at The Kitchn, who deemed Luxardo the winner of a maraschino cherry taste-off, detected baked stone fruit with hints of vanilla and wood.
Luxardo cherries are a must-have for sophisticated drinks and desserts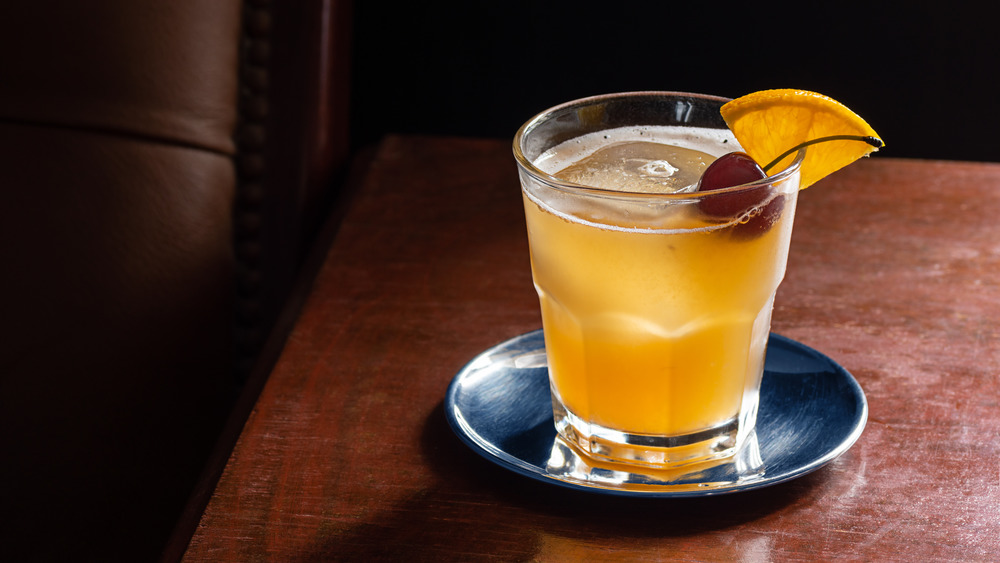 Shutterstock
The uses for tangy, delicious Luxardo cherries are really endless. Let's start with the obvious: cocktails. An orange slice and a maraschino cherry are the classic duo found floating in an Old Fashioned. Upgrade to Luxardo cherries for a less sweet finish that pairs well with bourbon. Or tip your hat to a Scottish folk hero with the classic combination of scotch and vermouth known as a Rob Roy. For an unexpectedly refreshing sip with the flavors of tequila, grapefruit, and lime juice, the cocktail experts at Luxardo recommend their Paloma Bianco. 
Of course, drinks aren't the only way to enjoy these cherries for the grownup sweet tooth. Take a tip from Martha Stewart and treat your sweetie to a tray of chocolate-dipped Luxardo cherries. Or indulge in the fudgy decadence of Luxardo cherry brownies. Not a fan of the sweet stuff? How about a double elk chop with Luxardo cherry demi-glace? No matter how you enjoy them, versatile Luxardo cherries are a pantry and bar staple that add a touch of appetizing elegance.