Why Tessa Munro From A Recipe For Seduction Looks So Familiar
As further proof that 2020 truly will go down in history as a year unlike any other, the Lifetime television network and KFC have teamed up to produce a steamy short film entitled A Recipe for Seduction. If you've watched the trailer on YouTube, obviously the first thing you noticed was Saved by the Bell's Mario Lopez's full-on embodiment of a hot Colonel Sanders. Then, you might have tried wrapping your head around the plot, which according to Meaww, involves a young heiress torn between the attention of a man handpicked by her mother for her to date and possibly marry and the studly chef, Harland Sanders, who swoops in "with his secret fried chicken recipe and a dream."
In a statement about the 15-minute-long flick, KFC promises it to be "full of mystery, suspense, deception, 'fowl' play and – at the heart of it all – love and fried chicken." But one other thing that may have caught your eye about this one-of-a-kind Lifetime movie is Tessa Munro, the actress playing the love-struck heiress' mother. Here is where you've seen her before.
Tessa Munro is a former soap opera star and Lifetime movie veteran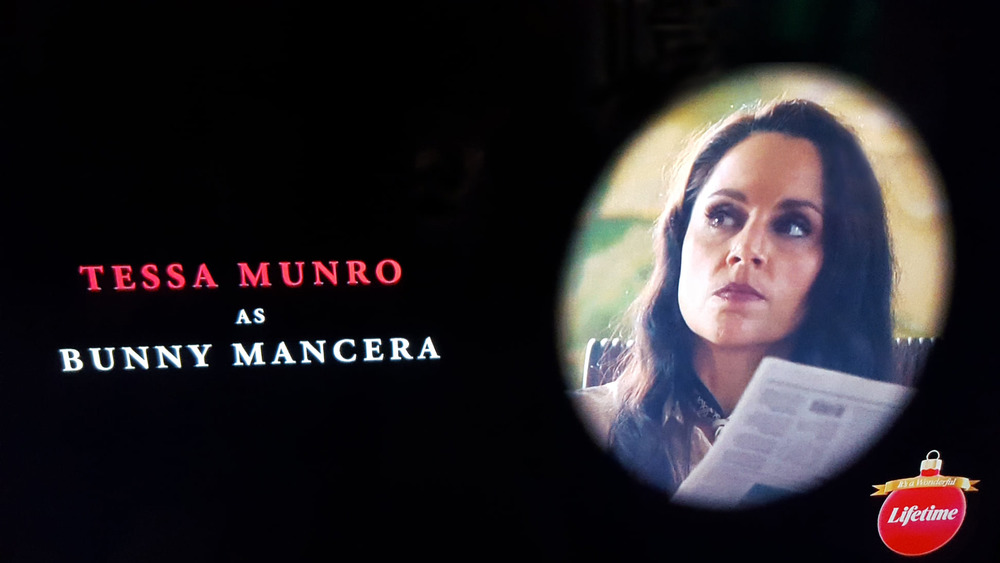 Lifetime
If you're a serious soap opera fan, chances are you may recognize A Recipe for Seduction's Tessa Munro from All My Children. According to IMDb, Munro played "Tanya Araiza" and "Yvette" on three episodes of the series in 2010. Before that, in 2007, Munro played "Mary Beth's mother" on the fantasy soap Passions. She also appeared in a 2013 episode of Scandal and, most recently, Munro played "Meg" on a 2019 episode of CBS's crime action drama, S.W.A.T. In 2021, a comedy-fantasy film called Captain Tsunami's Army is set to premiere, in which Munro stars alongside actor Jeremy Sisto, who 90's kids know as the snob from Clueless.
True Lifetime television loyalists will also know A Recipe for Seduction isn't Tessa Munro's first Lifetime movie. She starred in the 2019 thriller, Adopted in Danger, playing the role of Henrietta — the protagonist's real birth mother (per Fandom). In the film, Munro's character was threatened with murder and she was forced to flee and start her life over in secret. Clearly, Munro has the chops to play Colonel Sanders' antagonist in this upcoming suspense-filled short film. Grab a bucket of KFC chicken and be sure to tune in at noon on December 13th to see for yourself.