These Party Trays At Costco Are A Total Steal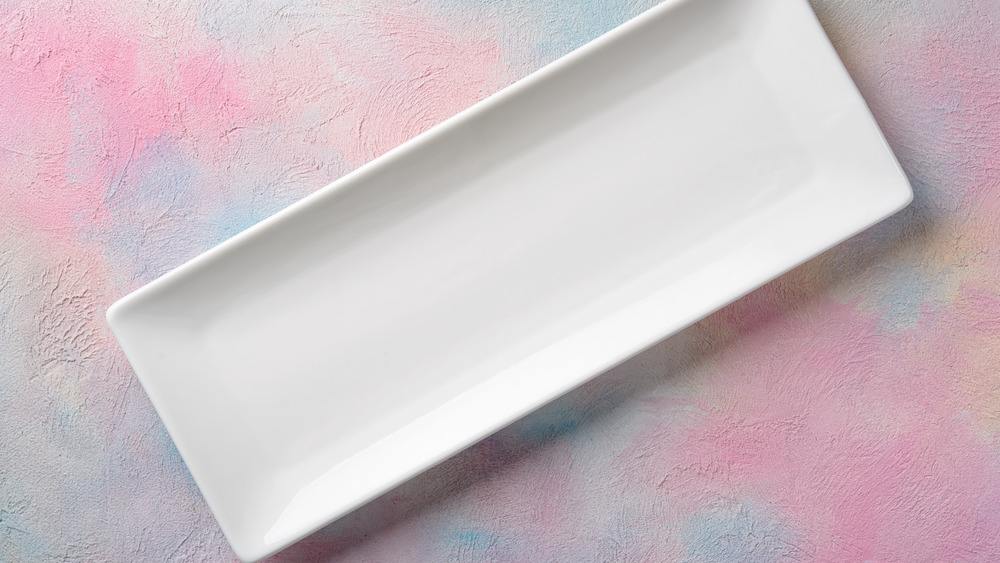 Shutterstock
Those of you who religiously watch cooking shows on the weekends or take note of more than the food that's being presented by high-end chefs will probably notice a common vein: they tend to stick with white serve ware. One such chef is Ina Garten. Fans have undoubtedly noticed her use of plain and clean white china (via PopSugar). Not only does it look flawless and create a stunning tablescape, but it also highlights her food to capture the eye perfectly (via Southern Living).
Garten's expertise and approval of fresh white serve ware are probably enough to convince you that you need some basic, white staples in your kitchen — even if it is only for serving hors d'oeuvres. Fortunately, Costco has a deal on plain white party trays that you just can not miss. The big-box retailer has even marked them down so they are a complete steal.
The set of three white serving trays was spotted by the Instagram user CostcoDeals. The user snapped a photo at their local warehouse and posted it with the caption that essentially stated that Over and Back's three-piece tray was on sale, with $4 off. The caption also detailed that the sale ends on December 13, so you'll want to act quickly on this one. The caption stated that the trays were marked down to $14.99, but the second photo showed they were originally $19.99. With $4 off, that actually makes them $15.99 in the warehouse.
The deal is also online, but it costs more
While you'll certainly pay less if you visit a Costco warehouse to buy this three-piece serving tray set, it's possible that your local warehouse might not carry this item. However, the set is available on Costco's website. However, you will have to pay about $7 more for the set.
On the website, Costco is selling the set for $22.99, which is still $4 off of the original $26.99 price tag. Costco states on its customer service webpage that not all stores carry the items sold online, but they also note that the price online includes shipping and handling. Although the price is admittedly higher, you can still get a good deal on this serving ware, especially since it does include shipping and handling.
So, feel free to visit or call your local Costco warehouse to check if they are carrying the reduced-price Over and Back serving tray set. If not, you can always shop online and still save a few dollars on the deal.