Easy Slow Cooker Spaghetti And Meatballs Recipe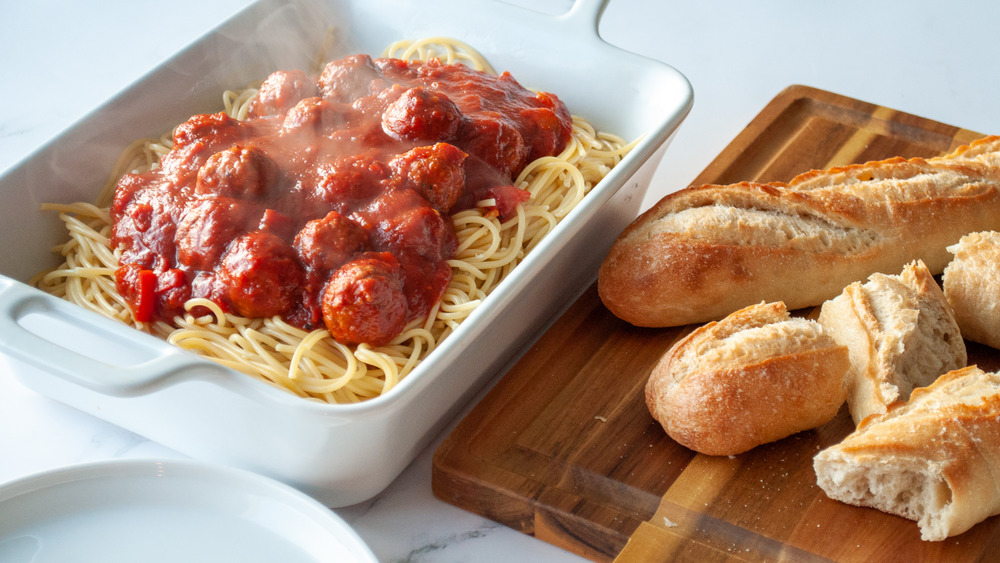 Laura Sampson/Mashed
Slow cooker meals are the very definition of comfort food: they're warm, they're savory, they're filling, and perhaps the most beautiful thing of all, the work comes hours before they're served, so when you're hungry, the food is ready. (Okay, to be fair this one will involve boiling some pasta as a final step, but if there's an easier food prep than cooking pasta that involves any sort of cooking at all, we're not sure what it is.)
How to make a slow cooker food all the more of a comfort dish? Easy: just make the meal that's already pure comfort on a plate (or in a bowl) anyway: spaghetti and meatballs. Chef, writer, wife, and mom to three often hungry young men, Laura Sampson has been making this blissfully simple yet bountifully tasteful recipe for years. "It's something I've made for a long time, and it's great with meatballs or with Italian sausage. It's perfect for those days when you know you'll walk in the door late and hungry and need dinner to be done ASAP," Sampson said. 
And this slow cooker spaghetti and meatballs recipe is a pretty hard meal to mess up, so don't worry if you haven't finished culinary school yet. Sampson says: "I don't think there's much to mess up on this recipe. As long as you set the time right, and remember to turn on your slow cooker, you should be good to go."
Gather your tools and ingredients for slow cooker spaghetti and meatballs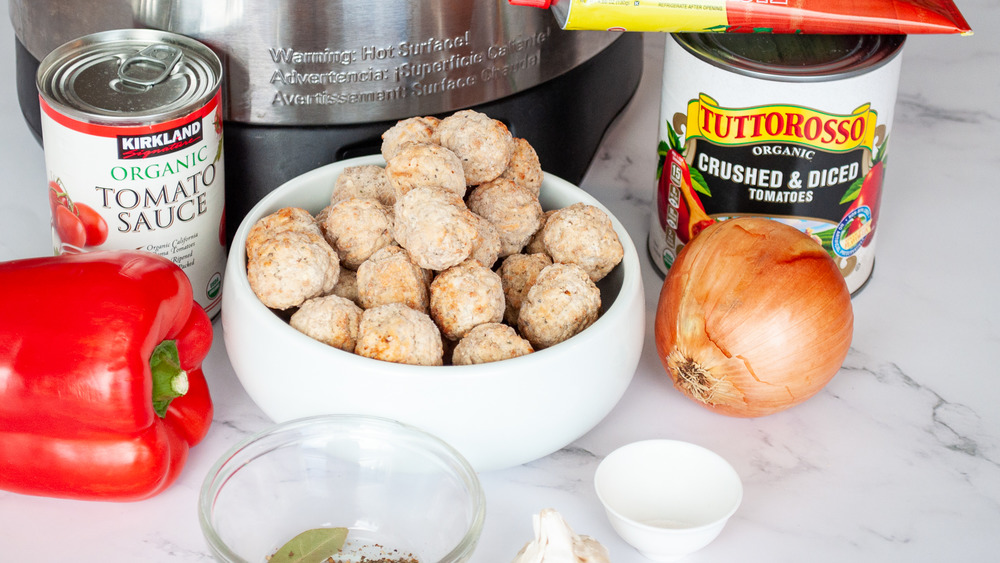 Laura Sampson/Mashed
Slow cooker meals are pretty forgiving, so don't worry if you don't have all of this stuff exactly as listed. Laura Sampson says, for example: "You can use just crushed tomatoes, or diced tomatoes and tomato sauce, or even just tomato sauce. As long as the total volume is about the same, you should be fine."
Dice enough onion and red bell pepper (or orange or yellow bell pepper; again flexibility) to give you a cup of each. Now turn the slow cooker on to low if you have eight hours to spare, or high for a four-hour cook time of your slow cooker spaghetti and meatballs.
Layer in veggies, then tomato products for the slow cooker spaghetti and meatballs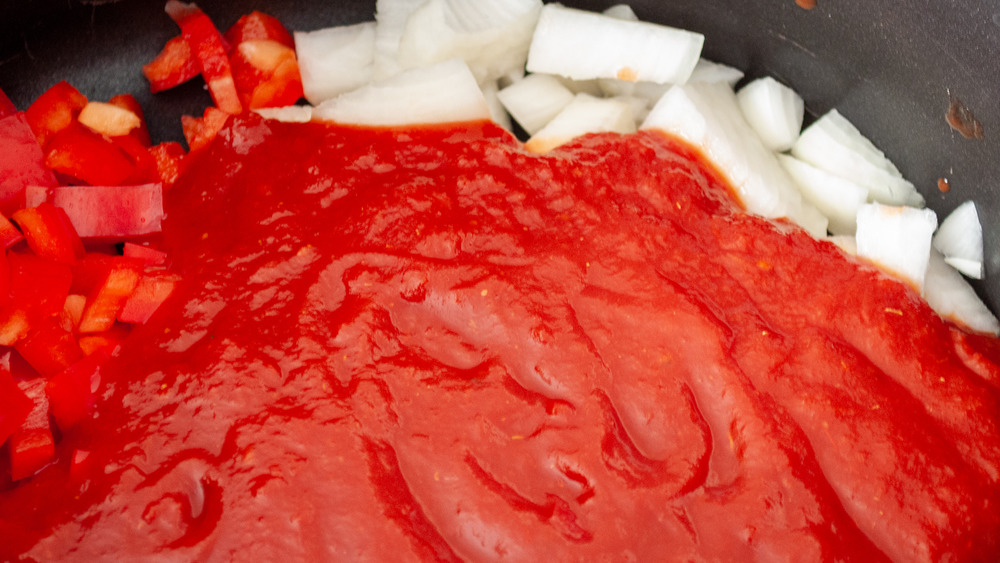 Laura Sampson/Mashed
Pour the diced onions and peppers into the slow cooker and spread them evenly across the bottom of the basin (you can coat it lightly with oil if you'd like). Now add the tomato products, which are one 28-ounce can of crushed tomatoes in a pureé, one 15-ounce can of tomato sauce, and one tablespoon of tomato paste. Add these slowly and evenly (well, the paste will just kind of lump in) so the onions and peppers are evenly covered, then slowly pour in one cup of water.
And don't forget the old pro tip of using the can of tomato sauce as your water vessel, so you get the last little bits of tomato-y goodness out of there. Now stir everything to combine.
Add the spices to your slow cooker spaghetti and meatballs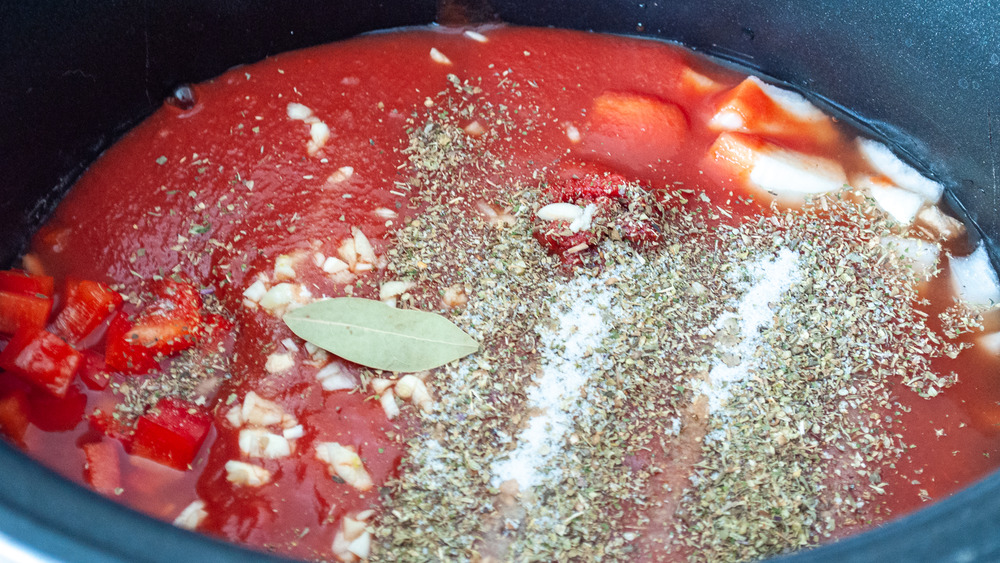 Laura Sampson/Mashed
As with most recipes — in fact, even more than with most — the spices for this slow cooker spaghetti and meatballs recipe can be a matter of taste and most of them you probably have in your kitchen already. Feel free to double up on the garlic, to go easy on the sugar, to go heavy on the red pepper, and so on. It's your comfort food, so you do you. But if you want to make it Laura Sampson style, here's the spice breakdown she sticks with:
One teaspoon of salt, one teaspoon of sugar, one and a half teaspoons of minced garlic, two teaspoons of Italian seasoning, one bay leaf, and a pinch of red pepper flakes. Sprinkle the seasonings over the top of the tomato and veggie mixture, and then give everything a good stirring to make sure it all blends well.
Add the meatballs for this slow cooker spaghetti recipe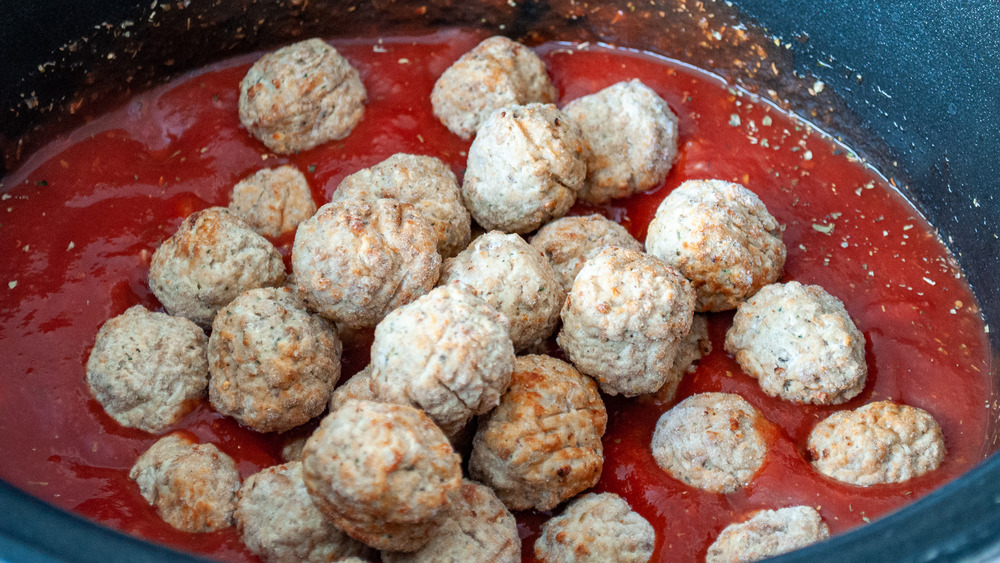 Laura Sampson/Mashed
This might be the most forgiving part of our already forgiving slow cooker spaghetti and meatballs recipe, because you really can use any type of meatball you'd like, you could even swap out meatballs altogether and use sausages. "You can use any pre-cooked meatballs for this recipe, homemade or store bought," says Sampson. "Even frozen vegetarian meatballs will work really well!"
If you want to be a kitchen hero, go ahead and cook your own meatballs from scratch and add them in here, but that's kind of missing the point. After hours stewing in this delicious blend, even a frozen store bought meatball is going to be great, just stir them in, cover the slow cooker, and step away for four or eight hours, depending on the heat setting.
Cook your pasta for the slow cooker spaghetti and meatballs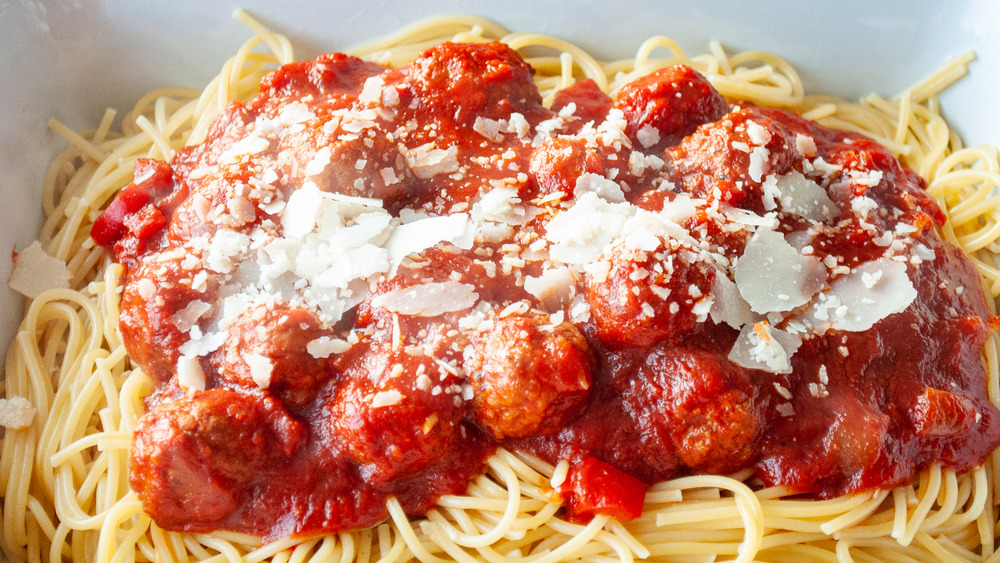 Laura Sampson/Mashed
Twenty minutes before chow down time, cook your pasta. And sure, the whole spaghetti and meatballs thing is iconic and all, but Laura Sampson says: "Any pasta works just fine. You can use any pasta you prefer, or if course just the one you have on hand."
While the bulk of this meal is all about the slow cooking, you want to serve it over pasta cooked as fresh as can be, so follow the directions as you boil your noodles, then immediately heap plenty of sauce and meatballs atop it, or toss the pasta into the slow cooker to stir and blend. (Oh, and don't forget to fish out the bay leaf first!) You can sprinkle on some parmesan if you'd like, but there's flavor to spare even without.
More red pepper flakes on the finished dish? That's your call too.
Easy Slow Cooker Spaghetti And Meatballs Recipe
Spaghetti and meatballs are a classic comfort food and bringing a slow cooker into the mix just makes this dish even better.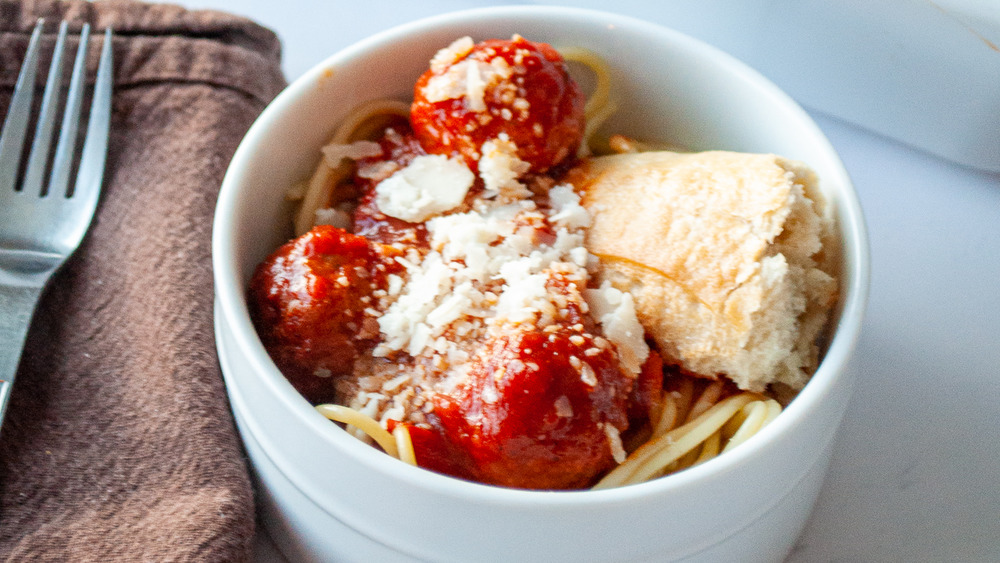 Ingredients
1 cup chopped onion
1 cup chopped red peppers, optional
28 ounce can of crushed tomatoes in tomato puree
1 15 ounce can tomato sauce
1 TBSP tomato paste
1 cup of water
1 teaspoon salt
1 teaspoon sugar
1-2 teaspoons minced garlic
2 teaspoons Italian seasoning
1 bay leaf
1 ½ pounds frozen cooked meatballs
spaghetti noodles or other pasta
Optional Ingredients
Pinch of red pepper flakes
Parmesan cheese
Directions
Put the vegetables in the slow cooker
Add the tomato products and water over the top of the vegetables
Stir to combine
Add the seasonings, stir again
Mix in the frozen meatballs
Cover and cook on low for 8 hours, or high for 4 hours
Once finished, it can be set on "keep warm" for 1-2 hours
20 minutes before serving cook noodles as desired
Serve individually or put noodles in a large serving dish, top with sauce and meatballs, and serve with parmesan if desired
Nutrition
| | |
| --- | --- |
| Calories per Serving | 291 |
| Total Fat | 17.6 g |
| Saturated Fat | 6.5 g |
| Trans Fat | 1.0 g |
| Cholesterol | 60.4 mg |
| | |
| --- | --- |
| Total Carbohydrates | 16.7 g |
| Dietary Fiber | 3.7 g |
| Total Sugars | 8.7 g |
| Sodium | 726.0 mg |
| Protein | 17.8 g |