What You Didn't Know About The Vinegar That Comes With Fish And Chips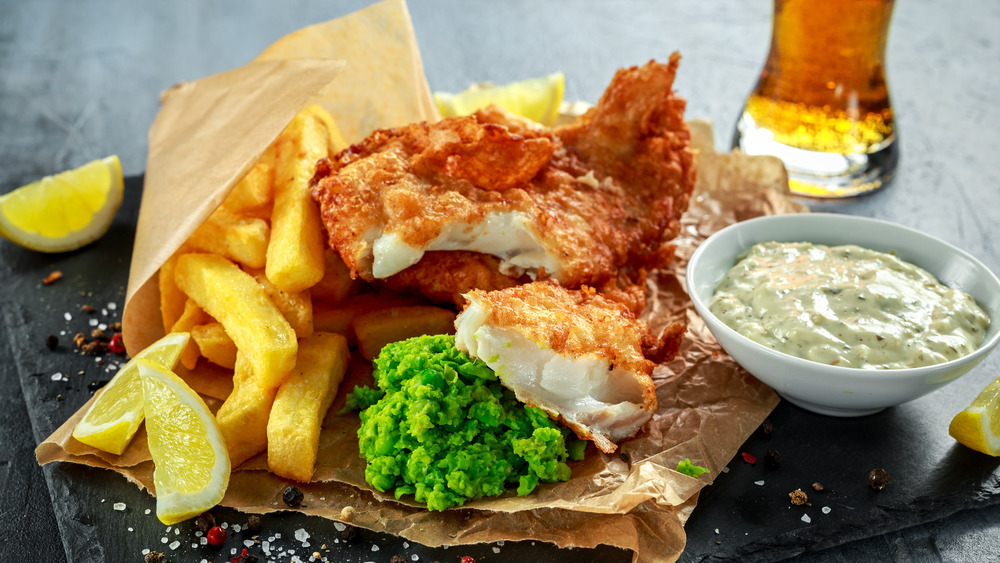 Shutterstock
Those who have been to England or even to an English-style pub here in the U.S., know that fish and chips (otherwise known as French fries) have to be served with vinegar. It's the perfect way to top the meal. But a few years ago, there was some surprising news surrounding the condiment that surfaced. As it turns out, the vinegar you use on those chips isn't actually vinegar at all, according to The Guardian.
The condiment that is labeled vinegar is actually a combination of water, ethanoic acid, colorings, and flavorings. The mixture arrives at restaurants in a concentrated form that's then added to water so that it can be served to customers for a lot less. To make real vinegar, you have to brew alcohol. But since this isn't, the positive is that it's halal and gluten-free, which makes it okay for a lot more people to enjoy (via Food Republic).
The vinegar controversy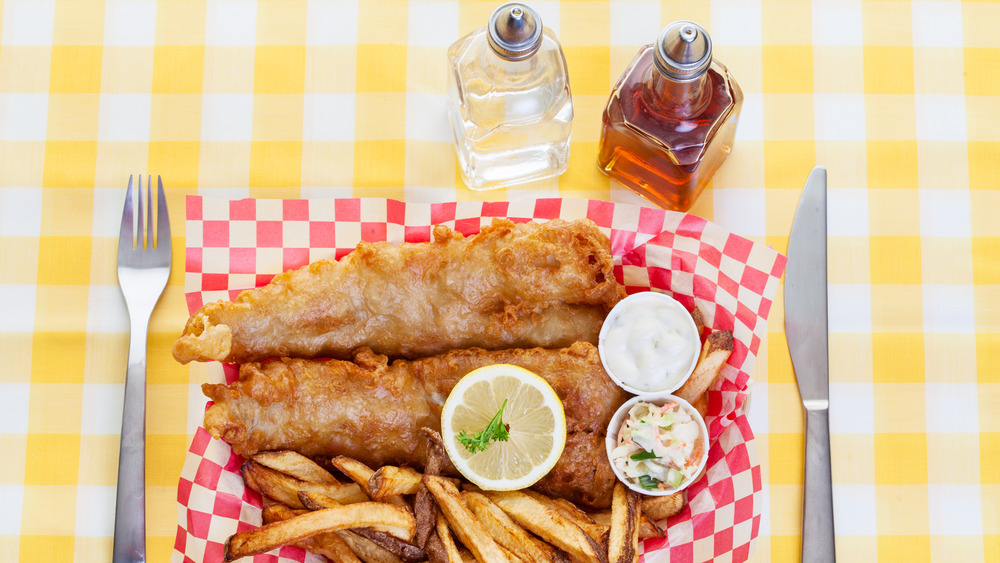 Shutterstock
The uproar over the vinegar not actually being vinegar stems from a YouTube video called, "The Fake Vinegar in British Fish and Chip Shops" made by Tom Scott in 2016. In the video, Scott says, "Most people don't know that this isn't vinegar. Legally, it can't be described as vinegar. Trading standards are really clear on that. It cannot be put in the little bottles that people traditionally associate with vinegar." That's exactly why people are confused about the condiment. People don't know how something that isn't vinegar could be labeled as such and given to consumers.
However, an owner of a fish-and-chip shop in Birmingham, England, Tony Georgiou, explains that no one goes to a fish and chips restaurant for the condiment. "People care about the quality of their fish, not the quality of their vinegar," said Georgiou. His shop uses fresh fish instead of frozen, and the list of celebrities that have graced his shop is a clear indicator that it is all about the quality of the fish.
Still, it is always appreciated to know what you're consuming. Even if it is a condiment.