This Restaurant Serves Gourmet Bologna Sandwiches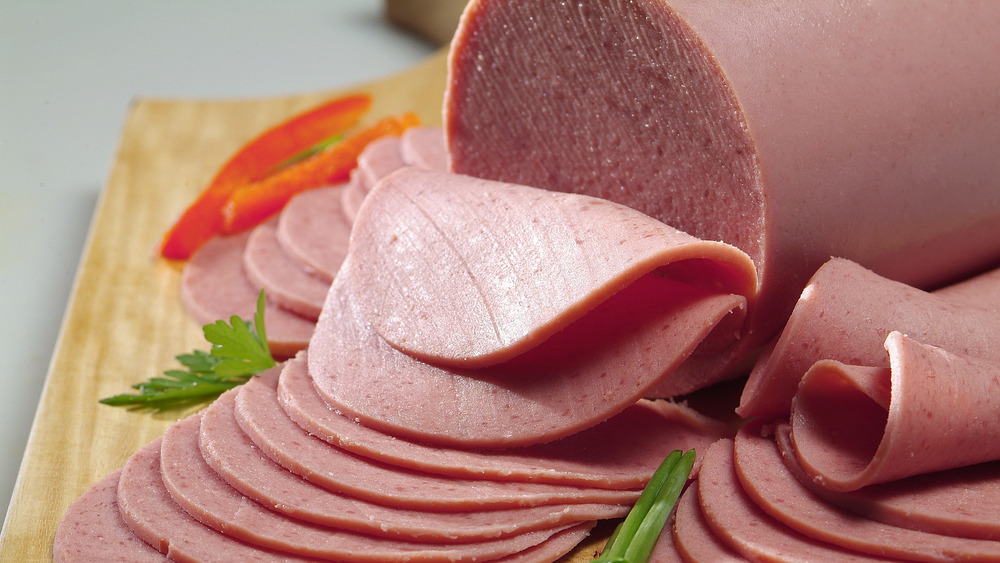 Shutterstock
What does bologna have to do with gourmet food? You might say "absolutely nothing." After all, the bologna sandwiches of our youth were as far from fancy as you could get. Comments collected by Food & Wine suggest that all a good bologna sandwich ever required (in the South especially) was two pieces of squishy white bread and a heavy slathering of Duke's mayo. If you were lucky, maybe someone would fry the bologna for you or top it with a slice of American cheese.
However, times have changed and bologna sandwiches have had a rebirth, courtesy of one New Orleans restaurant called Turkey and the Wolf (per Bon Appétit). Although their bologna is locally sourced by a butcher who cures it in-house, it's presumably still the same old mystery meat we're used to. Meaning, it's likely made from beef, chicken, pork, or all three, a combination of seasonings like celery seed, coriander, and paprika, and possibly the occasional unsavory-sounding but entirely edible "by-product," like organs or meat trimmings (per Mental Floss). What makes this bologna special, though, is the way Turkey and the Wolf has crafted a fantastically gourmet sandwich out of it. Here's how they gave this lunchbox classic a whole new vibe.
Griddle your bologna and add something crunchy to make it gourmet
Surprisingly, a bologna sandwich doesn't actually need much to take it over the top – just some carefully selected ingredients and techniques. Bon Appétit reports Turkey and the Wolf's gourmet bologna sandwich starts with three slices of griddle-fried bologna which are covered in American cheese and layered onto thick slices of Pullman bread that's been buttered and given a turn on the griddle as well. According to Well Floured, Pullman bread is basic white sandwich bread with a minimal crust that comes in the shape of a perfect square, thanks to a lid being placed on the loaf pan during baking.
Next, Turkey and the Wolf's bologna sandwich gets a squeeze of hot mustard they've made in-house, some Duke's mayo, and shredded lettuce. This sounds like a well-made and pretty complete sandwich right there but there's one more crucial, crunchy element that's an absolute must: vinegar-brined potato chips. Two handfuls, in the sandwich, not on the side.
Of course, knowing the details of this sandwich doesn't necessarily tell you whether it tastes good or not. For that, you can turn to Instagram user astroworld512 who commented simply, "I still dream about this sammy." Enough said.