The Real Reason Wendy's Bacon And Blue Burger Was Discontinued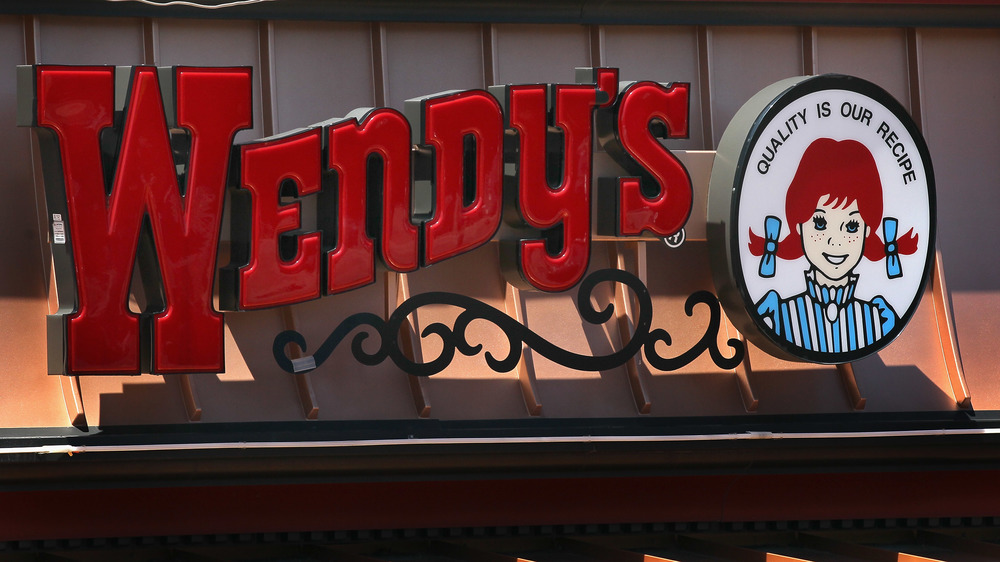 Scott Olson/Getty Images
Wendy's is a cult classic. From its inception in 1969 to the present, the brand has come a long way in terms of cementing its identity in the fast food business. According to a piece by Eat This, Not That!, some of its most iconic menu items have been around since its early beginnings, including its chili, burgers, and Frostys. The brand is also well-known for its square hamburgers, which was a deliberate move to showcase the fresh beef quality that Wendy's is proud of. Cool, right?
Speaking of menu options from Wendy's, while many have been hits with its fans, one item that didn't receive much love was its Bacon and Blue Burger, a dish that was served with ingredients like blue cheese, tomatoes, applewood-smoked bacon, a quarter-pound beef patty, onions, a special sauce, and a brioche bun (via Brand Eating) It sounds like it would be a tasty addition, but unfortunately, the item wasn't a feasible option for the fast food chain, and it wasn't because of the taste. Read on to know why.
The Bacon and Blue Burger was a logistical nightmare
As delicious as the burger was, it wasn't the easiest meal to enjoy as far as fast food was concerned. It was first launched in 2010, according to MoneyWise, and was available for an affordable $4.29 in 2015 when artisanal cheese was really in vogue. To be clear, it did grab attention from plenty of customers and was pretty fancy with its special ingredients and unique flavor. However, Wendy's Bacon and Blue Burger was quite messy to eat and the sheer variety of toppings made things a bit tougher especially if you were simply trying to enjoy your meal from the comfort of your car.
That said, the burger was one of a kind and despite its messy nature, many fans missed it after it was taken off the restaurant's menu. A Reddit user fondly remembered it and wrote that they found it delicious and are hopeful it'll be brought back on the menu. Wendy's, are you listening?