Easy Frosted Sugar Cookie Recipe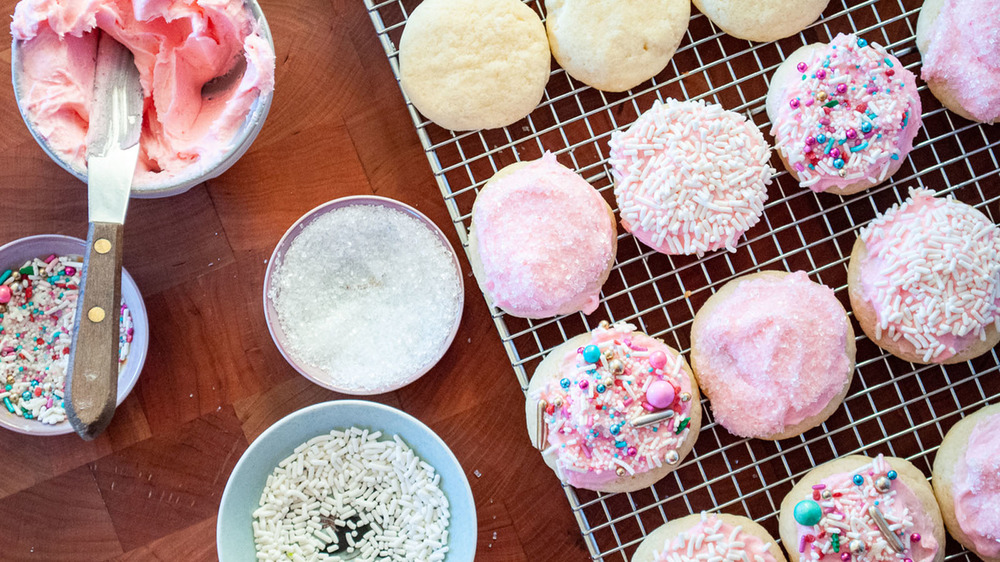 Laura Sampson/Mashed
Frosted sugar cookies are fantastic for holidays, special occasions or just because. Whether you have a raging sweet tooth or a simply hankering for a melt-in-your-mouth cookie, this easy frosted sugar cookie recipe will hit the spot.
Sugar cookies are comprised of several ingredients, namely sugar. Today's sugar cookie originally was called the Nazareth sugar cookie, named after German Protestants in Nazareth, Pennsylvania. This recipe has a surprise ingredient that gives it a tender texture and flavor boost.
Even sweeter is the cream cheese frosting that recipe developer and mom of three Laura Sampson shares. It'll quickly become a staple in your baking repertoire! Sampson resides in Alaska where her sons would snarf up all the cookies she bakes in one sitting if they could. Once your cookies have cooled and are frosted, you'll need to pace yourself or you'll gobble them up, too, because this recipe is so good. See for yourself and get to cooking!
Gather up your sugar cookie ingredients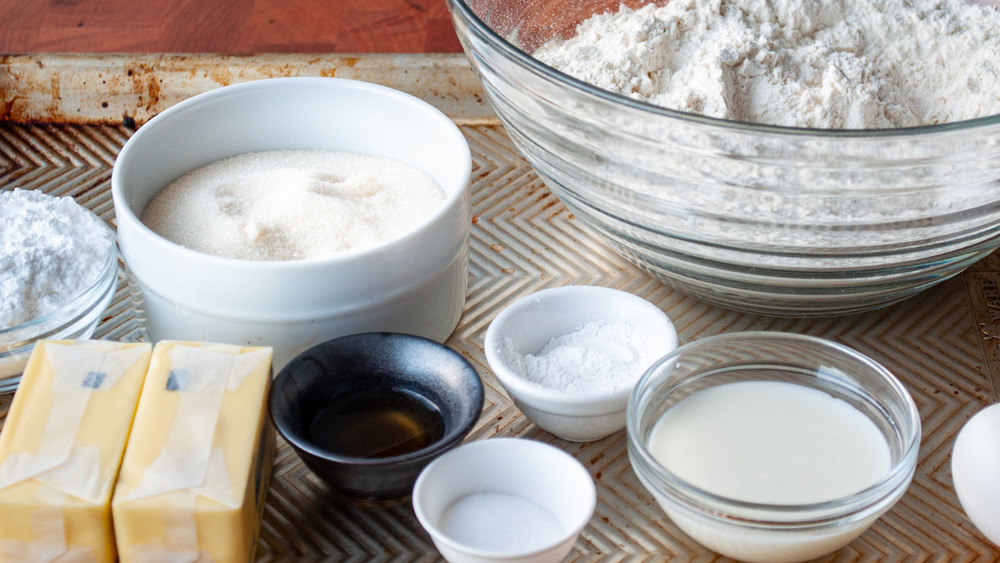 Laura Sampson/Mashed
Just the thought of sinking your teeth into one of these fantastic cookies will be enough to prompt you to whip out the mixer and get to baking. Before you get to the baking, you'll want to do a little prep work to make the process go that much smoother. Gather up the ingredients you'll need for the dough. Prep your baking sheets with parchment paper to help the cookies hold their form and set out the cooling racks, enough to handle four dozen cookies.
The prep time for these delicious sugar cookies takes just 15 minutes, but the dough does need to chill two hours. Baking time is a mere eight to ten minutes afterward. Even sweeter than these cookies is the fact that they require only seven ingredients.
Work with the wet ingredients for the sugar cookie dough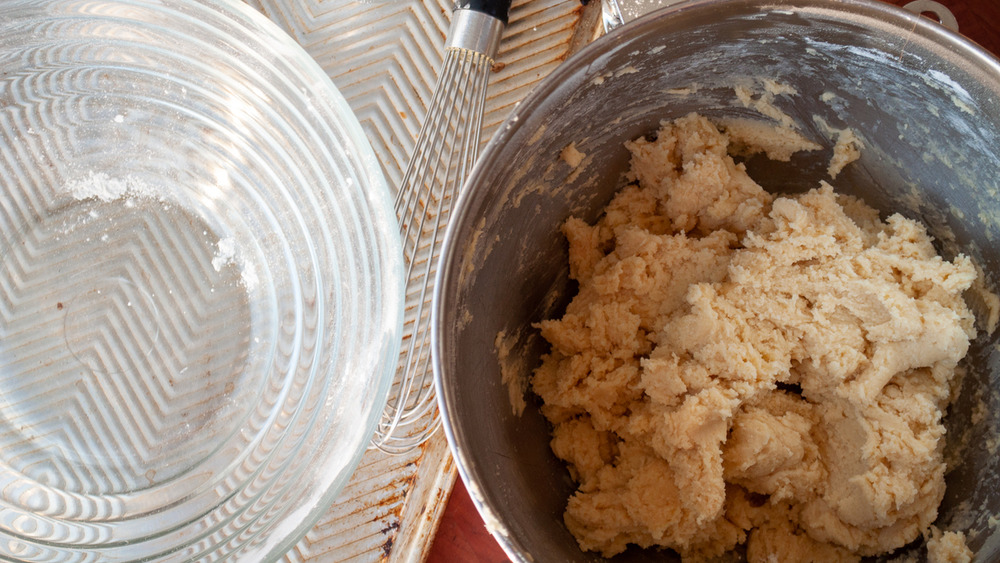 Laura Sampson/Mashed
First, beat one cup softened, unsalted butter and one cup of granulated sugar with a stand mixer until light and fluffy. Add one teaspoon vanilla extract or half a teaspoon of almond extract. Add one egg and beat well, then add a second egg. Stir in three tablespoons of milk.
"(The milk) adds to the tenderness of the cookie," Sampson explained. "Sometimes when you just throw both eggs in a cookie dough recipe it can make it look curdled and the eggs don't mix in right. By adding the eggs one at a time, you ensure they get incorporated correctly."
Moving on with the dry ingredients for the sugar cookie dough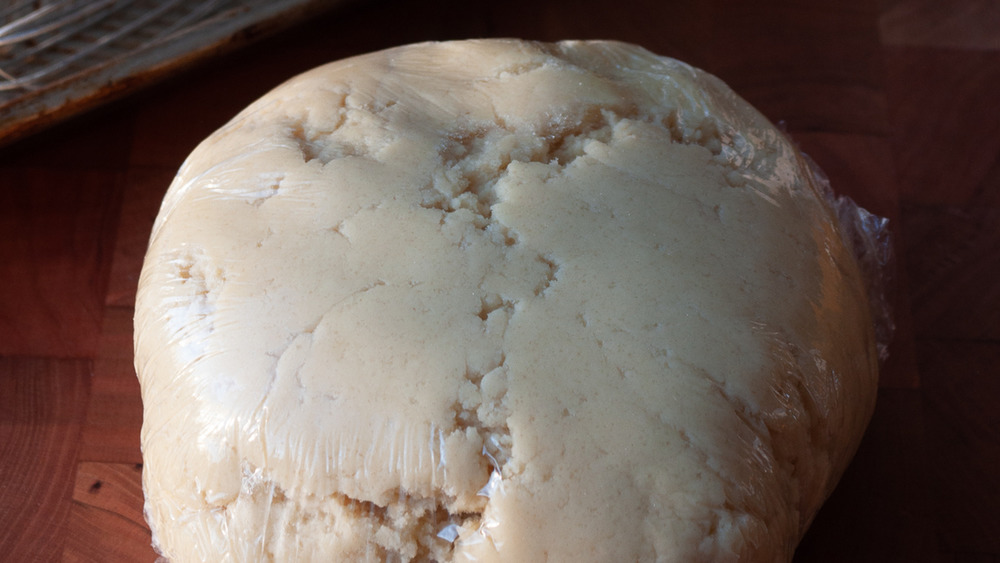 Laura Sampson/Mashed
In a separate bowl, combine three cups of flour, half a cup of powdered sugar, three teaspoons of baking powder and one and a half teaspoons salt to the wet ingredients and stir slowly to combine. When the sugar cookie dough is thoroughly mixed, wrap it in plastic wrap and refrigerate for two hours before baking.
Skipping the refrigeration part is a common cookie baking mistake, so don't rush and skip over it. "In my experience, if you don't take the time to refrigerate this dough, then it may just end up spreading across the pan and making a mess," Sampson said.
Tips for better sugar cookies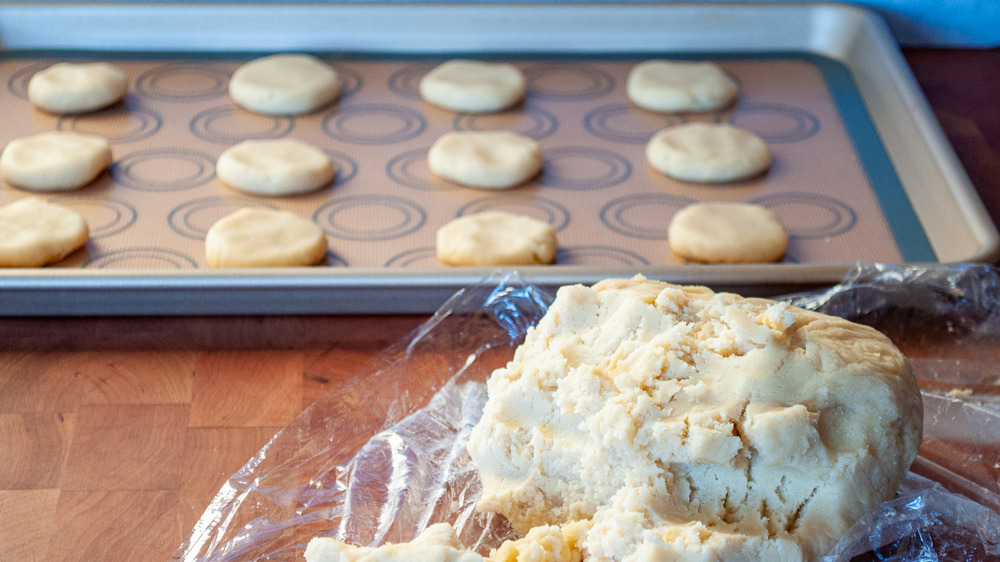 Laura Sampson/Mashed
After preheating the oven to 350 degrees Fahrenheit, roll the dough into 1-inch balls then gently pat them out until they are flattened to a thickness of half an inch. Bake just 12 cookies at a time on baking sheets so they don't touch during the baking process. Bake for eight to ten minutes to where they are set, but not browned. It's okay for them to spread slightly.
"If you want cookies that are round disks, then it helps to roll them into balls and slightly flatten them. Using your hands means you don't need to do it on a floury counter where they will pick up more flour than they need," Sampson explained.
Remove the cookies from the oven and let them cool on the baking sheet for just one to two minutes before transferring them to a cooling rack.
Amazing cream cheese frosting puts these sugar cookies over the top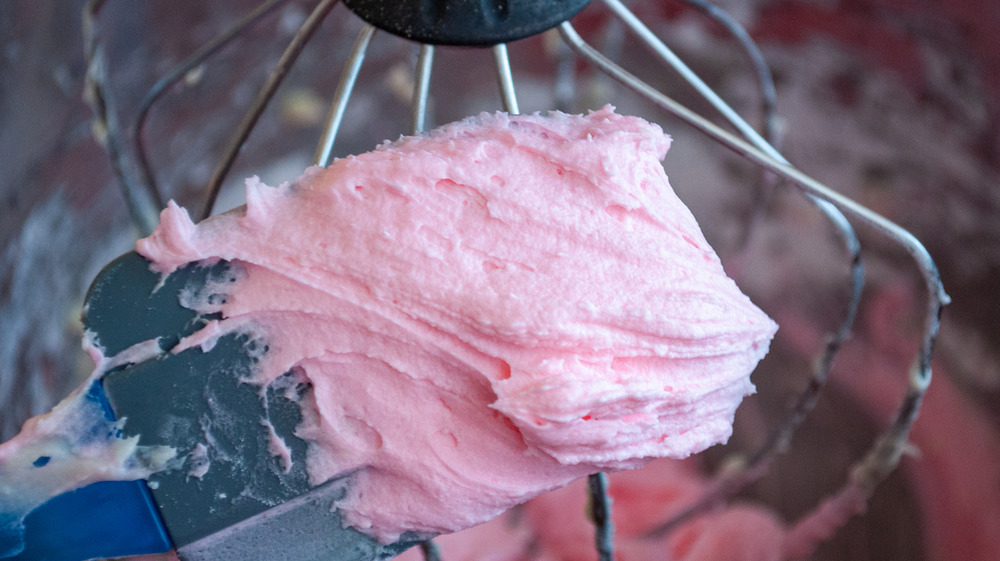 Laura Sampson/Mashed
This cream cheese frosting is truly incredible. Take one cup of softened butter and mix it with eight ounces of softened cream cheese. Add three and a half cups of powdered sugar and stir to combine the mixture. It may be dry, Sampson advised.
Blend in two teaspoons of vanilla and add small amounts of milk for a total of one to two teaspoons of milk until the frosting becomes of a spreadable consistency. Add food coloring and even sprinkles if desired.
"You want to add the milk slowly or you may end up with too much. Then you get into a mess where you're trying to add more powdered sugar to balance it out and that never ends well," Sampson explained. "The great thing about this frosting is that you add as much milk as you want to make it soft and easy to spread. Then you can dip in sprinkles or decorate as needed."
Get ready to decorate you sugar cookies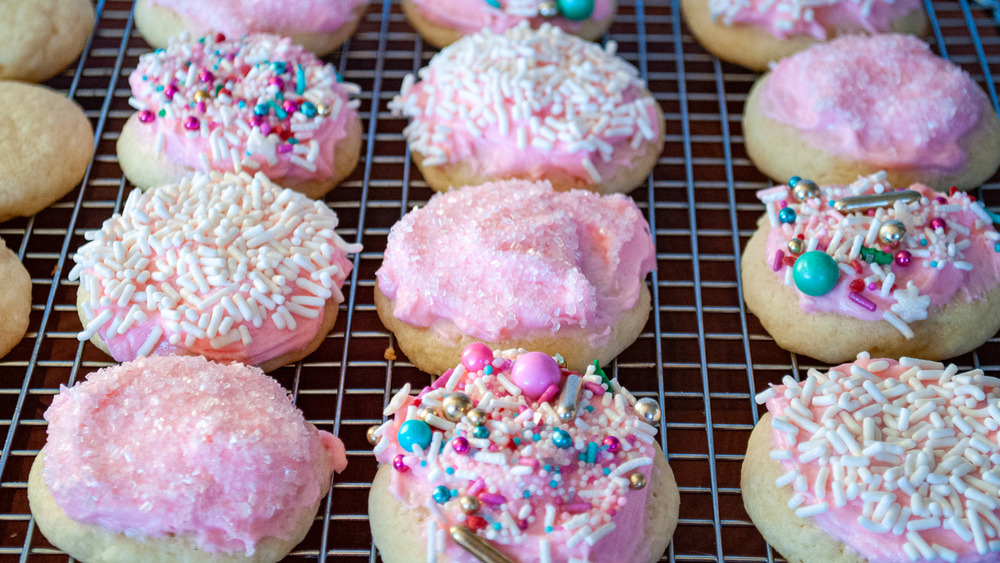 Laura Sampson/Mashed
Sampson said this recipe yields some of her favorite soft sugar cookies. Anyone who tries them quickly falls in love with them, too, making them clamor for more. "Everyone who tastes them loves them. There's just something about the soft cookie and that layer of frosting that is sheer perfection," she said. "The frosting is tangy and sweet and compliments the cookie perfectly."
Sampson noted that the soft sugar cookie recipe works for virtually any occasion and you don't need Martha Stewart cookie decorating skills to get the job done. "Just change up the frosting colors and sprinkles and you're ready for any holiday," she said.
Easy Frosted Sugar Cookie Recipe
Whether it's for Halloween, Christmas, a birthday party, or just because, these sugar cookies are sure to be a hit with kiddos and adults alike.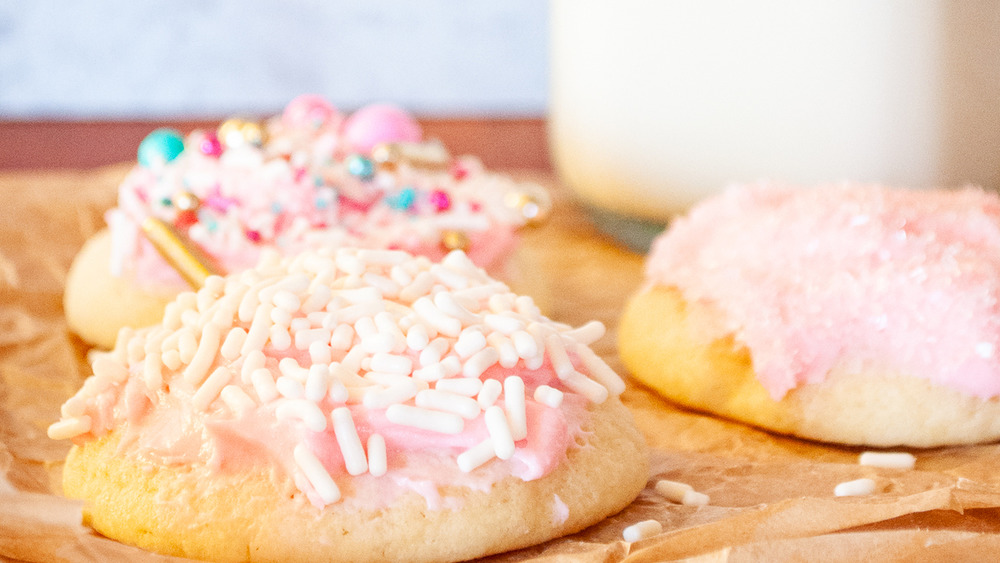 Ingredients
2 cups unsalted butter, softened, divided
1 cup of granulated sugar
3 teaspoons vanilla extract, divided
2 eggs
5 tablespoons milk, divided
3 cups flour
4 cups powdered sugar, divided
3 teaspoons baking powder
1-½ teaspoons salt
8 ounces of cream cheese, softened
Optional Ingredients
Directions
Beat 1 cup of butter and granulated sugar in a stand mixer until light and fluffy.
Add 1 teaspoon vanilla and one egg, beat well, then beat in the other egg before stirring 3 tablespoons of milk.
In a separate bowl combine the flour, ½ cup powdered sugar, baking powder and the salt. Add the ingredients to the stand mixer bowl and stir slowly to combine.
When the dough is combined, wrap it in plastic wrap and refrigerate for 2 hours before baking.
Roll the dough in 1-inch balls and then pat out to flatten them to about half-inch thick. Place 12 cookies at a time on baking sheets so they don't touch during baking.
Bake 8-10 minutes in an oven that has been preheated to 350 degrees Fahrenheit. The cookies should spread slightly and be set, but not browned.
Cool on the baking sheet 1 to 2 minutes before moving them to a cooling rack to finish cooling before decorating.
For the frosting: Mix 1 cup of butter and cream cheese in the bowl of a stand mixer.
Add 3 ½ cups powdered sugar and stir to combine; mixture may be dry. Beat in 2 teaspoons vanilla. Add small amounts of milk until the frosting is spreadable.
Add food coloring if desired.
Nutrition
| | |
| --- | --- |
| Calories per Serving | 172 |
| Total Fat | 9.6 g |
| Saturated Fat | 5.9 g |
| Trans Fat | 0.3 g |
| Cholesterol | 32.4 mg |
| | |
| --- | --- |
| Total Carbohydrates | 20.5 g |
| Dietary Fiber | 0.2 g |
| Total Sugars | 14.2 g |
| Sodium | 93.2 mg |
| Protein | 1.4 g |