The Reason People Are Refusing To Use KFC's Gravy Again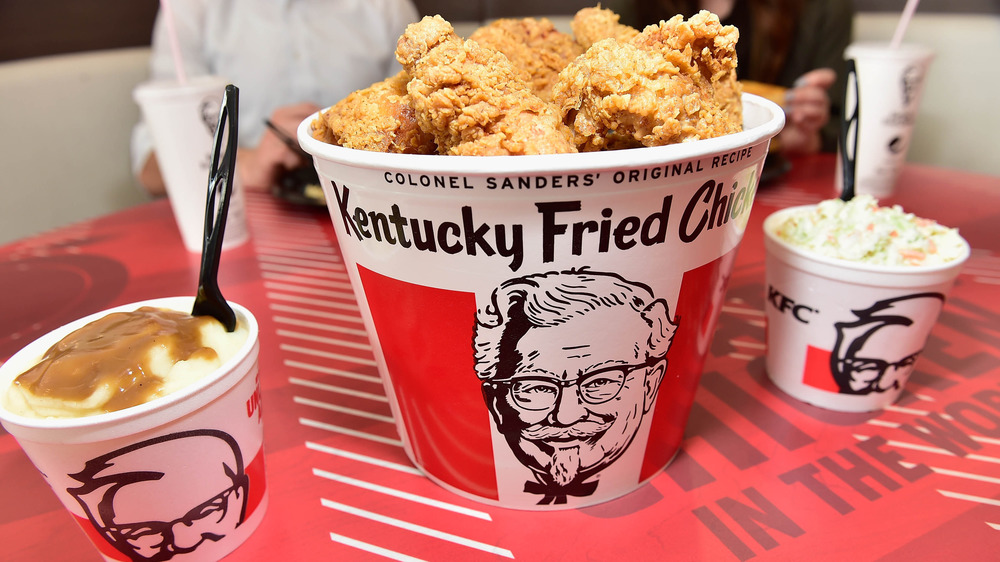 Moses Robinson/Getty Images
A new documentary that shows how KFC makes its gravy is leaving customers with mixed feelings. Inside KFC at Christmas recently aired and gave fans a behind the scenes look of how some of their favorite food is made, per Birmingham Live. The description for the film explained, "It's carols round the deep fat fryer in this touching tour behind the scenes of one of the nation's best-loved fast-food restaurant chains as it bids to end 2020 on a finger lickin' high." 
The movie highlights different KFC's from around the country, but one in Peterlee, England, seemed to have snagged the spotlight, according to Chronicle Live. Staff member, Anne, explained in the documentary how KFC's beloved gravy is made: two scoops of "crackling," 3.5 litres of cold water, a secret ingredient, mix it and then put it in the microwave. It's crackling is made from bits that are left at the bottom of the chicken fryer. Apparently, this inside look at the ingredients didn't sit well with everyone.
Fans are divided over seeing how KFC's gravy is made in new documentary
Social media was quick to react to the film, which apparently had revealed some secrets they didn't want to know. One wrote on Twitter, "How they make the gravy has put me off @kfc for life! I guessed it would be bad but this is SAVAGE!!" Birmingham Live reported another Twitter user wrote, "Inside @kfc at Christmas = me never ever eating KFC gravy ever again!!"
Another Twitter user almost seemed to be angry at anyone if they ordered this side again. "If your watching "Inside KFC at Christmas" & you order there Gravy again after seeing that, then your a scum bag mate," they wrote. A different user commented that this documentary has made them never want KFC gravy again. However, not all reviews were negative.
After watching the movie some admitted they were craving the gravy, which is tested for readiness in an usual way, as reported by Chronicle Live. Staff member, Adam, showed viewers they check to see if the consistency of gravy is right by putting a chip on top and seeing if it slowly sinks in. One fan admitted, "Watching KFC at Christmas and suddenly I want to bath in their bloody gravy." Another fan wrote, "KFC gravy is absolute god tier." One happy customer also said their family enjoys it so much, they even eat it with Christmas dinner.
Even though fans seem to be divided over some of the ingredients in the gravy, it doesn't look like it will be going off KFC's menu anytime soon.