Kellogg's Has Good News For Fans Of Its Smorz Cereal
"Who in the product department at Kellogg's thought it was a good idea to make Corn Flakes with freeze-dried bananas?" is a burning question that we have (and, clearly, Business Insider does, too). On the other hand, "Who in the product department at Kellogg's thought it was a good idea to make Smorz cereal?" is a question that has never, ever, crossed our minds. Not only because Kellogg's Smorz breakfast cereal is delicious, but also because it lends itself to the best plays on words, like, for example, "The Smorz I know you, the Smorz I love you."
When Kellogg's discontinued the cereal in 2019, we and over 2,200 other petition signers were left devastated. To borrow the words of one of the "Bring back Kellogg's Smorz cereal" petition signers, "This is the only cereal I can eat 5 times a day for the rest of my life." Kellogg's, thankfully, listened. It teased the cereal's return as early as August 2020 on its Twitter. But when eager Twitter followers begged Kellogg's to "drop the release date," the cereal company remained remarkably tight-lipped. Not anymore.
Everything we know about Kellogg's Smorz cereal's comeback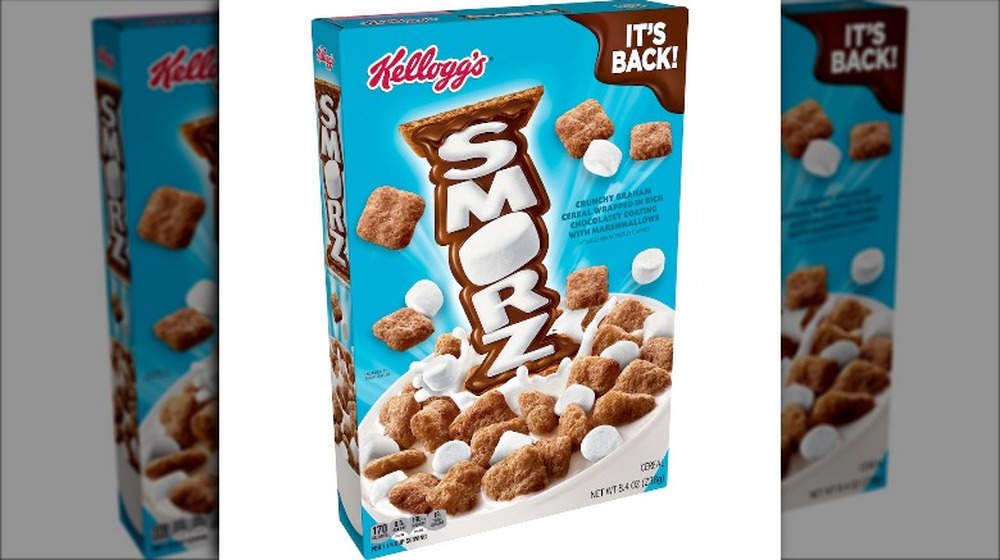 Kellogg's
Kellogg's officially announced their Smorz cereal's comeback on December 16, 2020. "Kellogg's SMORZ Cereal has an incredibly passionate fanbase — and their efforts to bring back the cereal have paid off," senior marketing director of Kellogg All Family Cereal, Erin Storm, explained, "We couldn't be happier to bring some joy to our die-hard fans and also give first-timers the chance to indulge in the fanfare and see what SMORZ is all about."
As per the company's press release, you can expect to start snapping up Smorz from your local grocery store's shelves in January of 2021. You can expect to pay $3.99 for a 9.8-ounce box and $5.96 for a 15.6-ounce box. As for its taste, you can rest assured that 2021's comeback will include the same "crunchy graham cereal squares wrapped in a rich, chocolatey coating that intermingle with marshmallows," that you've been longing for since Smorz cereal was discontinued in 2019.