The Reason Blue Bell Ice Cream Had To Shut Down Its Factories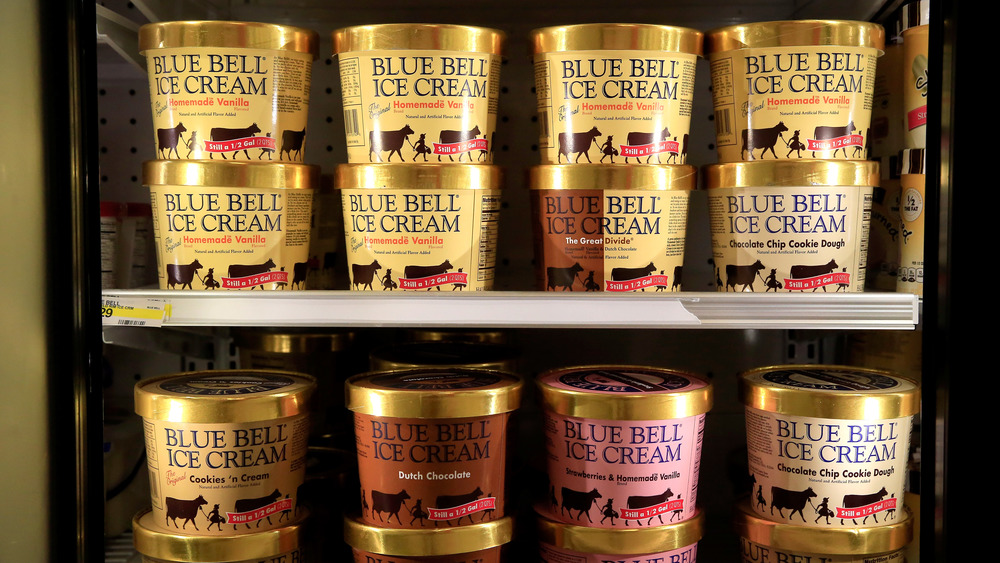 Jamie Squire/Getty Images
It's close to impossible to say no to ice cream, especially if it's a flavor you love. One of the oldest names in the market, Blue Bell Creameries, has been making ice cream for a really long time. According to the brand's official website, its journey began in 1907, when a few entrepreneurs in Texas first founded a company in a bid to manufacture butter that was prepared from excess cream that was bought from farmers.
Eventually, the group started manufacturing delectable ice cream and ended up becoming a well-known brand across the U.S. These days, the company produces several types of ice cream such as Blue Bell Ice Cream, Light Ice Cream, No Sugar Added Ice Cream, and more. The company also claims that it directly supplies its products to grocery shops and supermarkets in a bid to ensure that no one outside the company handles the products.
However, despite its best efforts, Blue Bell got into some serious trouble in 2015. Here's what happened.
Blue Belle Creameries was involved in a listeria outbreak
In February 2015, when a listeria outbreak was reported, health officials were able to trace its origins to Blue Bell's Texas factory. This was serious considering the fact that listeria can be especially harmful to vulnerable groups such as pregnant women, infants, the elderly, and others with weak immune systems. Unfortunately, Blue Bell didn't act as promptly as expected.
In fact, officials discovered listeria in another product after they made their first discovery, and more listeria was traced to a factory in Broken Arrow, Oklahoma. The reason? Most likely, bad cleaning protocols and a hot water problem led to the listeria issue. Understandably, customers were shaken by the developments and lost faith in the organization. Blue Bell had to close its factories and cough up hefty fines to resolve a civil False Claims Act case. The company's president at that point, Paul Kruse, was accused of hiding the outbreak by ordering his staff members to get rid of potentially contaminated products without informing customers or retailers. Yikes!
Back then, an angry Reddit user wrote, "This is gross negligence and pure laziness...sorry, traditions and all, but I won't trust a company that is forced to use proper business practices because they were forced to after something happened. Food safety is no joke." 
These days, the ice cream is available again, and a statement from the company reads, "We learned hard lessons and turned them into determination to make the safest, most delicious ice cream available."