This German Snack Was The Forerunner Of Hawaiian Pizza
There are two kinds of people in this world: those who understand that pineapple goes on pizza and those who don't. If you're the latter, look away now, as this article isn't for you. If instead, you're a fan of the delicious combination of savory ham, creamy cheese, and sweet-tart pineapple, then you'll enjoy learning more about this forerunner of Hawaiian pizza, a popular cultural mashup from Germany. 
It's called "Toast Hawaii," and we've got our toaster ovens ready to try it right now. 
Made popular in the 1950s in Germany, Toast Hawaii is an open-faced sandwich featuring ham, pineapple, and melty Swiss cheese with either fruit preserves or a cherry on top (via Daring Gourmet). In the post-war era, many foods were still scarce, so this combo dish was created to add variety to the diet of Germans by Clemens Wilmenrod, Germany's first TV chef. The original recipe uses Emmental or Gruyere cheese and may also remind some tasters of the Monte Christo sandwich and French croque-monsieur. 
After Wilmenrod's TV popularity, the term "Hawaiian" was commonly used as a label to describe "things topped with pineapple" (via N-tv) and may or may not have contributed to the popular idea of Hawaiian pizza we know today.
Toast Hawaii has many variations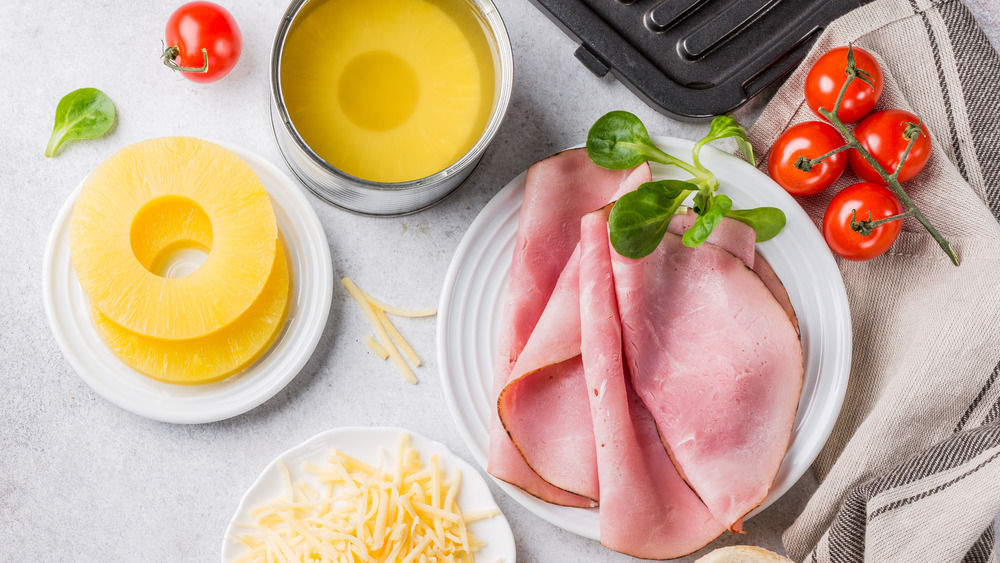 Shutterstock
What we do know is that the popularity of this pairing has inspired multiple different dishes today, and pineapple lovers rejoice. A more modern take on the Toast Hawaii might be the Hawaiian Grilled Cheese. One popular recipe calls for seasoned, toasted bread using oregano and parsley and is filled with pineapple, Canadian bacon, and jack cheese (via House of Yumm). Another recipe kicks things up a notch by adding extra layers of cheesy, savory goodness and features "butter, brown bread, Swiss cheese, pineapple, swiss cheese, smoke ham, Swiss cheese, SPAM, brown bread, butter" (via Instagram).
What we know is that the winning combination features the sweetness of pineapple and the saltiness of ham with a bread-like base and melted cheese to act as the glue. Other flavors and ingredients are optional. Says ham expert Allan Benton of Benton's Country Hams, "Typically, when you're doing a country ham, you need something sweet to neutralize the ham's saltiness, and pineapple does this really well," (via Taste Cooking). New combinations of this classic are being created everyday, and we are definitely here for the taste test.