Costco Fans Swear By This Kirkland Signature Pesto
When you get tired of marinara, pesto always has your back. And this delightful sauce doesn't just have to get used as a topper for spaghetti, according The Spruce Eats. You can also turn pesto into an appetizer dip, salad dressing, sandwich spread, pizza sauce, and so much more. With this many possibilities at your fingertips, it seems ridiculous to not experiment with this sauce that's packed full of basil, garlic, pine nuts, olive oil and parmesan (via Delish). However, with so many varieties of pesto for sale at stores, trying to pick the very best is tough. Luckily, Kirkland has come to save mealtime with a signature offering that has people buzzing.
Instagram user costcobuys, recently posted a picture of a jar of Kirkland-brand pesto with the caption, "Is anyone else weirdly obsessed with Costco's basil pesto? It's great in pasta but I even use it in dips, sauces, sandwich spreads, and more! ($8.99)." The post has collected over 3,000 likes for good reason — multiple commenters have jumped aboard the post sharing their favorite uses for the sauce. One wrote, "Love! One of my family's favorites. We use it for chicken caprese paninis and pesto lasagna roll ups." Another added that they use it on "ravioli, on my bagel, and my sandwiches."
This ultimate Costco pesto also has health benefits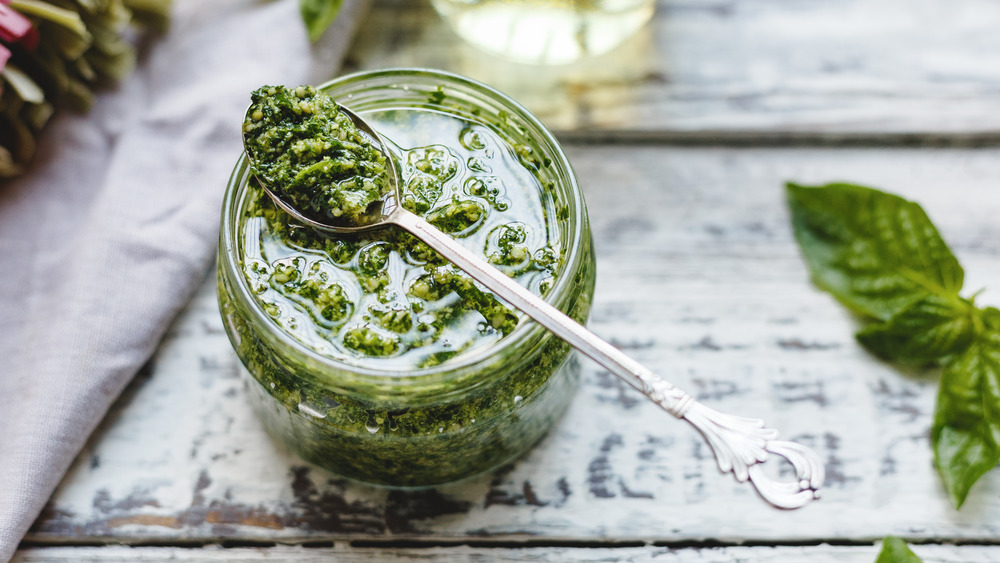 Shutterstock
If you still feel like you could live without pesto, you need to check out the health benefits of this incredible sauce. According to Viga Catering, pesto comes packed with antioxidants, provides a great source of calcium and can even help lower blood pressure while maintaining heart health. Kirkland's particular pesto comes in a 22 ouce jar and features 100 percent Italian basil, making it an absolute steal for the quantity and quality of this sauce (via Costco).
When you want to switch your recipes up and experiment with a beloved flavor combo that has stood the test of time, nothing compares to the taste of pesto. Whether you already love the sauce or want to try it in some new dishes, this top Costco product can make any meal shine and leaves you coming back for seconds. Make sure to grab a jar of this pesto while you can — who knows how long Costco plans to keep it on shelves and you don't want to get left out on a taste and deal as good as this.