Costco Shoppers Can't Get Enough Of This Keto-Friendly Buffalo Sauce
Dieting throws some major challenges at us. The best of us get tempted by junk food while watching our weight, but some eating plans allow for cheat days or small servings of snacks to help get us through the day (via Healthline). If you opt to follow a ketogenic diet, say goodbye to your snacks and cheat days—this strict eating plan doesn't allow for almost any freedom with carbs. Even if you have to bid farewell to your typical restaurant chicken wings on keto, don't discount them entirely. With the help of some specific recipes and sauces, you can make this meal at home – for instance, by using low-carb Buffalo sauce (via Insider).
For those of us who want some keto-friendly wings but don't have the time to make our own Buffalo sauce, Costco now has the answer we have searched high and low for. Instagrammer @costcodeals recently posted a picture of a 2-bottle pack of Primal Kitchen's Buffalo Sauce alongside the caption "Bring the heat with this @PrimalKitchenFoods Certified Keto and Whole 30-Approved Buffalo Sauce, made with avocado oil and cayenne pepper, that is out now in a 2 pack for only $9.99!" The post has collected over 6,500 likes and garnered a ton of positive responses, ranging from "dude yessss" to "Best sauce ever!!" If you can't wait to grab a bottle, you might have to hold out until it hits your area.
Where can you find Costco's latest Buffalo sauce?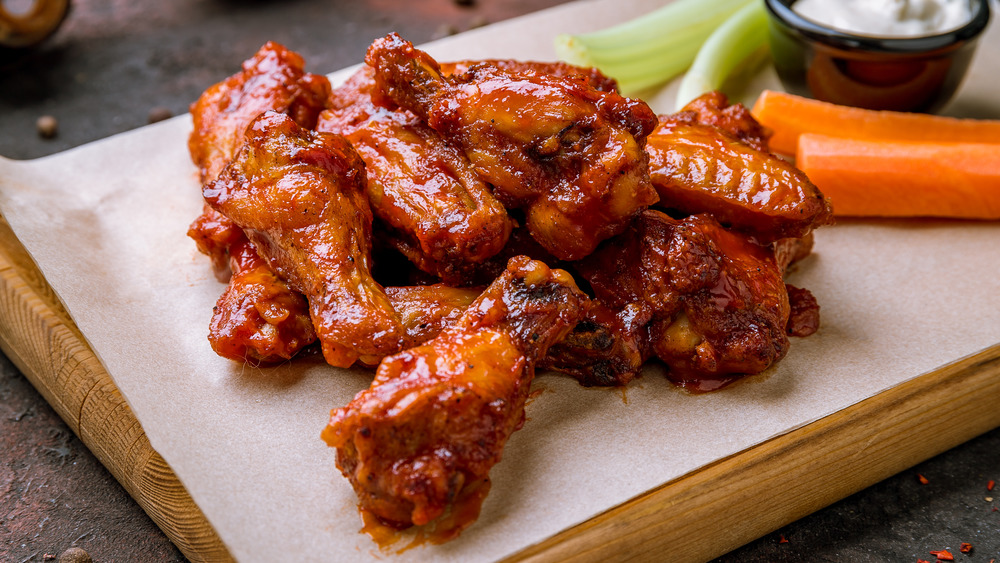 Shutterstock
According to @costcodeals' post, the sauce has only popped up at Costco locations in the Northwest, Los Angeles, and Texas. While many in the comments eagerly await the arrival of the sauce to other portions of the U.S., several Instagrammers couldn't contain their excitement and additionally pointed out the sauce is vegan-friendly and paleo-friendly, making it a great topping for anyone looking to indulge a bit without any guilt. According to Primal Kitchen, the sauce has also been approved for anyone pursuing gluten-free diets, Whole 30 diets, and doesn't contain GMOs. Cashew butter and avocado oil imbue the sauce with its trademark creaminess, making it the perfect sauce for the next time you fry wings.
Sacrificing our favorite foods in the name of weight loss feels particularly harsh. With the help of this new Costco find, we can find some comfort and indulge a bit. With New Year's weight-loss resolutions ahead of us, this sauce proves to make anyone's diet that much easier, and even those of us on regular eating plans can enjoy the wholesomeness packed into each bottle. If you can, make sure to grab a bottle of the sauce for yourself to discover your new favorite Buffalo sauce!