Side Dishes You Should Be Serving With Roast Duck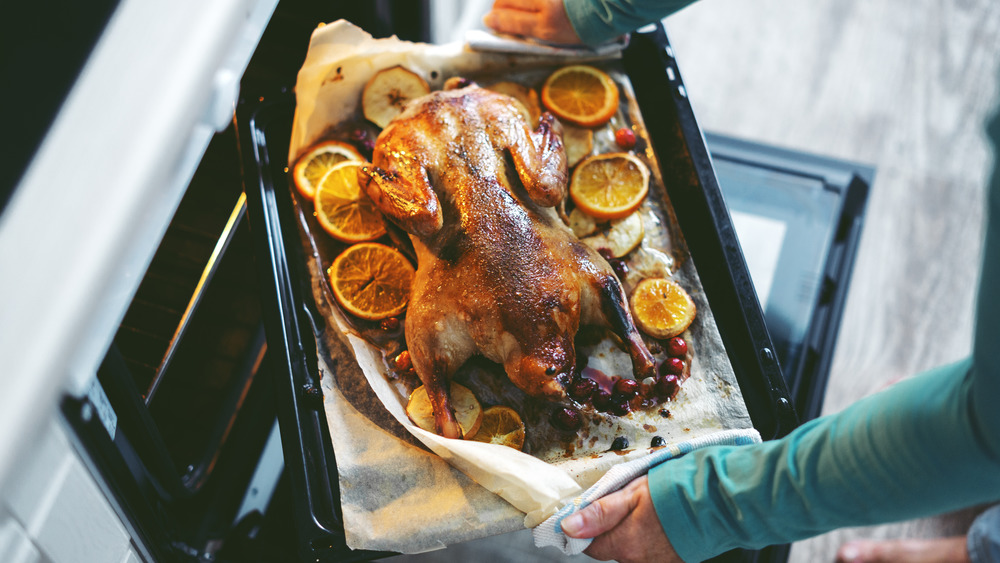 Shutterstock
If you've never made a roast duck before, you're not alone. It may not be everyone's go-to weeknight dinner, but there are some real upsides to this delicious roast chicken alternative. Duck has a higher fat content, which contributes to its intense flavor (via Nutrition Advance). It's not technically considered red meat but is sometimes compared to it because of this flavor, its darker color, and how it's cooked (via Healthline). And though it may be more pricey, duck can be a delicious and classy choice if you don't eat red meat and want to change up your poultry rotation.
But because duck meat is a little less common for an average home cook, you may not have even gotten past the "how do I even cook this?" stage. The good news is, there's a lot of delicious side dishes that go well with duck. So once you've gotten past rendering the duck fat, getting that crispy skin, and popping it in the oven — it's time to think about the rest of the meal. Vegetables tend to work great with duck, along with a sweet and sour sauce (via Food & Beverage Magazine).
The best sides for your duck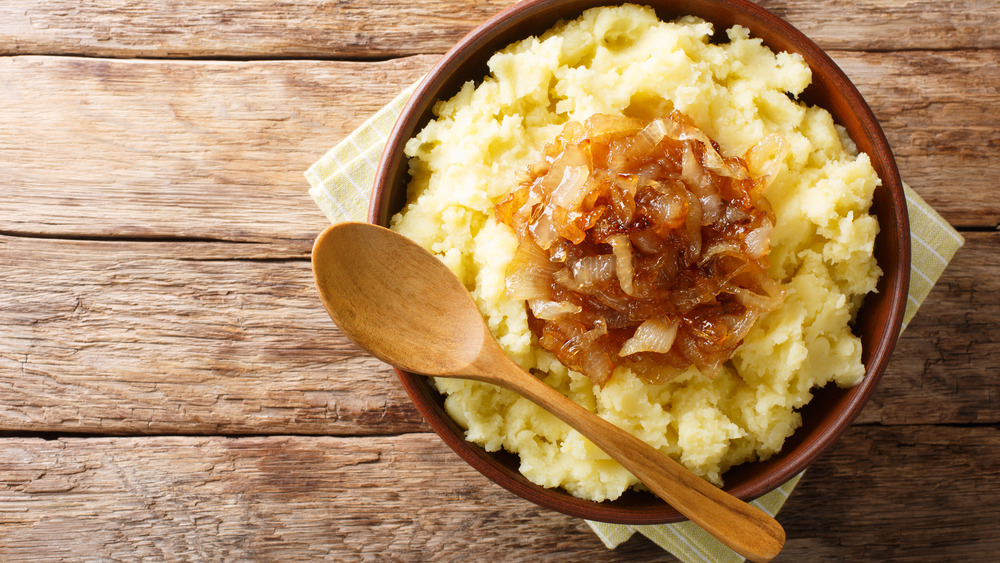 Shutterstock
You aren't limited to any specific foods to serve alongside duck, but there are a few standouts that seem to compliment this dinner table centerpiece. The Spruce Eats recommends cranberry coulis as a sauce to accompany a holiday duck, along with braised cabbage and onions. Cabbage is a classic side dish with duck – and Food & Beverage Magazine says that when it's cooked for a long time, it caramelizes and makes a sweet counterpoint to the savory duck. Mashed or scalloped potatoes also work well with duck, like these Parmesan scalloped potatoes or potatoes with caramelized onions from Food 52.
Root vegetables other than beets can also work very well alongside duck, according to Wine Enthusiast Magazine (bonus: use the rendered duck fat to roast them!). Zingy salads also seem to work well with duck, but don't feel limited to your traditional lettuce and cucumbers. We think this spinach, feta, and blood orange salad draws the perfect balance of citrusy and hearty, or perhaps try a classic warm beet salad like this one from Mark Bittman with walnuts and goat cheese. Why not try a vegan wild rice pilaf with cranberry, which could add some crunch and a citrusy dressing to the richness of the duck?  And if you're still craving extra carbs, perhaps you could try these Guinness and cheddar biscuits, which sound perfect for soaking up extra sauce.